Dear Friend and Fellow Investor,
The sword rises into the air... and snaps down.
A head rolls.
The crowd in Riyadh's Justice Square roars.
The King is dead.
Revolutions that change the world inevitably take casualties.
And I'm writing to you today because I believe you're witnessing the most important revolution in all of human history...right now.
It will topple powerful kingdoms and regimes. The world's energy map will be completely redrawn, transforming the global economy in the process...
And a handful of astute investors will become incredibly wealthy. Today, you have the chance to join them.
Forecasts are not a reliable indicator of future results
I've identified three stocks which we expect to soar as this revolution takes hold. One of them could multiply your stake nearly 20-times over. I'll show you what they are shortly.
Such radical and fast-paced change scares some people. That's understandable. Many won't want to think about the problems it'll cause.
The key to profiting from it is to understand it before it arrives. Before the rest of the market twigs what's going on. Which brings me back to the revolution.
I have created this presentation because I'm worried that the Middle East is on the brink of collapse. You see, the scene I described a moment ago is set in Riyadh, the capital of Saudi Arabia... where an era of prosperity is drawing to a close.
The Collapse of the Oil Kings
Saudi's bleak future is not simply a case of 'more unrest in the Middle East' – the same old problems rearing up again.
It's not politics driving this revolution...
It's energy...driven by three massive breakthroughs in technology. Breakthroughs I want to show you today.
But first, you need to understand why these breakthroughs could be so catastrophic for a specific group of countries… and for the Gulf region in particular.
Consider this:
For Algeria, Azerbaijan, Iraq, Kuwait, Libya, Sudan and Venezuela… fuel accounts for more than 90% of their total exports.
Saudi Arabia comes in just behind, with an 87% dependence.
For these nations, oil is the sole source of their power.
It's the reason that in less than a century, the Arabian Peninsula has gone from a desert outback to the centre of the energy world. It underpins every opulent palace... every £200k sports car...
Now imagine every joule of energy we currently get from oil could be replaced by cheaper, more abundant sources.
Energy that doesn't require millions of pounds to locate it... thousands of people to help extract it from the ground... and then ferry it all over the world.
Imagine if a NEW fuel source could replace oil as the dominant commodity in the world economy, bringing about a step change in the energy markets.
Now ask yourself: What would that do to the Saudi economy? To all of the petro-states?
Well, you don't have to speculate...
Because today I'm going to 'brief you in' on not one… But THREE unstoppable energy revolutions bringing about a step-change in the industry.
Consider: In 2018 alone, oil plunged 25% as demand plummeted…
For the major oil powers it was a flashing neon warning sign.
Slowly… Unstoppably… The world is shifting away from fossil fuels. And their power is crumbling.
They're threatened. And they're lashing out.
Consider the headlines from the news over the past year:
The brutal killing of Jamal Kashoggi inside the Saudi Embassy in Turkey.
The violent expelling of 330,000 migrants from Angola.
Iran's threat to resume its nuclear enrichment programme.
The UAE's alleged links to terror organisations throughout the Middle East.
Russia's alleged meddling in the US election and incursion into Crimea.
These are oil and gas rich nations desperately trying to replace the power they've commanded over the past fifty years.
The 'Age of Oil' is over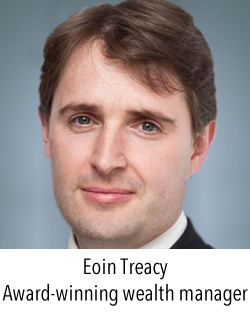 My name is Eoin Treacy, by the way.
I'm a trader, fund manager, author and wealth adviser.
That last one's important. You see I advise private clients in the Middle East… California… London… and Singapore. Across the globe.
I'm close to constantly on the move. Travelling to the UK, Dubai, Singapore, Tokyo, New York and more, meeting with investors and sharing my views on the world and the markets.
Just over two years ago, in February 2017, I found myself holed up in a fancy hotel in Dubai for the best part of five days.
I was there for a private strategy session with one of my clients, but I wound up speaking with one of the best-connected energy investors in the Middle East.
Now, I consider the energy markets one of my areas of expertise.
Over the last decade, I've correctly anticipated some of the most profitable developments in the energy market.
For instance, I was one of the first analysts to start advising people to get into shale gas nearly a decade ago.
Past performance is not a reliable indicator of future results.
I correctly forecast the oil bear market when prices were still north of $100 a barrel – before the drop to $30…
And helped my clients back solar and battery technology when they were still under the radar for most investors – buying Tesla for just $10, before its 1,600% rise.
It's not often someone tells me something about these markets which genuinely surprises me.
But this guy did. He left me speechless. In fact, what he told me lead directly to the letter I am writing to you today.
You see, for decades we've been sold this promise of infinite, clean energy.
But that's all it's been. A promise. A pipe dream.
It feels like something we've been told about so many times… But might never quite come true.
At least, that's how it has sometimes felt for me. Despite all the breakthroughs in clean energy tech… Many of which I have been watching and investing in…
But what this guy said to me hammered home the fact that – finally – this 'pipe dream' is becoming a reality. And fast.
I got on a plane. Flew home. And immediately started researching.
In the two years since, I've spoken to some of the most respected financial and energy experts in the field.
What I've seen is this:
Revolutionary change is afoot in sectors few people have even heard of…
Whilst breakthroughs which were once exciting are now old news!
Take solar, for example.
The UK now has 1 million solar homes…
Installed solar capacity has grown more than 57 times bigger since 2007.
Global solar capacity is expected to reach 1 terawatt by 2023.
Walk down any road in Britain and you'll see half have solar panels on the roof. Take a train through Essex or Oxfordshire or Hertfordshire and its solar farm after solar farm.
And just take a look at this map: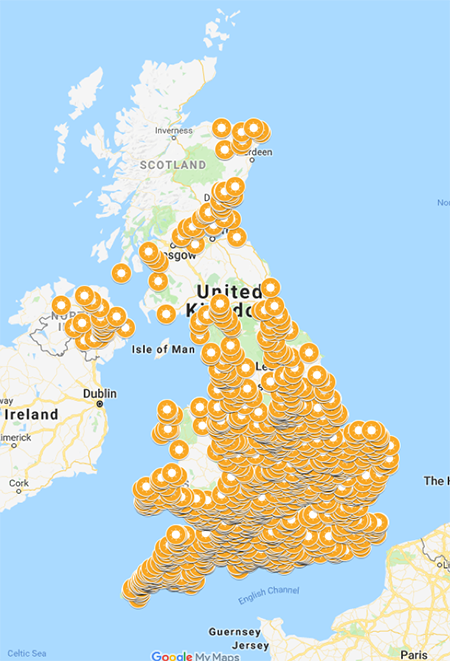 Every single one of those dots represents a solar energy system.
That's EXCLUDING anything under 1 megawatt… including the nearly 1 million domestic solar PV installations.
Solar has well and truly made the leap.
There's a NEW wave of big energy breakthroughs disrupting the $4trn energy market.
In fact, I've uncovered not one… not two… but three specific tech breakthroughs which I believe are rapidly and dramatically transforming the energy industry.
All of which lead me to my conclusion:
Oil is done. It is finished as the world's dominant energy source.
It may still be a cog in the global energy machine today. But trends that have been gathering strength for nearly two decades could be about to destroy major demand for oil altogether.
In fact, following these four specific technological advances I'll outline for you today, I believe we are finally about to witness the total collapse of the oil industry as we know it.
That's why I chose to start this presentation with what may have seemed a provocative image.
I haven't made this forecast lightly. I believe the fall of the House of Saud is the ultimate endgame of a major disruption to the global energy markets... one that will change the world as we know it.
I have no personal agenda to push. I'm simply helping you to prepare for what's already in motion. It may not happen today, tomorrow or next month. But I believe it IS coming.
Please understand that it is not my intention to cause alarm or upset anyone.
I'm simply following my research to its logical conclusion.
I'm going to share what I've found with you in this presentation. I'll show you why I believe it is now inevitable that NEW energy sources will ultimately replace oil in the global economy.
In fact, that process has already begun.
These four tech trends will entirely reshape the energy market. They'll ultimately crush any economy relying solely on oil.
And while I expect the collapse of oil to have profound geopolitical consequences...
That's not the reason I've prepared this presentation.
I'm here to show how YOU could make 317%, 146%... Even 1,997%
Forecasts are not a reliable indicator of future results
As an investor, that's my primary concern.
I've identified multiple ways you could profit from this energy revolution. Move early and I believe you could make returns of 317%, 146%, and even 1,997% from the opportunities I'm going to tell you about today.
Consider…
That's the sort of move to turn just £200… into almost £4,000!
That's before costs and taxes of course, but still… Most investors never get the chance to make that sort of return – they'd have to get lucky on a penny share to even come close. 
The bulk of the profits from this revolution will be made early – which is what makes this opportunity an urgent one.
Here's what's happening...
Breakthrough #1
50,000 x MORE energy than all known oil and gas reserves
In the energy world, fossil fuels are king.
For a century oil, coal and gas have reigned supreme, and made a fortune for investors who made the right investments at the right time.
But here's a fact that must send a shiver down the spine of every Saudi Sheik... Texas oilman... and everyone else connected to the oil and gas industry:
Buried beneath the surface of the earth is a "super fuel" that gives off 50,000 times more energy than all known oil and gas reserves on planet Earth, put together.
It gives off more energy than the sun itself.
And it works relentlessly, day and night, with no downtime (solving the big problem solar, wind and tidal energy have).
"We've just bought a volcano"
You remember earlier I said I began this entire project following on from one, specific conversation I had in Dubai, two years ago?
The man I was talking to is one of the most successful traders in the world. He deploys his excess capital into private long-term enterprises.
He'd just bought a volcano in the Philippines.
Why?
Because the Filipino economy is growing rapidly, but with little oil or gas of its own, it's a major energy importer.
And volcanos are the perfect way to access this "super fuel", also known as geothermal energy.
He intends to use the heat beneath the Earth's surface to build a power plant.
And he's not the only one…
You see there are several key advantages to using geothermal energy…
For one, it provides FAR more energy than we need. In that sense it's unlimited. It's free; we don't have to pay the earth's core to heat. And no royal family or government has a monopoly on it.
And once a well's set up… You have your hands on an energy source that will never run out…
See, typically a geothermal well starts to cool down at around thirty years old. That's about the same time your average oil well runs dry. But unlike an oil well, if you leave it for 25-30 years, a geothermal well reheats itself.
$15 BILLION is flooding into this revolutionary power source!
China trebled its geothermal output in 2015… and plans to more than triple it by 2020.
Italy plans to increase its geothermal energy production between six and eight times by 2050..
El Salvator is planning for 40% of its total energy to come from geothermal by 2020.
The World Energy Council estimates geothermal investment will increase 7-10 fold by 2030.
And it's been hit with a huge wave of investments:
Bill Gates is heading up at $1 billion fund, with geothermal as one of its key focuses.
Japan is investing $10 billion in geothermal energy in Africa.
US private equity and hedge funds are investing at least $4 billion into Ethiopian geothermal projects.
And here's the thing...
Until now, our technology hasn't been anywhere near good enough to make geothermal a genuine world power option.
But that has now changed.
And one company could be about to SOAR higher because of it.
Forecasts are not a reliable indicator of future results
Its client list and industry expertise are second to none.
It owns 73 vital patents, which give it a massive "moat" to protect it from outside competitors.
Its expertise is valued all over the world… It's currently developing projects in over 25 countries.
Forecasts are not a reliable indicator of future results
It could easily be the BP or Shell of the geothermal industry. At this rate of success, I think you could easily be looking at a 146% increase, long term.
This company has been a pioneer in developing the same type of tech which has unlocked the wealth of geothermal potential stored beneath the UK… it's been in operation for over 50 years…
By the end of 2020 it aims to have a total output of nearly a gigawatt under its direct control.
That makes it a good-sized utility as well as a cutting edge tech company.
It has a steady growth trajectory. Its dividend has seen a 5 year annual growth rate of 38.6%
It's already developing projects in the USA, Guatemala, Guadeloupe, Honduras, Indonesia, Ethiopia, Kenya and New Zealand.
In fact, the firm already produces 800 megawatts of power every year.
That's a figure I believe is only going to go up.
And for this company…
The payoff could be extraordinary.
Which is why I've prepared a full research dossier on this company, and the geothermal industry at large.
This report, which took months to put together, contains all of my research into the industry, right down to the ticker symbol and "buy up to" price of my recommendation.
Of course, there are risks. There always are with opportunities like this. I want you to go in with your eyes open. Invest only capital you can safely lose. And know that – though this firm has projects all over the world – a political move against geothermal energy could hit its operations.
I think that's unlikely. Anyone who denies geothermal's potential is mad, in my view. But when you're talking about politicians… anything is possible.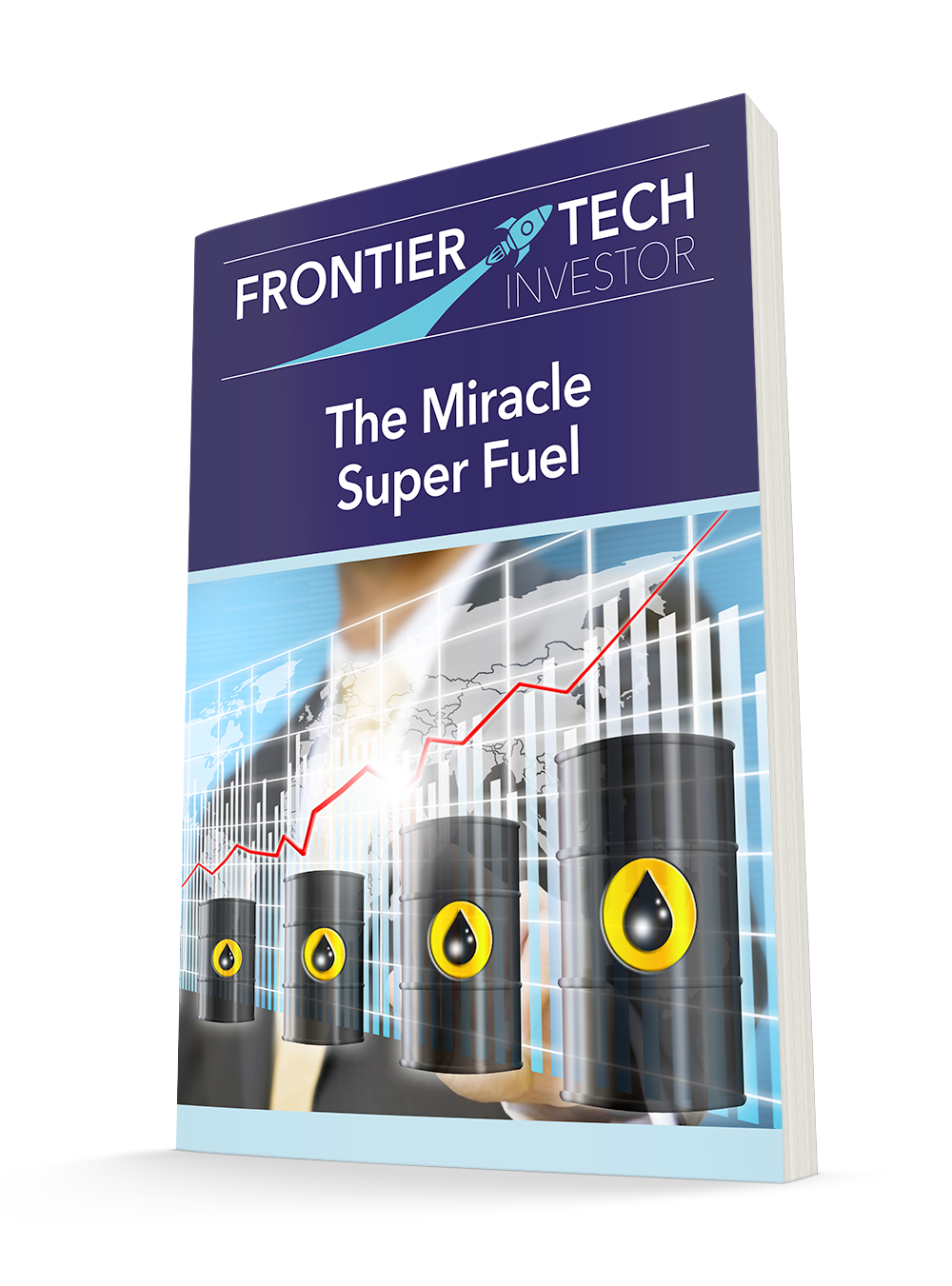 That just makes it even more important you get me in your corner and let me help guide you as this industry takes off. The first step in that process is getting your exclusive research report.
It's called "The Miracle Super Fuel".
I'd like to send you a copy – completely free – as quickly as possible.
I think this stock is poised to shoot from floor to ceiling as the industry takes off.
Forecasts are not a reliable indicator of future results
Not only that, but this is just the first of MULTIPLE breakthroughs in the energy world, which I anticipate taking the bottom out of the oil market in 2019 and beyond.
Each could hand investors a stunning windfall, should events play out as I expect.
Like my next opportunity. Which involves arguably the single biggest breakthrough in the history of energy.
Forecasts are not a reliable indicator of future results
The stratospheric potential locked up in this little stock makes everything else PALE by comparison. I'm talking about a return going far beyond 1,997% over the years to come.
Breakthrough #2
How our "man-made sun" will power our planet
In March 2018, a team at MIT made an extraordinary breakthrough…
Something the world's greatest minds have been trying to achieve for over sixty years.
An incredibly powerful, inexhaustible form of energy generation.
Producing four million times more energy per unit mass than oil.
It doesn't create any harmful toxins. No CO2 or any other greenhouse gas.
And it makes none of the radioactive waste you get with nuclear fission.
It's the ultimate energy solution.
And a goldmine for anyone who cracks it.
Investors are throwing in BILLIONS of dollars…
Billionaire tech giants are moving in.
Jeff Bezos has seen the importance of superconductors and has put in $127 MILLION.
PayPal founder Peter Thiel and OpenAI co-founder Sam Altman have backed a fusion firm called 'Helion Energy'
Even whole COUNTRIES are piling in.
ITER, the largest fusion project to date, with 35 nations involved had had $22bn in funding up to March 2017.
China have put $37 million into their 'Experimental Advanced Superconducting Tokamak' reactor
The National Ignition Facility opened with a $3.5bn injection
Germany have spent €1bn on their Wendelstein X-7 reactor
In 2017 the UK put down £86m for the UK Atomic Energy Authority – an organisation responsible for accelerating nuclear fusion technology
And yet this breakthrough hasn't come from ANY of these giants…
But from a virtually unknown company, nestled away near Texas.
And what they've created is so important, so remarkable…
It immediately landed them an incredibly valuable deal with MIT.
It could be YOUR chance to make as much as 1,997%
Forecasts are not a reliable indicator of future results
That's like turning £300 into nearly £6,000, before costs and taxes.
Because we're talking about an extraordinary amount of energy. In fact, per kilogram of fuel we're looking at ten million times more energy than fossil fuels.
That's an extraordinary amount of energy. It almost doesn't sound real, until you consider…
This is the same generation process which powers the sun.
Powerful enough to supply the entire world's energy needs for millions of years.
PLUS…
It produces zero environmentally damaging wastes
Absolutely no CO2
With zero risk of a nuclear disaster like Chernobyl (the difficulty is getting the reaction to take place at all, not containing it).
And its fuel (lithium and deuterium) is readily available in seawater
It works by sticking atoms together. The opposite of nuclear fission.
You fuse two hydrogen atoms together and they form helium…
And release a HUGE amount of energy…
Simple enough in theory, but there's a problem.
As I said, this is how stars generate power. But at the centre of a star there is an incredible amount of pressure.
That helps fuse the atoms together.
Without it, gravity pulls the atoms apart.
That makes it much harder to achieve fusion on earth than in the sun.
To compensate, the fuel needs to reach temperatures 10 times hotter than the centre of the sun.
Around 150,000,000 degrees Celsius!
With temperatures that hot, the only way to hold the fuel in place is by using magnetic fields.
There's simply no substance on earth capable of withstanding that heat.
And that's the problem.
We've made fusion happen a few times. But it takes so much energy getting it to the right temperature and powering the magnets...
We actually lose energy overall.
For it to be a viable energy source, we need to achieve 'positive fusion'.
Where you get out more energy than you put in.
Now a TINY company might have cracked it at last…
It's all about this weird picture: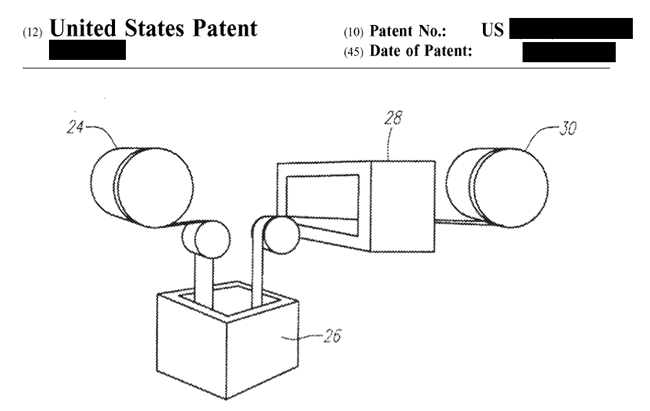 That's a new kind of superconductor.
It allows scientists to produce smaller, more powerful magnets.
Reducing the amount of energy which needs to be put in to get the fusion reaction off the ground.
Allowing scientists to potentially achieve positive fusion.
Which is exactly what the team at MIT did last year in March 2018.
When this tiny company's new superconductors have unlocked the vast potential of fusion energy.
Without them... fusion will never happen.
WITH them... it's not just 'possible'…
In my book, IT IS GOING TO HAPPEN SOONER THAN ANYONE REALISES.
Mark my words:
"You need to know more about this stock. Right now"
I've pulled all of my research on the company together into a second, special report.
It's called: "Infinite Energy Forever: How you could make 1,997% gains from the tiny energy company making fusion possible"
Inside you'll discover.
The company (trading for pennies) behind making infinite energy possible

Forecasts are not a reliable indicator of future results

Why a 1,997% 5-year return is only the beginning
How they are set to scale more than 166,000,000% from here on out.
Just say the word and this report is yours, today.
I'll also give you a full run down of the risks.
No investment – no matter how potentially world changing – comes without risk. This is no different.
The key point to remember is your capital will be at risk. Don't stake more than you feel comfortable losing.
Investing in small, early-stage companies can be risky. Much more so than blue-chip investing.
Stocks like these can be relatively illiquid – making them more volatile, and harder to buy and sell. If the price starts to drop you may not be able to shift it.
There's also the risk of competition. Other tech companies could develop different technology that trumps this. You must take all these risks into account when investing.
But nothing is guaranteed in the stock market.
Forecasts are not a reliable indicator of future results
The potential reward (a 1,997% gain!) is more than worth the risk, in my book. But everyone is different and you'll need to decide for yourself.
Either way, you need to get my latest report in your hands right away.
You get my full analysis... all my insights... and everything you need to pull the trigger.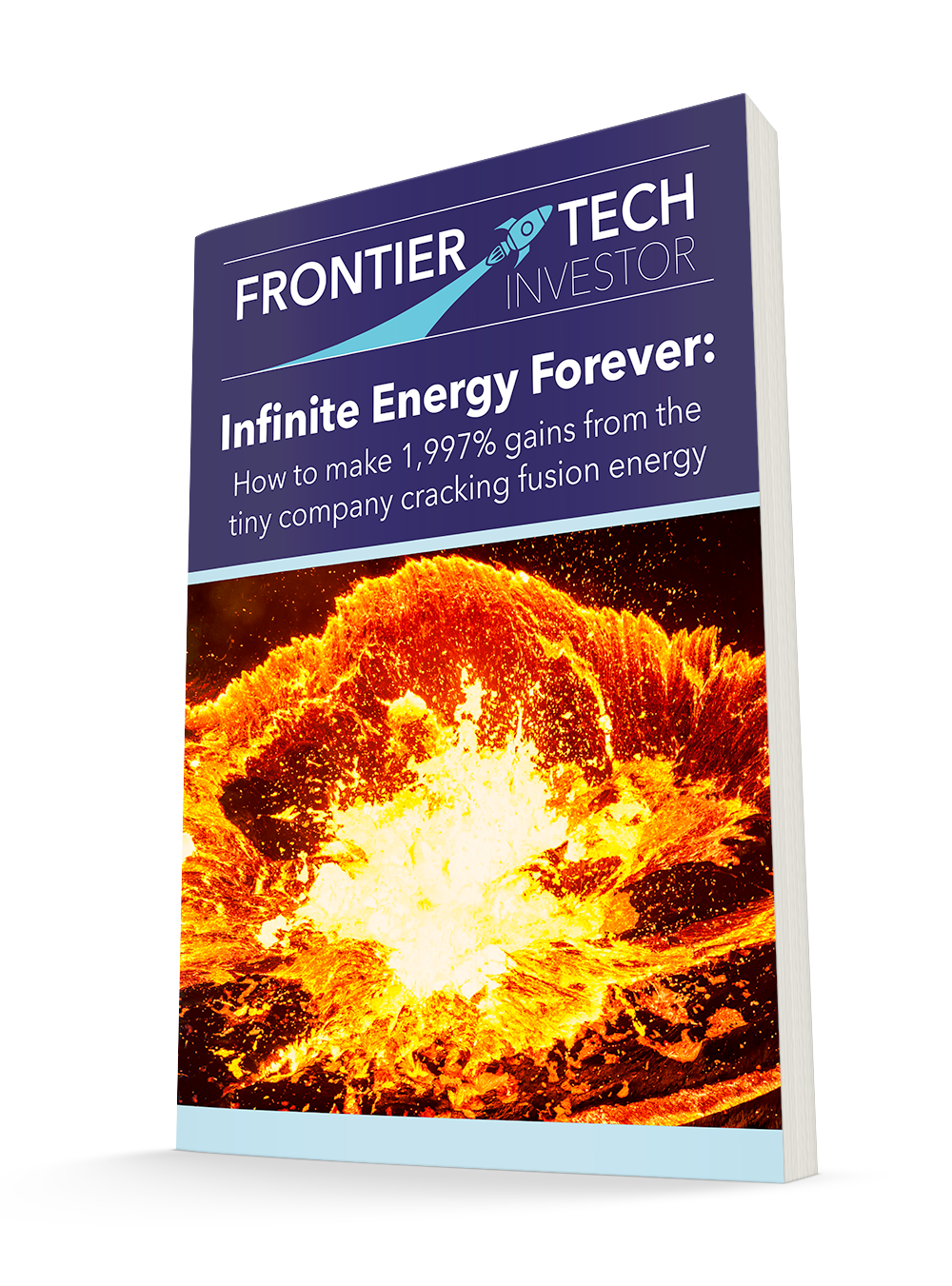 If you can see the financial potential here…
If you understand what's at stake, and want to grab a stake for yourself…
This report can be yours today.
Together with your FIRST special report:
"The Miracle Super Fuel".
Between these two picks I think we could be looking at the END of the oil market as we know it…
Forecasts are not a reliable indicator of future results
And a chance for you to make a LOT of money from the rise of a brand new energy market.
But why should you take my word for it?
Well, like I said, my name is Eoin Treacy.
Twenty years ago I was selling Bloomberg Terminals, door-to-door.
Since then, my $600mn fund – based in Nevada – has been ranked the number one family planning fund in the USA.
Sovereign wealth funds, 30-year billionaire market veterans, and some of the richest families in Singapore and Dubai all trust me to grow their wealth.
Whenever some talking head on CNBC, CNN, The BBC World Service or Bloomberg wants to know why stocks are behaving a certain way, they bring me on their shows.
For example, here I am discussing the market correction on Bloomberg TV back in February of this year:
Master Trader Eoin Treacy discussing the Markets on Bloomberg TV
Source: Bloomberg TV, February 2018
And now other fund managers – some of the richest traders in the world – come to learn how to make money for their clients trading.
Here I am doing just that: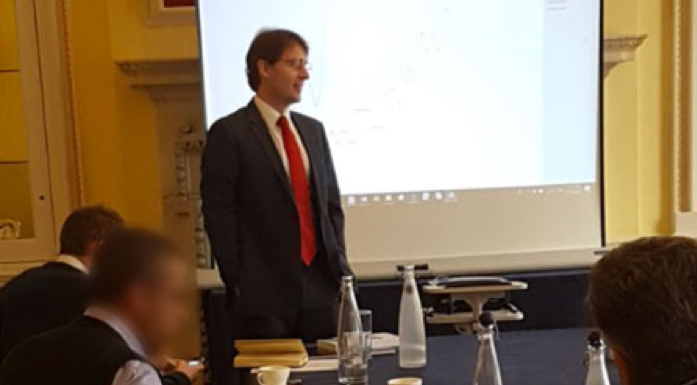 I've blurred out their faces – they might not want their investors to know they come to someone else for advice.
My success is thanks to my ability to spot extraordinary opportunities like this one, way ahead of everybody else.
I've given sell-out presentations to traders and analysts in every major "hub" of the financial system, including London, New York, Singapore, Sydney, Copenhagen, Dublin and San Francisco.
I charge private clients thousands of dollars PER HOUR for my advice.
Those clients include Shell, Nestle, and some of the biggest trading houses in the world.
Some of these big trading firms won't let their new starters near the markets until I've shown them the ropes. 
But it's not just high flying professional traders and investors who look to me for advice and guidance.
I also work for regular private investors here in the UK.
People who want to manage their own money – control their own fate…
And potentially make a fortune while they're at it.
People like you.
And I'm writing to you today because I believe this is a once-in-history opportunity. And I want to make sure you have the opportunity to capitalise on it.
The global energy market is being turned on its head…
and there's a fortune at stake

.

Right now we're in the early phases of boom that could radically change the energy markets and the world.

And it's technology that's driving that change.

Of course, change on this scale has winners and losers.

There are the disruptors driving the change and profiting from it... and those who see their life and investments disrupted as old industries crumble.

It's my mission to help you get on the right side of that divide.

To help you seed your money in the new companies and industries that will dominate the coming decades...

To help you and your family understand and master the changes our world will see in the very near future...

And to help you make the very most of the BEST time in human history to be alive.

That's why I put together your two urgent briefings. I want there to be zero chance of you missing out on this. I want there to be zero chance of you missing out on this.

Think about the immense potential locked up in your second opportunity today…

Yes, it's high risk.

And you should only stake money you can afford to lose.

But it only takes a tiny stake for potentially incredible returns.

That's the beauty of it! There's a chance to turn £30 into over £500.

Look at what's possible here (before trading costs):

There's a chance to turn £30 into nearly £600.

Forecasts are not a reliable indicator of future results

£100 into £1,997…

£200 into almost £4,000!
IMAGINE telling your family about a gain like that!
Or say you're feeling a little bolder.
You'll know what you're comfortable with better than me, but let's say you stake £1000. Remember that any amount you stake should be money you can afford to lose.
You could be walking away a few years down the line with £19,100!
Incredible.
You NEED to know everything there is to know about this opportunity.
That's why I want to send you a copy of your two research reports:
"Infinite Energy Forever: How to make 1,997% gains from the tiny company making fusion energy possible".
And "The Miracle Super Fuel"…
As quickly as possible. Completely free of charge.
Here's how I'm going to do that.
In addition to my work as a wealth and fund manager, lecturer and advisor, I'm also the Investment Director for a UK-based investment strategy service, called Frontier Tech Investor.
Frontier Tech Investor concentrates on opportunities within the rapidly evolving technology sector.
It is a part of a wider team of financial experts, called Southbank Investment Research.
If you've never heard of us before, Southbank Investment Research is the London division of the world's biggest "underground" research network.
We have offices all over the world… and more readers worldwide than The Economist or The Wall Street Journal.
And our 'insiders' are the best in the business:
Billion-pound fund managers, leading tech investment specialists, professional investors, and financial minds with decades of experience making money in the markets.
Our founder, Bill Bonner, has written three New York Times best-selling books and made an award-winning financial documentary.
Our mission is a simple one:
To show people like you how to make the most of your money.
Sometimes that means getting you into urgent profit-making opportunities... BEFORE everyone else. Other times, it means showing you how to avoid certain threats.
We're outside the mainstream. We consider ideas most people have dismissed… ideas that might be too "out there" for publications like the Financial Times or The Telegraph.
We don't take advertising.
We are willing to stand by the ideas we believe in.
Our only mission is to provide you with ideas you absolutely will not find elsewhere – and show you how to act on them.
What I've shown you today fits perfectly within that mission.
Profiting from the Tech Frontier
At Frontier Tech Investor I scour the globe on your behalf in search of the companies leading the coming tech revolution...
Companies with disruptive technologies that will change the world...
Provide the fuels of the future...
Cure killer diseases and extend human life...
Create super intelligent machines...
And then I share what I've found in the pages of Frontier Tech Investor, delivered directly to you each month.
To get you started, I've prepared the two research reports, I've already outlined for you: "Infinite Energy Forever: How to make 1,997% gains from the tiny company making fusion energy possible".
And "The Miracle Super Fuel"…
But these two breakthroughs are just the START of the opportunity I want to present to you today!
It's much, MUCH bigger than that.
The fortunes these companies will create will shock most investors — but not you
The opportunities you'll discover each month in Frontier Tech Investor may shock you at first.
That's true of ALL great tech opportunities.
True, radical breakthroughs are ALWAYS ignored by the majority of investors. They put their head in the sand and claim "it won't happen in my lifetime".
The problem is, this kind of thinking can cost people TENS OF THOUSANDS of pounds.
Being bold and taking a risk doesn't come naturally to some... no matter what the potential rewards.
They think, "I've heard this before. I'll wait and see what happens. I have time. I'll leave it another year or two, then invest."
Don't make that mistake today.
The biggest money is always made by those who understand what's happening, take a risk (often with just a small amount of their capital) and ACT EARLY.
Most investors dismissed companies like Amazon and Google when they were tiny internet start-ups.
But even accounting for the fact that past performance isn't a guide to future results, it's still fair to say that anyone who bought Apple shares in December 2001 made one of the best decisions of their lives. They would have made 1,254% by September 2007.
And if they'd kept hold of their shares until December 2012, they'd now be sitting on almost 5,000% in just 8 years.
If you bought shares in Amazon in July 1997 (when the company was virtually unknown) you'd have made gains of 5,319% by March 1999 — less than two years later.
Past performance is not a reliable indicator of future results
And if you simply just bought it in 1997 and forgot about it until today your investment would be 17,847% higher — turning a simple £1,000 stake into over £178, 000 (not taking into account dealing costs or taxes).
Or what about solar firm Solar Power Inc?
At the start of 2013, shares in the business languished at less than 50 cents. Then, a series of breakthroughs for the business sent shares on a tear, soaring 2,600% in just three years!
* My point is: even accounting for the fact past performance isn't a guide to future results, ignoring these companies was the biggest mistake some investors ever made. Maybe it was a mistake YOU made, too?
No matter.
You have another chance — a BETTER chance — right in front of you.
Harnessing the potential of the companies at the forefront of this revolution could be the best financial decision you ever make.
Ignore this invitation to find out about these companies and I think you will come to regret it.
Pay Attention
I believe Frontier Tech Investor offers the most extensive and insightful research on the tech industry anywhere in Britain.
If you want to understand and make money from technology, you're going to love it.
And we've uncovered far more investment opportunities than I've been able to share with you so far... in fields as diverse as medicine, biotech, robotics and AI.
In fact, one firm we've uncovered began as a US Army project to create robotic medics for the battlefield!
If you're interested in profiting from breakthrough tech stocks… I think you're going to love Frontier Tech Investor.
But don't just take my word for it.
Here's what some of my readers have to say:
"Blue sky thinking and brilliant up to date research, really exceptional articles of interest…" Digby
"Eoin's reports would be invaluable to any investor." PS
"Insightful and timely analysis that is delivered in an easy to understand manner." AJFB
"Excellent front line thinking. Very mind broadening!" Ian Murray
"Always ahead of opportunities. Keeps me ahead of markets." NM
"The best thing is the in depth analysis that Eoin provides about the opportunities. This is high quality research." Ginger
"Not only have I profited from some of his tips, but his regular video updates are very useful." Keith
"Good niche tips. An expert in his field concentrating on my behalf. What's not to like?" Dean Armstrong
"Eoin delivers leading research in a concise and easy-to-digest manner, which means I can quickly decide if the stock pick is for me." – Jonathan
NOW, my research tells me the next opportunity on the horizon is the fall of the oil kings…
And the rise of NEW energy giants.
And all my research is telling me that a bold early investment in either of the firms you've heard about today – even 1% of your portfolio, money you're willing to risk in order to see a potentially mammoth return – could change your life.
Or to put it another way:
Tech breakthroughs + billions of $$ in funding =
HUGE INVESTMENT OPPORTUNITY
Look. Let me be really clear what's on the table here...
The TECHNOLOGY behind geothermal and fusion energy has seen major advances… The European Geothermal Energy Council estimates new technology could unlock 6500GW of power, compared to just 2.5GW in 2016… Radically increasing the amount of the earth's heat we can capture.
The FUNDING needed to grow these industries is there – and it is coming from some of the wealthiest organisations on the planet.
And I think there are some enormous INVESTMENT RETURNS on the table… ways for early moving investors potentially making five, ten or twenty times their money in a couple of years. 
To be blunt:
I'M SHOWING YOU THIS TO MAKE IT CRYSTAL CLEAR WHAT A HUGE OPPORTUNITY YOU HAVE TODAY.
This is one of the hottest growth stories in the world right now.
If you're not at least considering investing in it – I think you're making a mistake.
In two, five, or ten years' time – when fusion and geothermal have advanced even further and become world dominating fuel sources – I think you'll regret not grabbing this opportunity by the scruff of the neck.
And to me, the most compelling part is this. You don't have to invest a huge amount of money to take advantage.
A bold move like this involves taking a risk. It's not the kind of thing you need to stake huge amounts of your wealth on. In fact, a small portion of your investment pot – perhaps only 5% - is enough.
But that 5% - if it comes good – could make you more than the other 95% of your pot put together.
Seeding your money in the companies that could dominate the future of energy could be one of the best financial decisions you ever make.
Which is why I've not only compiled TWO dossiers with everything you need to know about these opportunities…
"Infinite Energy forever: How to make 1,997% gains from the tiny company cracking fusion energy".
And "The Miracle Super Fuel".
But I've also found one MORE company I think every Brit should own…
Forecasts are not a reliable indicator of future results
It's set to take the bottom out of the oil market.
And I think it could grow as much as 1,997% over the next three years…
Breakthrough #3
A $304 BILLION global tech revolution
This next opportunity concerns a radical tech breakthrough set to displace 7.3 million barrels of crude oil... per day.
Experts believe it may already have killed the future for the internal combustion engine…
And with it the whole oil market.
As journalist Gregor Macdonald, puts it: "The 2018 oil crash was nearly entirely about a revision to future oil growth."
I'm talking about the electric vehicle. Because as a financial analyst I find some of the numbers coming out of this market VERY interesting.
Last year alone its market doubled in size...
And early investors have ALREADY made gains as high as 1,529%... 500% and 409% over the past few years from fast moving companies in this space…
And I think the amount of money going into this sector could be about to see those numbers get even higher.
AUTOMOBILE COMPANIES including General Motors, Ford, Volkswagen, Nissan, Daimler and Toyota are expected to invest as much as $255 billion…
VENTURE CAPITAL investments hit a record $1 billion in the first 3 months of 2018 alone
CHINA is investing a monster $47 billion
GERMANY has staked $1.2 billion
PLUS Britain's £106 million investment…
That's a collective $304 BILLION.
It's in no small part thanks to that cash that experts at Bloomberg New Energy Finance predict the number of these vehicles to explode more that 54x higher…
Imagine if you could capture just 10% of that growth…
I've found a way for investors to tap into this rare opportunity…
A way to avoid the ups and downs of individual, potentially volatile companies…
While benefitting from the unbelievable potential of the market as a whole… no matter WHICH companies win or lose.
Especially when you consider:
Ultimately, every petrol car on the planet will be replaced by these new vehicles.
Which makes this opportunity bigger than any individual company…
Because every single one of those cars needs a battery.
And rather than hedge our bets on any one manufacturer, I prefer to get in a position to benefit from all of their successes…
By investing directly in the supplier.
Which is why I've spent months hunting down a little-known company producing one vital ingredient for the electric car revolution.
It's a product which UBS estimates could see an enormous 1,928% increase in demand as a direct result of the electrification of the transport sector.
THIS company is poised to rocket 317% from that explosion.
Forecasts are not a reliable indicator of future results
As we see electric cars take over from 'regular' cars on the streets of Britain – and worldwide – owning a stake in this little known company could be the smartest thing you do in 2019.
Over the next three years I believe it could make you as much as 317%…
But of course, forecasts aren't reliable indicators of future results, and there are risks you should know about, too.
The main two, as I see it, are that the price of nickel could fall, and the risk of competition.
As things stand, I think the potential rewards are more than worth those risks, but you'll know better than me whether this is right for you.
Which is why I've written a report with my full analysis on this company… So you can judge for yourself whether this is an opportunity you want in on. Everything you need to know, broken down into simple steps, is waiting for you in your third research report:
"Exponential secret suppliers: How to profit from the EV revolution"
Get it. Read it. Reread it. There's a huge amount of potential waiting for you to capitalise on it.
But that's not everything I want to send you.
Not by a long way.
Because I think this energy revolution is going to turn the world on its head. Not only for the Saudi oil kings, and the Russian oligarchs... But for ordinary people who spot this enormous opportunity for what it is, and seed their money into the right companies.
Which is why I'm taking this to a whole other level…
By sending you…
An Energy Investor's Bumper Pack
Whether you're a seasoned pro looking to take your game to the next level, or brand new to investing…
This pack of investment research and analysis contains everything you need to make that happen.
To make sure you're positioned to extract maximum profits from this unusual situation…
As well as keeping you clued up on all the latest developments and the most exciting opportunities in the world of breakthrough tech.
Starting with…
Your THREE special reports:
VALUE: £150
"The Miracle Super Fuel"… Shows you how you could make a fortune investing in a fuel source 50,000x bigger than ALL known oil and gas reserves.
"Infinite Energy forever: How to make 1,997% gains from the tiny company cracking fusion energy"… Opens up the extreme financial opportunity in Nuclear Fusion. Thanks to an incredible breakthrough by one tiny company.  
"Exponential secret suppliers: How to profit from the EV revolution"… Explains how to take advantage of the enormous power of the trend in electric vehicles…
If you've read this far, I know you are ambitious and you want the chance to make a serious amount of money.
And I think you will agree... all of this complimentary research stacks the odds heavily in your favour to help you make life changing money.
From geothermal… nuclear fusion... and electric vehicles… To every aspect of the global energy revolution.
But that's not all I want to send you. Not by a long way.
Because the second you sign up today, you'll ALSO receive…
BONUS #1
A free subscription to "Southbank Investment Daily"
(£52 value)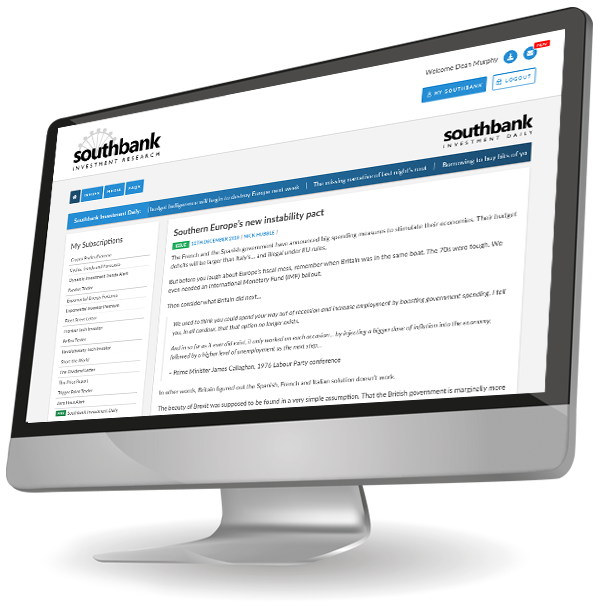 This is a daily email digest of the best insight, commentary and investing ideas from our team of experts. Contributors include a billion dollar hedge fund manager, published authors, million-pound businessmen, award-winning investors, world-class analysts and more.
Again, a free subscription to Southbank Investment Daily – for as long as you want to receive it – is yours as soon as you sign up to Frontier Tech Investor.
Every day, you'll gain new insight on topics as diverse as value investing, crypto currencies, artificial intelligence, trading the markets, world economics…all designed to help you make more money from the markets.
If you're the sort of person that values insight, knowledge and wisdom, and isn't afraid to have your ideas and views challenged…I think you'll love Southbank Investment Daily.
Bonus #2
TWO tech investing e-Books
Value: £44.99
Starting with: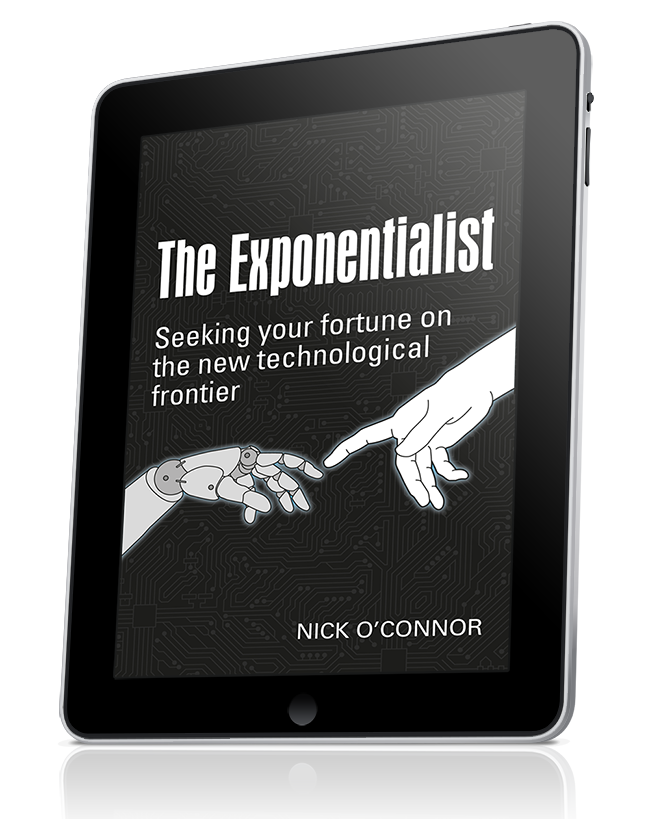 "The Exponentialist: Seeking Your Fortune On The New Technological Frontier"
In this acclaimed book, Southbank Investment Research Publisher Nick O'Connor takes you through the exciting world of pioneering technology. A paper copy of the book usually costs £24.99. But you'll receive a complimentary e-copy the moment your trial begins.
PLUS… a digital copy of colleague Sam Volkering's essential book:
Crypto Revolution – Bitcoin, Cryptocurrency and the future of money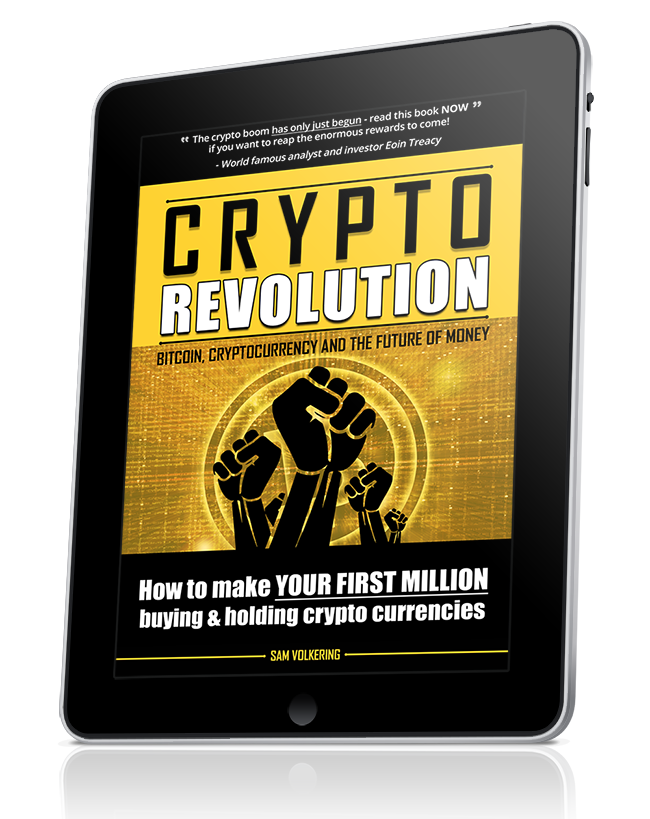 Sam's a renowned authority on cryptocurrencies – he's been investing in them since 2011, when Bitcoin was just $12!
This work is a definitive guide to dipping a toe in the booming crypto market.
From why they are changing the financial landscape, to how you can buy, transfer and store them. It's all inside this book.
But THAT'S not all I'm giving you, either!
You'll also get immediate access to…
Bonus #3

30 FULL DAYS of Unrestricted Access
Value: £79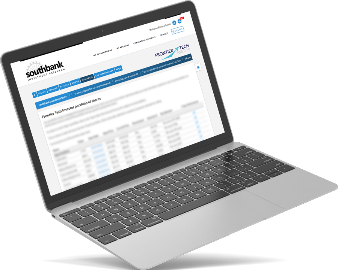 As I mentioned earlier, Frontier Tech Investor is my elite tech analysis service.
I hone in on the most exciting and potentially most profitable opportunities in the tech market.
Over the past few years, I've shown my readers how to capitalise on the exploding tech market – homing in on solar stocks, battery tech firms, companies pioneering robotics and artificial intelligence.
I share my insights into the biggest tech opportunities, and show you how to play them, with easy action stock recommendations.
Every month you'll receive a special opportunity bulletin, revealing the stocks I believe are best placed to rocket in price.
Each bulletin will provide you with a full investment analysis…
Plus, a complete breakdown of all the risks and potential rewards.
You'll know everything worth knowing about these break-out opportunities.
Having access to this 'insider guide' gives you a valuable edge on 99% of investors in the UK.
When you receive your 30-day all-access pass. Here is what you get:
Access to the monthly Frontier Tech Investor Issues: Every month I hone in on the most exciting and potentially most profitable opportunities in the tech market. Having access to this 'insider guide' gives you a valuable edge on 99% of investors in the UK.
Every opportunity in my 26-strong tech stock model portfolio: The three picks I've told you about today hold a huge amount of promise. But they are just the tip of the tech market iceberg! You can get my full analysis and investment case for every stock in the FTI portfolio.You will have 30 whole days to check out all of the tech stock recommendations I have shared with members.

A BONUS investment letter: Crypto Wire. As a Frontier Tech Investor trial member you will also get access to Crypto Wire… The only monthly publication in the UK dedicated to cryptocurrency market insight and opportunity.

Brought to you by Exponential Investor editor Harry Hamburg, you will get a ground-level understanding of this new, blistering asset class and revolutionary technology.

With your 30-day all access pass to Frontier Tech Investor, you will be able to read every issue, listen to the introductory podcast and stay up to speed with the exploding world of crypto and blockchain investing.
You'll be able to access it all right away when you claim your free reports today.
So, let's add all this up...
I've worked hard to make this a no-brainer offer for you…
Here's how it all adds up…
The moment you sign up you'll receive:
"The Miracle Super Fuel"… VALUE £50
"Infinite Energy forever: How to make 3000% gains from the tiny company cracking fusion energy"… VALUE £50
"Exponential secret suppliers: How to profit from the EV revolution"... VALUE £50
Southbank Investment Daily… Value: £52
One year's subscription to Frontier Tech Investor…  Value £79
Free digital book: The Exponentialist… Value: £24.99
Free digital book: Crypto Revolution… Value: £20
By now you must be thinking: "How much is all this going to cost me to access all this!?"
Well, don't worry. There's not going to be any big shocks here.
It doesn't cost much at all.
I am making everything you see above available for practically NOTHING.
I've put together an incredibly special offer to get you started here.
One that works in your favour and one I would want if I were in your shoes.
As you have seen, everything you will be getting tots up to over £325!
But today, you can unlock it all for…
Just £3.95!
Yes, that is a ludicrous bargain, anyway you look at it.
Forecasts are not a reliable indicator of future results
For £3.95 you are getting my urgent reports on the energy revolution, containing THREE stocks that could generate huge gains in the coming months and years…
A host of bonus research, recommendations, two free books…
And, of course…
An all-access 30-day pass to Frontier Tech Investor.
The moment you activate your free pass, everything you see above opens up to you.
Read the free investment reports. Watch the expert videos. Enjoy the books, at your leisure. Everything is yours to keep.
Review issues of Frontier Tech Investor and Crypto Wire – including the full 26-stock portfolio of recommendations.
It is all yours to keep – whether you stay on beyond your 30-day all access trial or not.
I just want you to make an informed decision on whether Frontier Tech Investor is something you'd like to make part of your regular reading or not.
I think that's fair. It puts you in the driving seat.
Why am I giving you a 30-day all access pass to Frontier Tech Investor for free?!
I want you to see that our work is valuable. In fact, I believe it is the best investment research available to you.
But instead of just TELLING you about it…
I want you to see for yourself – from the inside.
I want you to feel what it's like to have one of the world's best tech investors emailing YOU with monthly recommendations and analysis.
That's why I created this all-access pass.
It's like a test-drive.
And if you like Frontier Tech Investor after taking it for a spin…
25% discount – available now
When I offer a subscription to Frontier Tech Investor, people usually pay £79 a year.
That's great value. I could charge ten times that amount. My private investing seminars sell for £2,000 a day!
But I want to help ordinary people make extraordinary returns from these opportunities.
But as I said, YOU don't need to pay £79.
You are getting a free 30-day, no strings, no commitment unrestricted pass.
That means your trial to this premium service opens up to you today as soon as you unlock your copy of The Exponentialist.
And I'd like to stress – you are under no obligation to continue beyond those 30 days.
This is like a "test-drive" and you can return the car to the lot anytime in your first month, no questions asked.
Here's the best part...
After 30 days, you will automatically receive a 25% discount for an entire year of my expert investing analysis.
You don't have to do anything to claim it.
That means, for just £59 for a whole year, you will automatically receive his best research and tech stock recommendations at a huge discount.
If you don't want to receive it, no problem – just cancel within your 30-day 'test drive'. It's all very simple.
I have arranged this deal because I think now, more than ever, it is crucial UK investors like you have the best information and insight you can get… in a convenient way… and from a trusted and credible source.
Making everything I have told you about today available on a complimentary basis is the best way I can think of to make that a reality for you.
So, let's recap...
Not only will you get a copy of my urgent energy reports today... and all the bonus tech research and books I've told you about…
You will also receive a complimentary 30-day trial to Frontier Tech Investor, which includes all of the valuable material I have just shown you.
That already puts you way, way ahead of most people.
After 30 days you will automatically receive an annual subscription to Frontier Tech Investor for just £59. That's a locked-in 25% discount. I'm sure you're going to love the analysis and recommendations, but if during your 30 day trial you decide it's not for you, no problem.
Just call in to let us know and we'll make sure you're not charged.
But I would like to make this deal EVEN better for you.
I'm allowing all-access pass holders to qualify for…
A 365-day Money Back Guarantee
Look, I want to make this decision as easy as possible for you… So I can get this research into your hands asap.
So, when you take out a subscription to Frontier Tech Investor today, I've made sure there is zero risk whatsoever to you personally in terms of subscription fees.
If you decide to stay on board past your 30-day all access pass, I am offering you a full YEAR to try out my service…
A whole year to download my research reports, read every issue of Frontier Tech Investor, take action on every opportunity I send your way…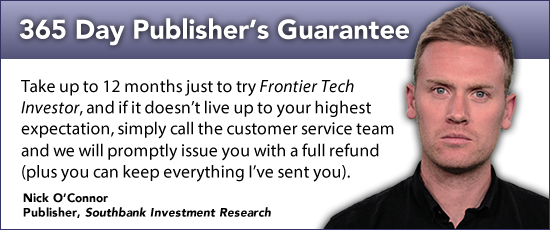 Take the whole service for a spin. A 'test drive' if you will.
I think that if you're really interested in making money from big energy trends, my research will give you all the resources you could ever need.
If that's the case, fantastic!
If not, all you need to do is let me know within those 365 days and you'll get every penny back of your £59 subscription, no questions asked.
I'll even let you keep all my research reports, completely free.
If you want to get in on the big opportunities as the world shifts from fossil fuels to renewables…
Frontier Tech Investor is here to help you make the most from your investments.
For clarity, here's everything you get again:
"The Miracle Super Fuel"… VALUE £50
"Infinite Energy forever: How to make 3000% gains from the tiny company cracking fusion energy"… VALUE £50
"Exponential secret suppliers: How to profit from the EV revolution"... VALUE £50
Southbank Investment Daily… Value: £52
One year's subscription to Frontier Tech Investor…  Value £79
Free digital book: The Exponentialist… Value: £24.99
Free digital book: Crypto Revolution… Value: £20
But YOU'RE not going to pay £325.99.
You're not going to pay HALF of that… You're not EVEN going to pay a quarter of that price…
You are not even going to pay what it costs for a decent beer in a London pub!! 
EXCLUSIVE OFFER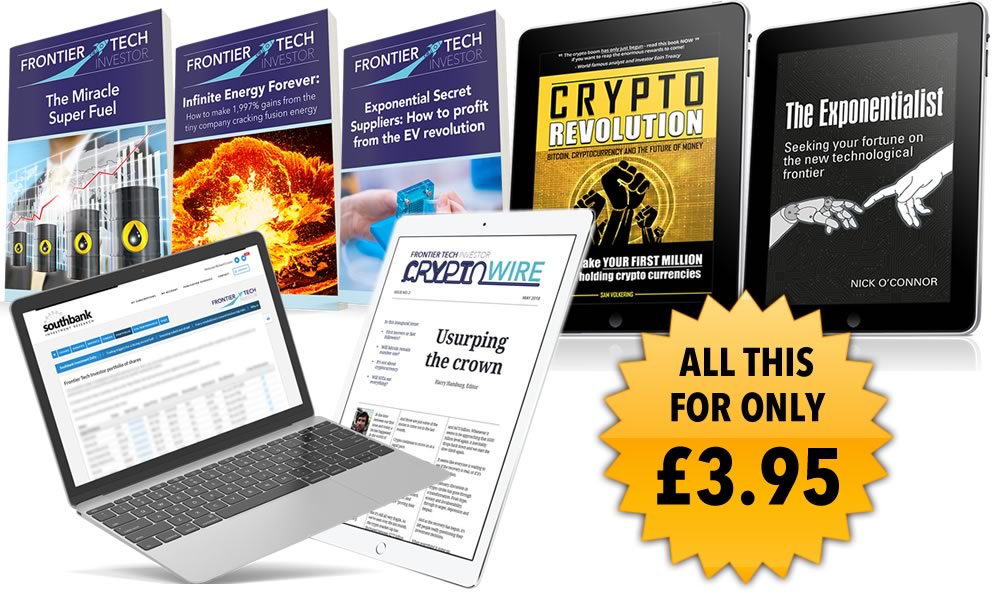 A £325 value… Yours for just £3.95!
(You can confirm your order on the next page)
As I said, I do not want there to be ANY barriers here. I want to make it easy for you to:
Understand what this energy revolution means for your life and wealth
Identify which companies are driving this movement forward
Act decisively and invest in these companies EARLY.
To make it happen and take a first important step to becoming a better and potentially far wealthier investor…
Everything is yours to keep, whether you stay beyond your special trial membership or not. That's my way of saying 'thanks' for taking the courage to learn something new about investing your money.
If you like the sound of that, let's get started. Click the button below to claim your free Energy Investor's Bumper Pack, start your trial and collect your breakout stock report:
(You can confirm your order on the next page)
Time to Act
Do you have what it takes to grab this opportunity?
When you boil it down, opportunities like this come down to one thing...
What kind of person are you?
Are you the type who can see what few others can... who sides with the visionaries like Tesla, Steve Jobs, Bill Gates and Elon Musk... who's bold enough to move early...
Or do you prefer to "wait and see"... to wait until something's a "dead cert" before you act?
Because the truth is, there is no such thing as a dead cert.
And waiting until everyone can see how big a technology is going to be means you'll likely NEVER make the kind of gains we've been discussing today.
The fact you're listening to me now tells me you're probably in the first camp – you're willing to be bold, take a risk and get in at the same time as the other visionaries.
Which is EXACTLY what Frontier Tech Investor is all about.
In fact, given everything I've shown you I can't think of a single good reason why you wouldn't join us today.
You'll get our research immediately. You can walk away with a full refund any time in the first month and STILL keep all the reports you've received.
Opportunities like this don't come along often.
When they do, you must grab them with two hands.
I've done everything I can for you.
But I can only do so much. Now it's over to you. You have to act to grasp this opportunity.
Do that by clicking on the link below and entering your details on our secure order form.
(You can confirm your order on the next page)
All the best,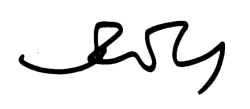 Eoin Treacy
Editor, Frontier Tech Investor
PS. I have barely been able to scratch the surface here about what your £3.95 all access 30-day pass gets you. As you will see when you unlock your 30-day trial to Frontier Tech Investor, a suite of extra investment research and intelligence will open up for you…
I have done everything I can to make your decision a simple one today.
I have lowered the barrier almost to the floor.
Instead of paying £79 – the full, official price to access the exclusive research and recommendations behind the Frontier Tech Investor paywall…
I am offering it all to you for the negligible access fee of £3.95…
Qualifying you for a 25% discount if you decide to stay on after your 30-day trial!
If you are serious about improving your investing know-how… and keen to get in on opportunities capable of making you three, four, even ten times your money…