Dear Friend,
Your head might be spinning…
Peeking into 2019, there are real and serious threats to your money:
You're looking at the final stages of the longest bull market in history.
You're looking at the Brexit mess sending the markets in a spin.
And you're looking at another emerging debt crisis tearing through Europe.
A lot of people will hide in their shells and pretend none of this is happening.
But ignoring these problems won't make them evaporate. Or help you or your money.
And while there are good reasons to be worried….
2019 will present you with important opportunities to grow your personal wealth. 
You cannot afford to pass these up.
There is always money to be made in the markets. The big money doesn't simply 'disappear'… it simply heads for new ground.
In the mid-90s, the big money flooded into biotech stocks, sending them skyward.
Then it moved into tech stocks like Amazon, Cisco and Google, creating the biggest market surge in history.
Then it jumped into oil, sending the price to $147.
Then it migrated into gold, pushing the precious yellow metal near $2000.
Most recently it piled into cryptocurrencies, forcing bitcoin to hit $20,000 around this time last year.
The simple question you need to ask yourself is:
Where is the big money headed in 2019?
I'd like to do everything I possibly can to show you where I believe trillions of dollars in capital is going to land NEXT…
And show you how to intercept it…
By gifting you premium stock market research – with the names of 22 'must-own' stocks – selected by an award-winning investor.
All told, what I want to send you today would normally cost £552.99.
But as Publisher of Southbank Investment Research, for a very short time, I am in a unique position to waive that fee.
And that's what I am going to do.
If you do not know much about me or Southbank, I'm not going to give you any hype. I'll keep it simple:
We exist to put top quality investment intelligence into the hands of private investors. The aim is to use that research to improve your financial standing. 
Our work is not for everyone. It is only for those who will not settle for middle of the road returns… or the same mainstream information everyone else gets.
We have a strong following – more than 160,000 readers at the last count. And they often write in to share their experience of our work:
"I honestly believe that finding Southbank Investment Research was my best ever move. I wish I had been a subscriber much earlier, as the content and variation of financial Articles is simply astounding." EN
"Thank you for everything that you have done to assist ordinary people like myself – with such incredible monetary knowledge!" Candace Caldwell
Past performance is not a reliable indicator of future results.
"Thanks, since I retired in 2006, my pension has been more than adequate, but my capital has increased by 300% due to the recommendations of your newsletters." Anon
I hope these few comments show how committed I am to bringing our best work to ambitious UK investors…
People who have the genuine desire to do much better than they are doing now.
If that's you, then today I will put £552.99 worth of our most urgent and useful research in your hands.
I can't leave it on the table for long, so please be prepared to:
Unlock it today (while you can):
Your 2019 Invest for Profit Blueprint
You need a plan to attack the markets strategically – and I am going to give it to you:
Your wealth package contains everything you need to get your portfolio in great shape for 2019…
Everything you need to stay ambitious and keep your head, including:
Forecasts are not a reliable indicator of future results.

Five stock recommendation reports – including one small tech firm that could turn £1,000 into £30,000!
Free best-selling book – showing you how to profit from the fastest-growing investment in history!
Exclusive strategy report – revealing the coming market 'melt-up' that the mainstream press have missed
There is a lot, lot more I want to send your way.
As I mentioned, your package is worth over £500. And it would be an absolute bargain at that price.
Not least because you'll be getting access to the exclusive investment recommendations of Eoin Treacy…
An award winning wealth manager currently entrusted with $600m in client capital in Los Angeles.
Having Eoin's tips and insight at your disposal gives you a valuable advantage. No question.
Eoin commands a five figure sum for his private training and guidance. Eoin is the man OTHER fund managers run to for where they should invest their clients' money.
And your 2019 investing wealth package hands you the same level of elite research and specific stock picks his wealthy clients enjoy… for free.
Forecasts are not a reliable indicator of future results.
Your wealth package will also give you a full understanding of why the markets could surge into a fortune-making climax over the coming 12—24 months.
An event that most people won't see coming…
But one that could drive your portfolio through the roof (if you have bought the right stocks).
"If you're not positioned to profit from this melt-up", says Eoin, "you could be leaving a fortune on the table."
The full story is in your wealth package – including the specific stocks Eoin believes could hit pay-dirt during the climax.
In a very short while, I'll show you how to get it – on the house.
But first, I want to show you how to…
Get the most successful stocks in history on your side
Which stocks make the most money?
A question so simple, it seems naïve.
But you'd be surprised how many investors make the huge mistake of not asking it…
Failing to stake their money in the best-performing market the world has ever seen.
I'm not talking about oil stocks.
Or gold miners.
And it's not property, alcohol, construction or agriculture firms either.
I'm talking about tech stocks, as you may have guessed.
According to research firm Kiplinger, nearly HALF of the twenty best performing shares since 1926 are technology companies.
The tech sector has generated enormous wealth for smart investors. More so than any other type of stock since the Great Depression.
And over the last ten years alone, it has fired out gains like these:
6,414% for Netflix: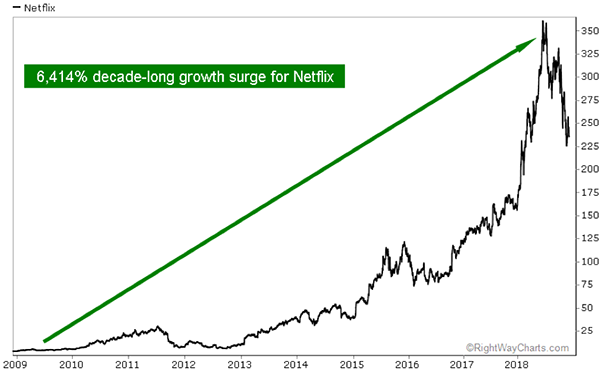 Past performance is not a reliable indicator of future results.
2013 +290.25% 2014 -1.41% 2015 +147.95% 2016 +29.11% 2017 +41.63% 2018 (to Nov end) +58.04%
1,913% for NVIDIA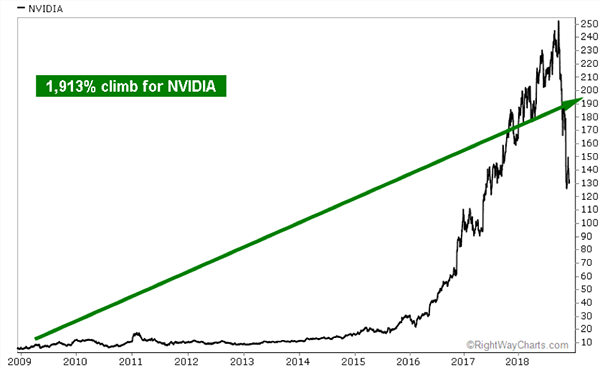 Past performance is not a reliable indicator of future results.
2013 +33.20% 2014 +27.28% 2015 +66.36% 2016 +225.32% 2017 +81.82% 2018 (to Nov end) -15.22%
1,605% for Salesforce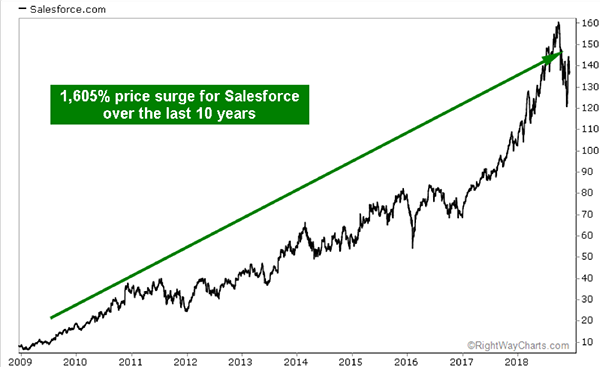 Past performance is not a reliable indicator of future results.
2013 +31.33% 2014 +7.47% 2015 +32.19% 2016 -12.68% 2017 +49.33% 2018 +39.65%
2,705% for Align Technology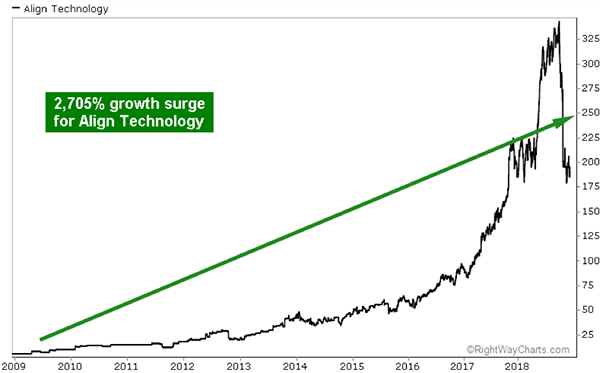 Past performance is not a reliable indicator of future results.
2013 +105.91% 2014 -2.15% 2015 +17.78% 2016 +45.98% 2017 +131.13% 2018 (to Nov end) +3.47%
Past performance is not a reliable indicator of future results.
That tells me one very important thing:
If you want the opportunity to make the biggest possible profits with your money…
Having a stake in rocketing tech stocks is a very good way to go about it.
Of course, not every tech stock you put money in will skyrocket. It would be foolish to expect that to happen. Investing carries risk and you should only ever stake money you can afford to lose.
But when you get it right, the financial rewards of backing tech stocks can be eye-watering. 
Let's quickly take a look at how just a few hundred quid in the companies above would have changed your financial life:
£500 in Netflix = £32,070
£500 in Align Technology = £13,525
£500 in NVIDIA = £9,565
Simulated past performance is not a reliable indicator of future results.
Those are outrageous returns. And by no means the norm.
But who wants to settle for the norm?
I have to assume you're taking the time to read this page because you are thinking ambitiously about your financial life…
And you want much more than what most people are happy to settle for.
If so, then I feel I have a serious responsibility to help you achieve it.
Because as Publisher of Southbank Investment Research, I don't want you to look at those sorts of profits and wonder 'WHAT IF…'
I want you to be in the same position in 2019… as investors in Netflix, or Align or NVIDIA were in in 2009!
That is why – today – I am opening up over £500 worth of our best tech investing insight and recommendations for you.
Your 7 free gifts to help you generate extreme wealth in 2019
Two years ago I recruited Eoin Treacy to do one thing:
Show UK investors how to profit from breakthrough technology.
As you can see above, nothing can move the needle on your wealth like locking onto the RIGHT tech stock… at the RIGHT time.
That is why I have asked Eoin to put together your exclusive 2019 Invest for Profit Blueprint…
And that is what your first free gift is all about – getting in EARLY on a company that could be on the verge of the biggest energy disruption in history…
Jump-start Report #1: THE STAR ENGINE
How the secret to "infinite energy" could send this tech firm rocketing 3,000%
Past performance is not a reliable indicator of future results.
The biggest upheaval in the history of commercial energy is quietly unfolding.
And it has nothing to do with fracking, drilling, solar, Putin, OPEC, Iran, the king of Saudi Arabia...
Or anything else on the mainstream radar right now.
It's happening because of an obscure energy breakthrough that the world's greatest scientists have chased for the last six decades.
So far in history, this world-changing breakthrough has only been possible on a very small scale.
But suddenly – due to a technological quantum leap we will show you...
The awesome, never-ending power of "The Star Engine" is no longer solely the stuff of theoretical physics... or science fiction…
It will soon be commercially viable on a global scale.
In fact, the mad rush into this new technology is already beginning – and it's about to turn the $1.4 trillion global energy industry upside down.
That's because this energy breakthrough – in the words of the late Stephen Hawking – will "…provide an inexhaustible supply of energy, without pollution or global warming."
You see, earlier this year, scientists at MIT announced that they'd solved the final piece of the puzzle that makes 'The Star Engine' possible.
In fact, Prof Maria Zuber, MIT's vice president for research said this about their breakthrough…
""At the heart of today's news is a big idea - a credible, viable plan to achieve 'The Star Engine'," she said.
"… the world's energy systems will be transformed. We're extremely excited about this."
As your first free gift, I want to help you profit from this once in a century breakthrough.
The company I'd like to introduce you to is the sole manufacturer of the piece of technology that completes the puzzle.
They hold the key to new, clean and infinite energy FOREVER.
And they have a 100-patent-strong moat protecting it.
In short, right now, all competition are locked out for the foreseeable future.
And if you thought they weren't already in a great position to see their share price rocket, get this:
The company behind this technology is miniscule.
They have just 23 full time employees…
Their share price is just $1.29 as of 18/12/2018.
This makes the potential upside this company could see all the more enticing.
According to industry analysts, Bruce Gellerman, "They've got the science. They've got the engineering. They've got the money. And they're ready to roll."
As far as I'm concerned this is the definition of a ground-floor opportunity.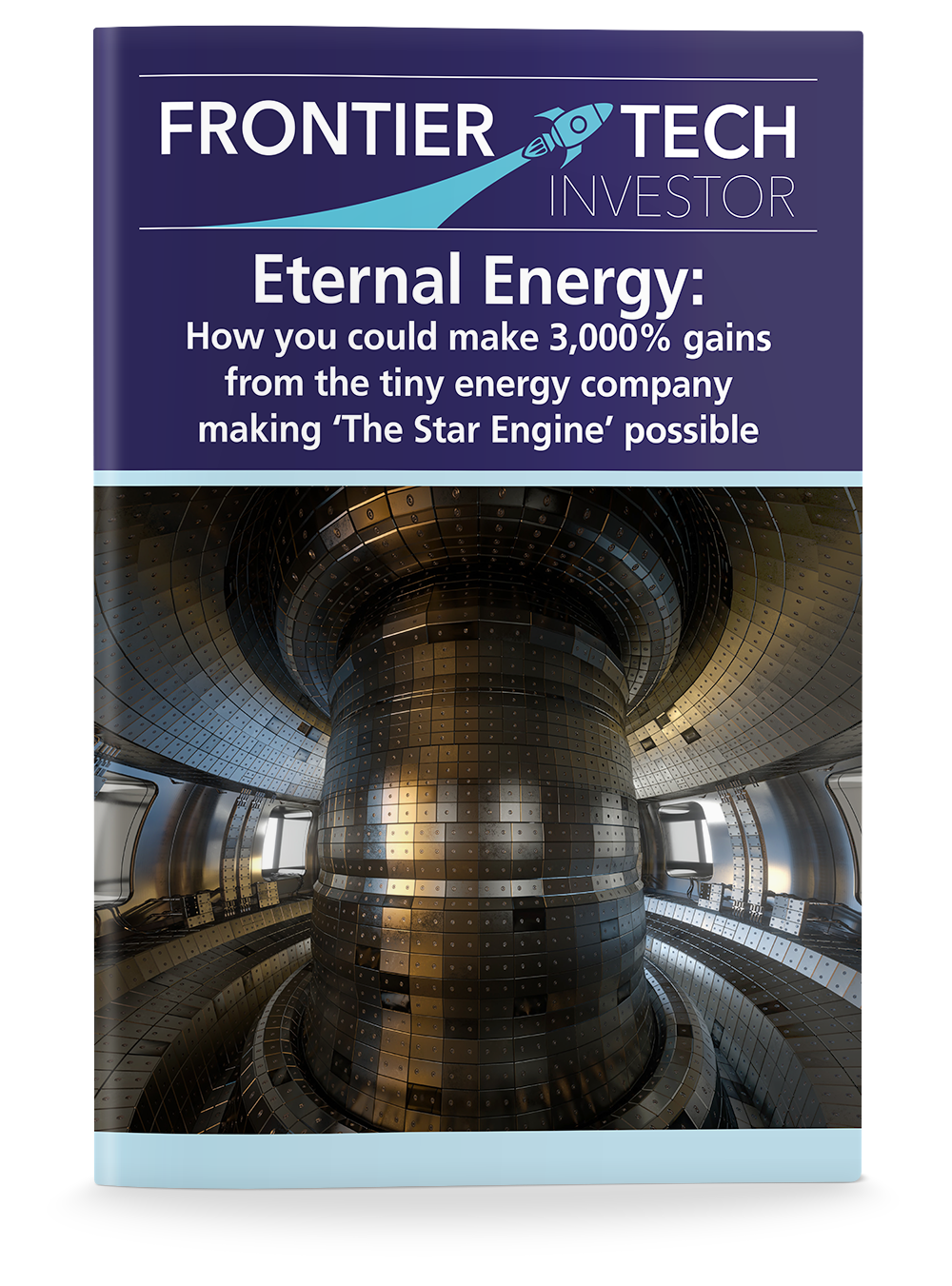 This is like investing in James Dyson when his cyclone vacuum cleaner was just a prototype in a garden shed.
Forecasts are not a reliable indicator of future results.
All things considered, the potential here is insane .A £500 grub stake could ultimately return as much as £15,000.
Everything you need to know about 'The Star Engine' and the company holding the key to this once in a century breakthrough is detailed in my special report: "Eternal Energy: How you could make 3,000% gains from the tiny energy company making 'The Star Engine' possible"
If we were to sell this as a separate report, it would retail for £50…
But I'll show you how you can claim it for FREE in just a moment
But first let me tell you about your next free gift…
Jump-start Report #2:
The $500 billion opportunity most British investors are completely ignoring
In many ways 2018 has been a year of disappointment.
Every major stock market is down from the start of the year. (With the FTSE at its lowest point since 2009.)
FANG stocks have shed up to 25% of their value.
And anybody who bought Bitcoin – or almost any crypto for that matter – at the start of the year would have gotten their fingers burnt badly.
But all this while, some investors have been making truly life changing gains.
Gains like:
576% in six weeks…
627% in just over a year…
1,766% in just under a year…
And 2,667% in two months!"
It's all thanks to a global trend of government legislation that's sparked into life an industry with an in-built $500bn worth of demand.
The industry I'm talking about is that of legal marijuana.
Now, as I said, this explosive industry quite simply isn't on most British investor's radar. But it should be.
So, what has smart investors salivating in anticipation? Simple.
It enables investors to seed their money into a market with a widespread following that up until recently you'd have to commit some serious crimes to invest in.
Because whilst cannabis use has – for the most part – been illegal across the globe for the last century… it hasn't stopped 94 million people in the USA alone from admitting to having tried it at least once. (That's almost one third of the entire population!)
All this while the potential wealth on offer from this forbidden industry has just been ripening.
And now this drug is being legalised all over the world…
First in the Unites States, where 10 states have legalised recreational use of marijuana.
But the real ignition point happened on Wednesday 17th October when the 10th largest economy in the world – Canada – gave the green light to cannabis.
Now the rush is on!
Israel, Germany, Spain, Australia and a further 8 US states are making inroads to legalise cannabis as we speak.
This is a perfect storm for investors. It's set into motion a nailed on consumer and medical market boom.
Constellation Brands' recent "rocket fuel" $4 billion stake in Canopy Growth Corp - Canada's first weed company to reach a $5 billion valuation…
Tobacco giant Imperial Brands buys an 'undisclosed' stake in a UK biotech company with government backing to grow cannabis… and appoints a medicinal cannabis expert to its board of directors…
Billionaire hedge fund investor Leon Cooperman buys US cannabis company, Green Thumb Industries…
Giants of industry like Coca-Cola, Corona, Heineken and GW Pharmaceuticals, have already locked on to legalised cannabis as a massive growth market.
This is happening. And it will make some people very rich in 2019.
In fact, as you can see from the early stage gains flying out of this market… it already is.
You can either grab a slice of this tidal wave of profit…
Or watch on as other investors wade in and fill their boots.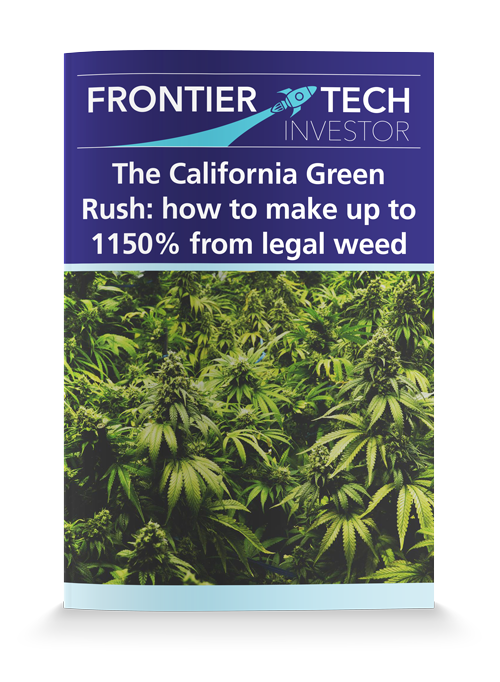 Because this first rush in outrageous prices will only happen once.
Like it did for Pfizer when it unleashed Viagra onto the world…
Like it did for Amazon when it opened its doors…
Or like it did for Apple when it released the iPhone…
Listen: you don't need to have any prior knowledge of cannabis to potentially profit from this exploding sector.
All you have to do is read my special report which I want to give you for free:
"The Canadian Green Rush – how to make up to 820% from legal weed".
Forecasts are not a reliable indicator of future results.
In it I tell you everything you need to know about this exploding market in simple, easy to understand language. And I give you the names of two future cannabis giants. Two companies, I believe could return you 820% over the next three years.
This report is worth £50 in its own right. But it's my gift to you – for FREE – today.
Before I show you how to download these two reports today… and tell you about your other valuable free gifts…
It's about time I showed you just how valuable it is to get Eoin Treacy's expert stock picks and insight:
Meet the man who could make 2019 the most financially rewarding year of your life
Meet Eoin Treacy…
Eoin is frequently featured on CNN, Bloomberg TV and BBC World Service for his take on financial events.
But he is MUCH more than just a talking head.
Eoin is the man other hedge fund managers turn to when they need advice.
Here's a picture of him doing just that.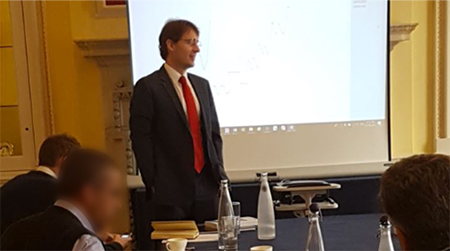 As you can see, his client's faces have been blurred out – they might not want their investors to know they come to someone else for advice.
He's given sell-out presentations to traders and analysts in every major "hub" of the financial system, including London, New York, Singapore, Sydney, Copenhagen, Dublin and San Francisco.
His book – Crowd Money – was described by world famous businessman Bill Bonner as "a treasure trove of insights". And it was shortlisted for the Technical Analysis book of the year.
He's worked with and advised many multi-billion dollar firms, like Shell, Nestle, Rio Tinto, Chandler Brothers, the Abu Dhabi Investment Authority and Breven Howard.
Eoin charges his private clients thousands of dollars PER HOUR for his advice. Those clients include Shell, Nestle, and some of the biggest trading houses in the world. Some of these big trading firms won't let their new starters near the markets until Eoin has shown them the ropes. 
But it's not just high flying professional traders and investors who look to Eoin for advice and guidance.
It's also regular private investors here in the UK.
People who want to manage their own money – control their own fate…
And potentially make a fortune while they're at it.
People like you.
It's pretty rare for someone like Eoin to do this. Most elite investors want to 'manage' your money – to invest it FOR you and cream off fees.
Not Eoin.
He simply wants to give you the tools and advice you need to make more money by managing your own finances.
To show you what to buy…
What to avoid…
When to sell...
And how to spot big market turning points.
And you know what?
Eoin is damn good at this. Just ask some of his current readers (there are 12,000+ in all so asking them all would take all day):
"Blue sky thinking and brilliant up to date research, really exceptional articles of interest…" Digby
"Eoin's reports would be invaluable to any investor." PS
"Insightful and timely analysis that is delivered in an easy to understand manner." AJFB
"Excellent front line thinking. Very mind broadening!" Ian Murray
"Always ahead of opportunities. Keeps me ahead of markets." NM
"The best thing is the in depth analysis that Eoin provides about the opportunities. This is high quality research." Ginger
"Not only have I profited from some of his tips, but his regular video updates are very useful." Keith
"Good niche tips. An expert in his field concentrating on my behalf. What's not to like?" Dean Armstrong
Eoin's subscribers are in a terrific position. They have access to the same level of commentary and advice that his rich clients pay thousands of pounds for.
And today, you can join them.
Including your third free gift…
Jump-start Report #3:
A 'Final Twist' as the greatest bull market in history ends
It's your third free gift where Eoin will answer the one question that could make you rich in 2019.
Where is the big money headed?
Eoin believes, like many others, we are in the late stages of a market cycle.
But he also believes that there's something almost everyone in the City and Wall Street – including the mainstream media – has overlooked.
As you turn the pages of your third free gift you'll learn about a 'final twist' that has taken place at the end of every great bull market in history…
And how they have all ended in a disruptive climax.
One that has devastated millions of investors… but created 'generational wealth' for the few smart enough – or lucky enough – to capitalise.
And you'll learn why Eoin believes it is happening again as the bull market we're living through right now comes to an end.
You'll learn how an $80.2 trillion tidal wave of cash is heading into one specific type of investment.
You'll also learn how the most reliable lead indicator for predicting a recession is equally as reliable at predicting this 'final twist'…
And how right this moment it's signaling it'll come to a head within the next six months.
Finally, you'll learn how profiting couldn't be simpler.
All you have to do is move your cash into three, simple – easy to buy investments.
These aren't any type of risky leveraged play… nor are they small caps that could go to zero in a day.
All it requires is you move your cash into one of three big, well-known companies. Blue chips that could stand to benefit hugely in 2019 as this tidal wave of wealth breaks on shore.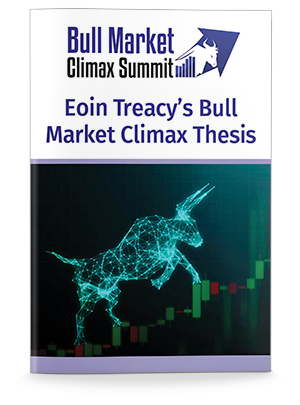 Forecasts are not a reliable indicator of future results.
Putting your spare capital into just one of these investments as the bull market climax kicks into action could triple your portfolio.
Eoin will tell you everything there is to know about this 'final twist' to the bull market – including 3 stocks perfectly positioned for maximum upside in your fourth gift for 2019: "Eoin Treacy's: Bull Market Climax Thesis".
In total, the three gifts I've told you about so far would retail for £150 if we were to sell them individually. And the opportunity they represent to multiply your wealth – many times over – could put tens of thousands of pounds into your private investment account.  
But I'm willing to give a leg up to those investors who aren't happy just eking out a gain that barely tracks inflation.
I respect ambition and a willingness to understand the world on a deeper, critical level. Seeing as you've read this far, I'm assuming what I've had to say so far interests you – and you are one of those people. So, I'll help you to jump-start your returns in 2019.
To do that, I am opening some of our most valuable investing insight and recommendations to you.
The next of those being…
Jump-start Report #4:
The 'Miracle Super Fuel' 50,000 times more powerful than oil and coal
The fourth opportunity I want to get into your hands is the oil and gas story no one is telling.
Forecasts are not a reliable indicator of future results.
See, I told you earlier about 'The Star Engine' – an opportunity to get in on the ground floor of the ultimate goal in energy. If that opportunity plays out in the next decade as Eoin expects, it could create you a life changing amount of money.
But until it does, there are advancements taking place in the energy industry that you could profit from right this second.
None of which has greater potential than the revolutionary energy source Eoin call's the 'Miracle Fuel'.
It's an inexhaustible, virtually emission free super fuel buried deep beneath the earth. And it's 50,000 times more powerful than oil and coal.
And thanks to a technological breakthrough in the oil industry we now have access to it on an industrial scale.
According to the World Energy Council investment in this 'miracle fuel' will increase 7-10 fold by 2030.
This 'miracle fuel' has the capacity to displace 100% of the global energy market. That's a mind-blowing amount of energy. But even if it grew to just 25%...
It would be worth $350 billion
That's more than a 13,107% gain!
The sort of move that turns a feeble £150 over £19,810!
In your fourth report: "The Miracle Super Fuel" you'll learn everything there is to know about this energy revolution. Including the name of the company I have identified to lead the way as this super fuel rolls out.
This is a company Eoin has described as the 'BP' of the 'Miracle Fuel' industry.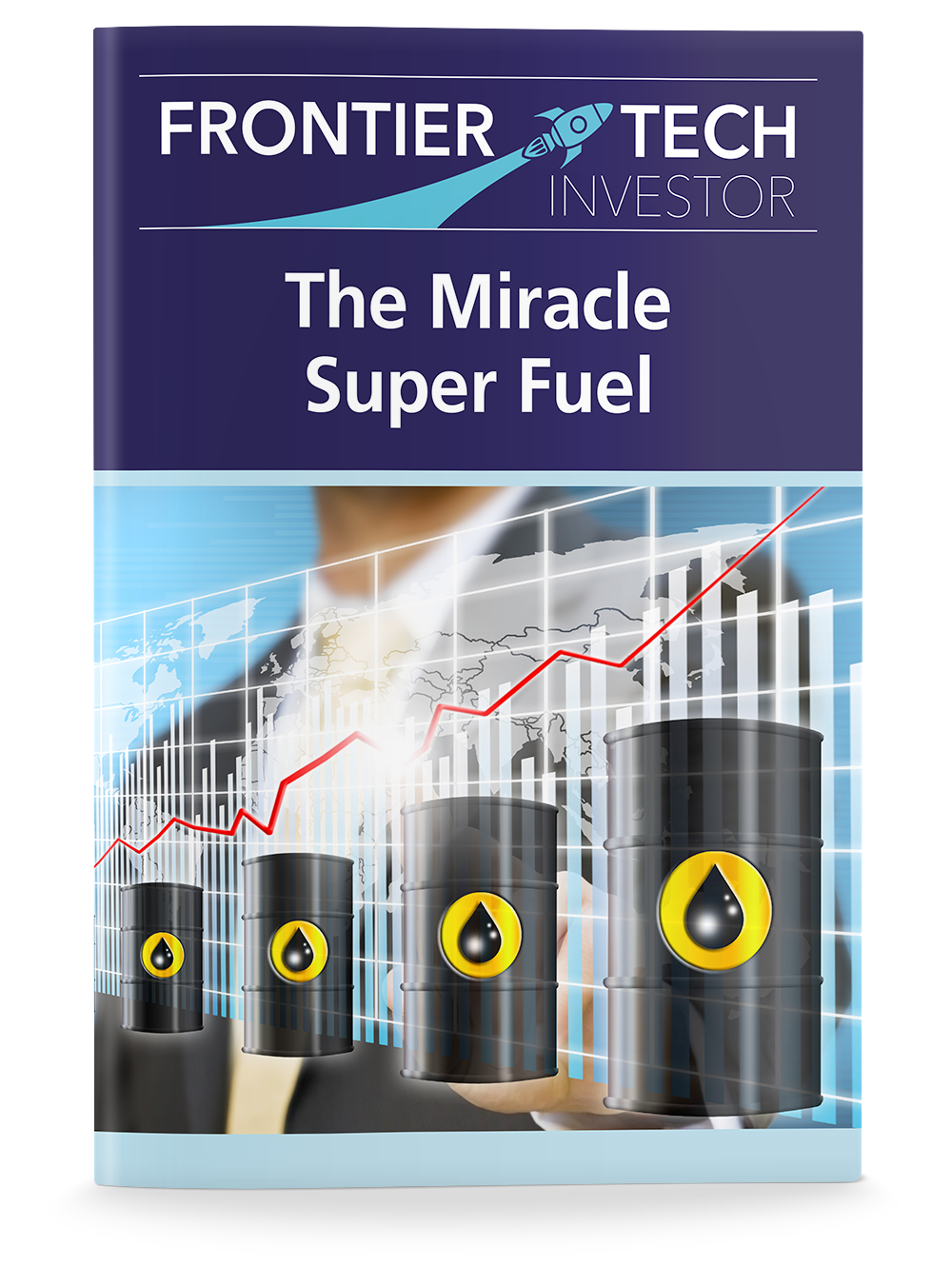 Its client list and industry expertise are second to none.
It owns 73 vital patents, which give it a massive "moat" to protect it from outside competitors.
And it has been a pioneer in developing the same type of tech which has unlocked the wealth of geothermal potential stored the UK…
All the details are inside your fourth special report: "The Miracle Super Fuel".
It has a £50 value.
In a moment I'll show you how you can claim all of your gifts for free.
But first, there's another bonus gift I want to send your way.
BONUS: FREE e-BOOK The Exponentialist
Writing this book, I spoke to hundreds of different technology experts… and spent more than £100,000 putting this all together.
So let me be blunt.
If you feel like technology just "isn't your thing"…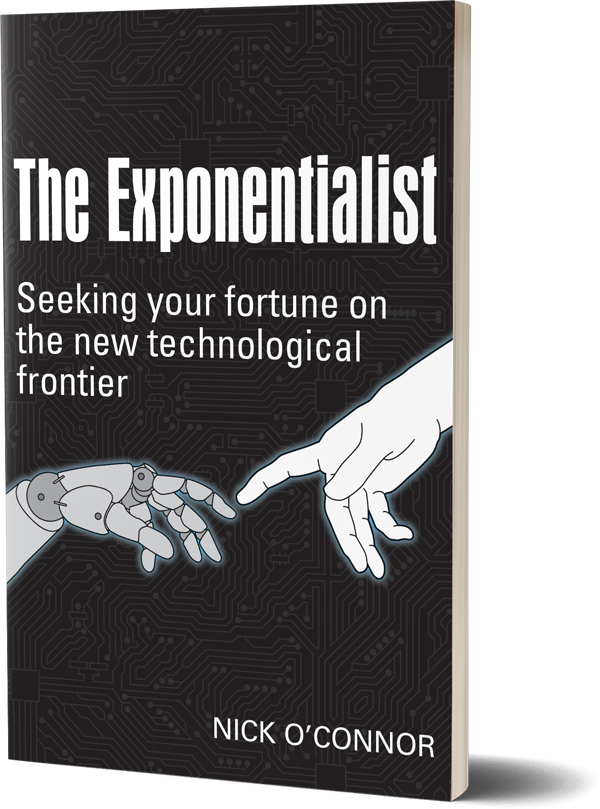 Or that the advances we're witnessing today "won't affect you" somehow…
You're making a HUGE mistake.
Not everyone likes taking a risk and investing in new technology. That's fine. You know what's best for you and your money.
But whether you want to capitalise on new technology or not, you need to understand how new technology is going to change your life.
I've never been more certain of anything in my life.
Which is why I'm giving away a free copy to anyone who takes me up on this offer today.
So, let's unlock your free tech investor gift-set:
Everything I have shown you today is all yours today, for free….
All I ask in return for this free gift package to help you make a killing in 2019 is:
Try out Eoin Treacy's Frontier Tech Investor today and unlock all of this instantly:
Frontier Tech Investor is Eoin's direct method of showing UK investors how to get in early on the world's next tech superstars.
Every month he sends his readers a special bulletin, with a recommendation and his elite market analysis.
Here's a peak at the opportunities members have been enjoying recently: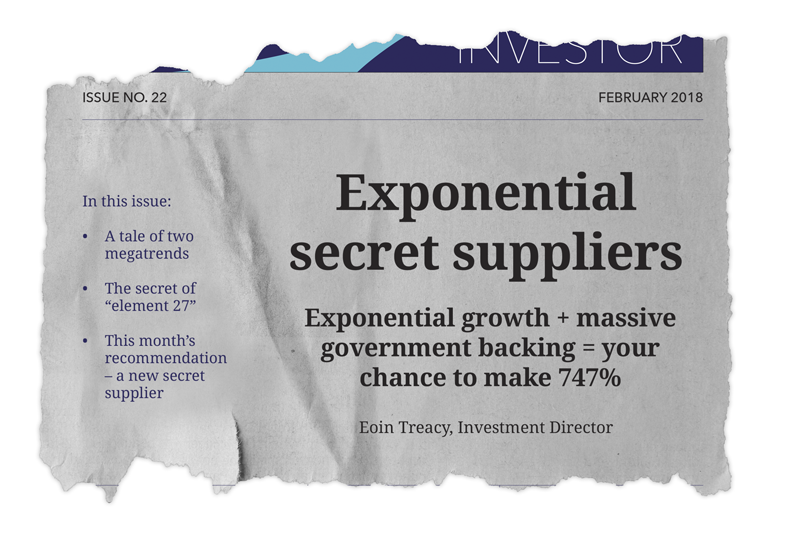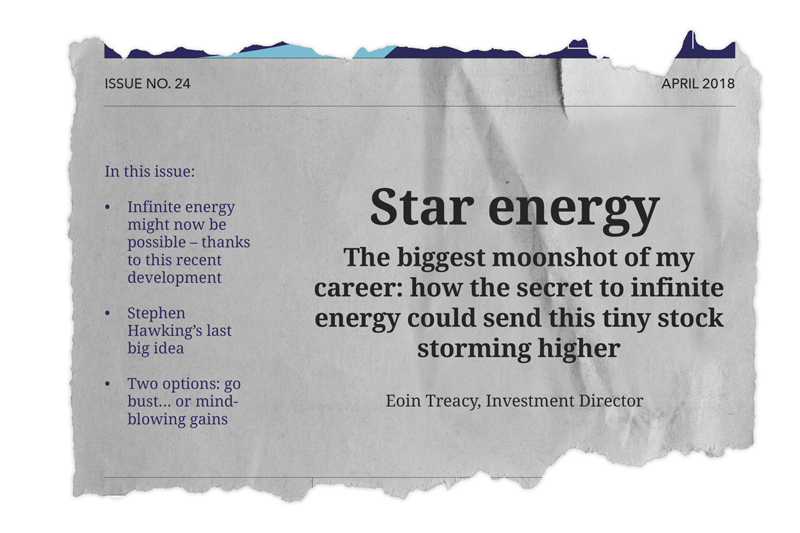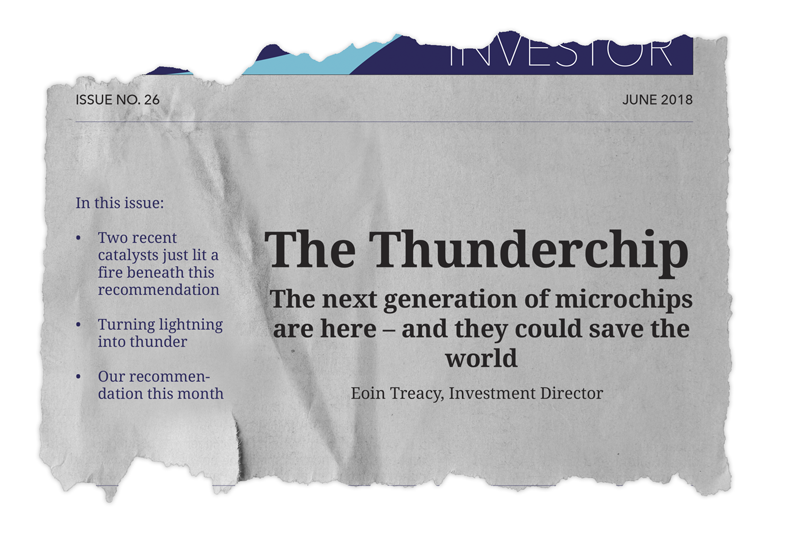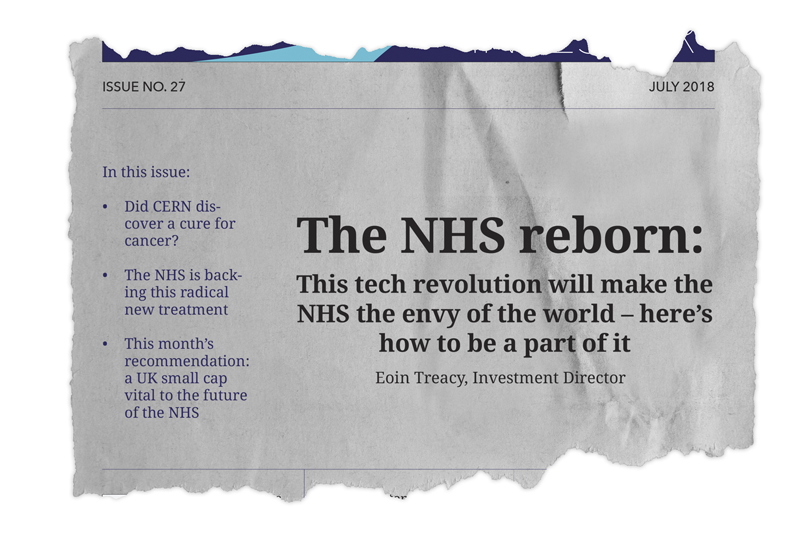 Past performance and forecasts are not a reliable indicator of future results.
In each bulletin Eoin provides you with a full investment case and reveals all the risks and potential rewards. You will know everything worth knowing about these break-out opportunities.
His readers certainly see the huge value of his work:
Over the past two years, Eoin has given his readers a chance to bank substantial returns from breakout tech stocks…
And his exclusive portfolio has already delivered gains of 110%, 59% and 93%... even though the portfolio is still in its infancy.
Not every stock is a winner of course. Investors will always encounter losses which is why you should only invest money that you can afford to lose. What I want you to see is the huge potential here for you, getting the recommendations of a $600m tech market veteran.
And the deep value of what I am putting on the table for you today…
To recap:
I want to help you make 2019 the best year of your investing life – here's everything you'll get to make that ambition a reality
That's why I've asked Eoin to put together our special 'Jump-start your portfolio for 2019' plan.
That gives you access to a frankly HUGE amount of research, all designed to help you make big money in 2019.
Remember, that includes…
My top four stock picks for right now:
FREE REPORT #1: "Eternal Energy: How you could make 3,000% gains from the tiny energy company making 'The Star Engine' possible" – (£50 value)
FREE REPORT #2: "The Canadian Green Rush – how to make up to 820% from legal weed" – (£50 value)
FREE REPORT #3: "Eoin Treacy's: Bull Market Climax Thesis" – (£50 value)
FREE REPORT #4: "The Miracle Super Fuel" – (£50 value)
PLUS…
Your free copy of The Exponentialist
The next issue of Frontier Tech Investor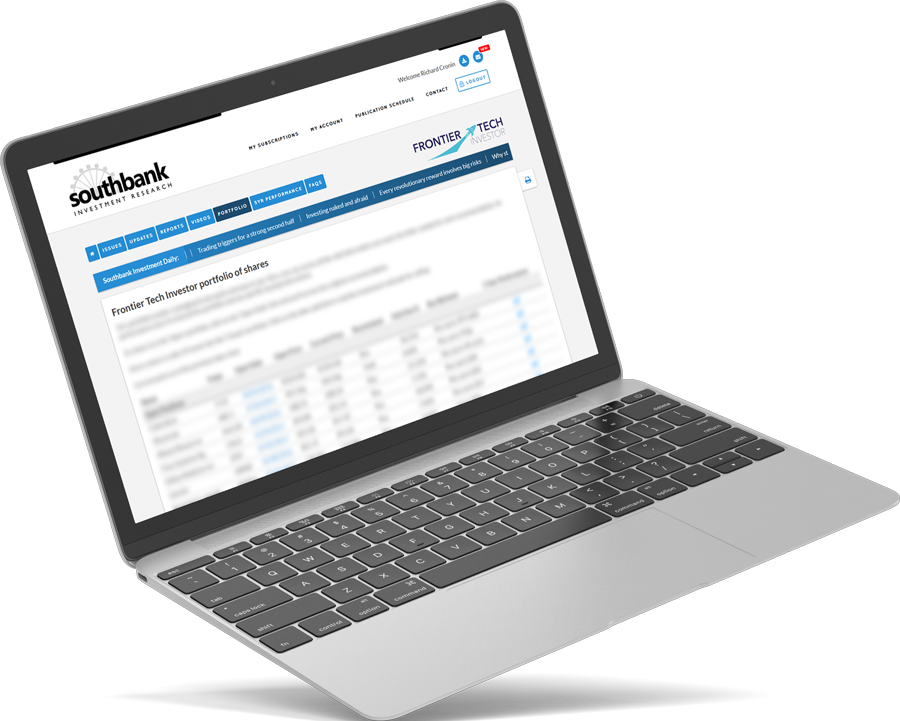 You'll get Eoin's next tech stock recommendation – the one company he believes you should buy right now for a shot at a substantial return… plus his expert market analysis and risk strategy.
Unrestricted access to the Frontier Tech Investor members' area and back catalogue 'vault'.
This is the motherlode! You can download all past issues of FTI, access Eoin's portfolio of 22 rising-star tech stocks, watch all the videos, listen to the podcasts, read all the exclusive investing reports.
In each issue of Frontier Tech Investor, Eoin takes a deep dive on a technology trend he believes will change the world.
He explains:
Why the particular industry he's targeting is ripe for disruption…
A detailed but easy to understand explanation of the disruptive technology…
How it will change the world we live in…
And most importantly how you can multiply your wealth as a result.
If you're interested in learning where the world is headed…and you want to have a clear picture in your head of what the world will look like in 5… 10… and 20 years' time… and you want to know – and profit – ahead of time…
Then you're really going to love the Frontier Tech Investor members' area and back catalogue.
Readers have said they'll happily pay £150 for this 'vault' of investing intelligence. But it's yours today for free when you accept an obligation-free trial to Frontier Tech Investor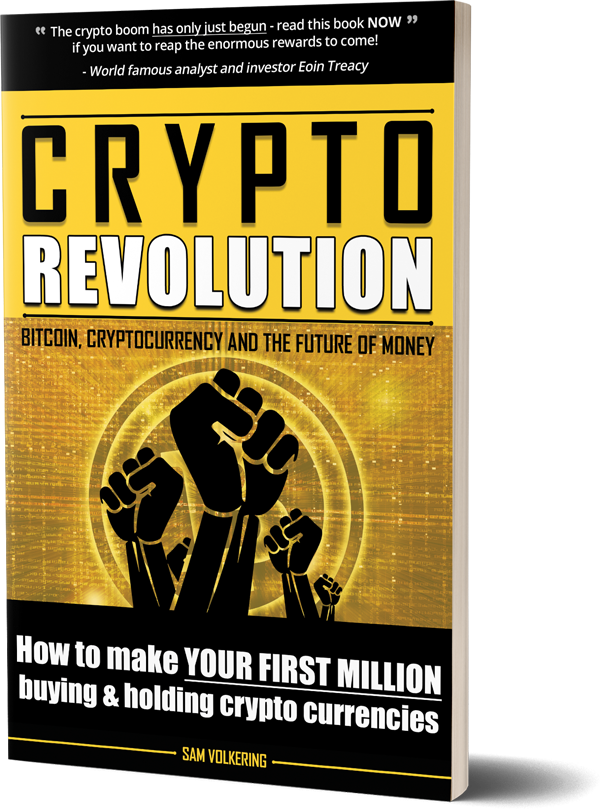 Bonus gift: Another FREE e-book 'Crypto Revolution: Bitcoin, cryptocurrencies and the future of money.'
Forecasts are not a reliable indicator of future results.
Written by one of the best crypto investors in the world – Sam Volkering – this book will get you up to speed with the biggest tech breakout of the last five years – cryptocurrencies. Inside you will discover the one coin Sam believes could make you more than a 20,000% gain from here on out!
PLUS…
Bonus investment letter: Crypto Wire
As a Frontier Tech Investor trial member you will also get access to Crypto Wire…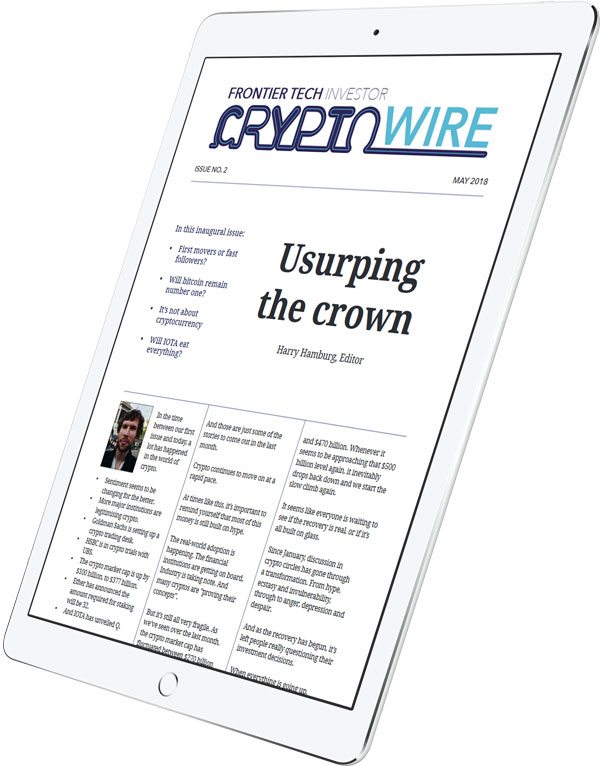 The only monthly publication in the UK dedicated to cryptocurrency market insight and opportunity.
Brought to you by Exponential Investor editor Harry Hamburg, you will get a ground-level understanding of this new, blistering asset class and revolutionary technology.
You will be able to read every issue, listen to the introductory podcast and stay up to speed with the exploding world of crypto and blockchain investing.
You'll also get to download Harry's essential crypto investing guide: 'Beginners' guide to investing in crypto' described by one reader as "The best summary of the crypto world I have read". 
All yours – today…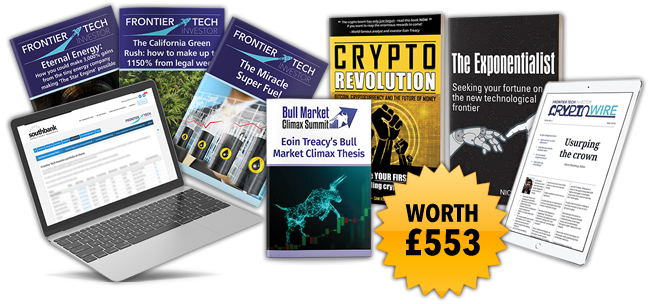 Read the free investment reports. Watch the expert videos. Enjoy the books at your leisure.
Review issues of Frontier Tech Investor and Crypto Wire – including the full portfolio of stock recommendations selected by Eoin Treacy….
Everything is yours to keep.
I just want you to make an informed decision on whether Eoin's newsletter is something you'd like to make part of your regular reading or not.
And you can keep your copy of my book – and your break-out tech investment reports with my compliments.
I'm happy to let you keep them, simply for trying out Frontier Tech Investor – whether you end up staying with us or not.
Keep in mind: The shares you'll discover in Frontier Tech Investor are riskier than 'Blue Chips' and mid-caps – that's the whole point. I'm telling you this purely so you come in with your eyes open:
The nature of tech investing means that we'll be aiming to get in at the ground floor. That means that companies may still be developing products or going through product trials. There is no guarantee that they will be successful and the share prices will likely be volatile, meaning the price has the potential to swing up and down. You need to be able to stomach that and not panic.
We're looking to invest in companies with longer term potential… world-changing capability like the ones I showed you earlier. We're aiming for the Amazons, Applied Materials, Microsofts of the market. It's important you are able to see the big picture.
All that means that if things don't go our way, you could lose some or even all of your investment.
Sometimes we'll look at smaller shares. These can be quite 'thinly' traded. They're not the kind of shares everyone knows about and trades regularly. This can sometimes make them a little difficult to trade. We sometimes recommend for overseas shares, which can be harder to buy. You will also have to consider the effect of currency conversions that can affect returns positively or negatively.
I think that's fair. It puts you in the driving seat.
Let's do this
As Publisher, I want you to see that our work is valuable. In fact, I believe it is the best investment research available to you.
But instead of just TELLING you about it…
I want you to see for yourself – from the inside.
I want you to feel what it's like to have one of the world's best tech investors emailing YOU with monthly recommendations and analysis.
In other words, I want you to 'try before you buy'.
Which is why I'm offering you a FULL YEAR to try Frontier Tech Investor as part of this offer.
So…
Not only will you get our entire 'jump-start' package…
You'll get a year of Eoin's help in Frontier Tech Investor thrown in. And if at any point in that year you don't like what you see…
You can walk away with a full refund.
That's my guarantee to you as publisher: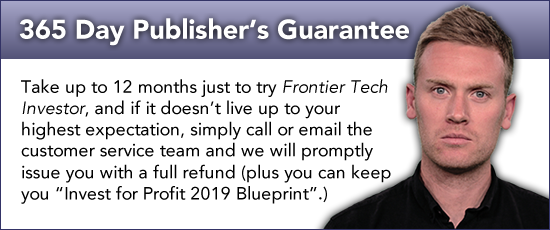 Still on the fence?
Well, this deal just keeps getting better.
FREE BONUS YEAR – only available until 11.59pm Tuesday 8th January!
I told you I was committed to bringing you the best deal possible… to put £500+ worth of research in your hands – and in a way that works for you…
AND I MEAN IT!
Until 11.59pm on 8th January, I will give you a year of Frontier Tech Investor for free, added on to your deal.
That means you will be getting a special 2-year subscription for the price of just one.
So not only do you get 365 days to try Eoin's work out…
You also get a second year thrown in for free!
Just keep in mind: you need to let me know by 11.59pm on the 8th January if you want to take advantage of this deal.
So, what does it cost to become a trial-subscriber to Frontier Tech Investor?
Huge discount – available now
Here's how it works…
The full price for a yearly subscription to Frontier Tech Investor is £79.
Forecasts are not a reliable indicator of future results.
Considering that you receive urgent stock recommendations with the potential to make you as much as 3,000% (or even higher)… insight into cutting edge technology… and a host of special reports and podcasts… it's not much to ask.
So £79 is what people normally have to pay.
But not you.
You automatically qualify for a big discount – if I hear back from you by 11.59pm on the 8th of January.
Bringing the cost down to £49.
That's protected by my 365 money back guarantee.
It gets you TWO years of Frontier Tech Investor (£158 value).
And it gets you all this TODAY:
FREE REPORT #1: "Eternal Energy: How you could make 3,000% gains from the tiny energy company making 'The Star Engine' possible" - (£50 value)
FREE REPORT #2: "The Canadian Green Rush – how to make up to 820% from legal weed" - (£50 value)
FREE REPORT #3: "Eoin Treacy's: Bull Market Climax Thesis" - (£50 value)
FREE REPORT #4: "The Miracle Super Fuel" - (£50 value)
Access to the Frontier Tech Investor private members' area and back catalogue 'vault' – (£150 value)
BONUS GIFT #1: FREE BOOK – "The Exponentialist" – (£24.99 value)
BONUS GIFT #2: Another FREE e-book – "Crypto Revolution: Bitcoin, cryptocurrencies and the future of money." – (£20 value)
BONUS GIFT #3: A brand new bonus investment letter – "Crypto Wire"
Total cost is

£552.99
Yours today for £49.
What are you waiting for?
(You can confirm your order on the next page)
As I said, I do not want there to be ANY barriers here. I want to make it easy for you to:
Understand what this tech revolution means for your life and wealth
Identify which companies are driving this movement forward
Act decisively and invest in these companies TO MAKE 2019 THE MOST PROFITABLE YEAR OF YOUR LIFE.
To make it happen and take a first important step to becoming a better and potentially far wealthier investor…
Click on this big blue link:
(You can confirm your order on the next page)
Time to decide
2019 is around the corner…
It's time to get your plans in order.
And that's precisely what my 'jump-start' plan does for you.
It gives you ideas.
Clarity.
Opportunity.
And and a FULL YEAR of Eoin's help and advice – protected by my 365 money back guarantee.
It's a no brainer.
In fact, I can't think of a single good reason for you NOT to take this up.
Your subscription is guaranteed by me for 365 days.
It's deeply discounted…
And you get TWO years for the price of ONE.
(You can confirm your order on the next page)
Best,
Nick O'Connor
Publisher, Southbank Investment Research