This promotion is not intended as investment advice. Your capital is at risk when you invest in shares – you can lose some or all of your money. Never risk more than you can afford to lose. Past performance and forecasts are not a reliable indicator of future results. Always seek personal advice if you are unsure about the suitability of any investment.
This NEW, exploding market is virgin territory for 99% of UK investors…
"GIGA-COINS"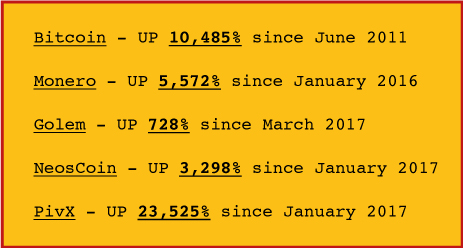 Past performance and forecasts are not a reliable indicator of future results.
If I'm right, my new pick – "the next Bitcoin" – could turn every £2k you invest into £682,000
Claim your share of what could be the biggest financial boom in market history…
Dear Friend,
If you want to give your kids the chance to be wealthy when they are older…
Or you simply want to retire with a nest egg many times larger than you ever dared hope for…
I have one piece of advice:
Get into cryptocurrencies – as fast as you bloody can.
This is the birth of an entirely new investment class…
And that's something that hasn't happened since your great, great, great grandfather was around.
The last time a brand new major asset class was introduced to the world was when the Bank of England first issued a government bond in 1694.
That's 323 years ago!
That should give you some idea of how rare it is to be able to invest in untapped, virgin territory.
This is the biggest money-maker in the world today
And today I'm going to make it as easy as possible for you to get in on it, immediately!
Cryptos can make you the kind of money that most people only ever quietly dream about.
Just look at this…
If you'd invested just £500 in each of the five largest and most popular cryptocurrencies 12 months ago your returns today would be nearly £21,000, before taxes.
That's a huge profit. In just one year. Just on the biggest of the cryptos.
Much better than anything you could have made trading gold, silver, FTSE 100 stocks or anything else you can name.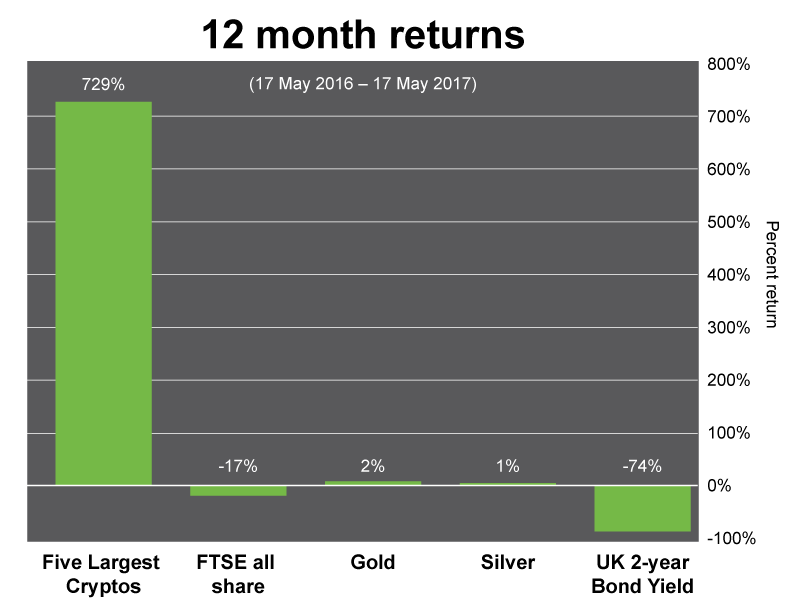 Data from: Coin market cap website, Yahoo Finance, LBMA daily and UK investing website
In fact, in the past year alone, dozens of little-known 'cryptos' have surged 100%, 1,000%… 2,000%, 5,000%… and more…
| | |
| --- | --- |
| Monero | 3,015% |
| Dash | 1,056% |
| NeosCoin | 8,136% |
| MaidSafeCoin | 417% |
| SysCoin | 741% |
*17 May 2016 – 17 May 2017
Past performance and forecasts are not a reliable indicator of future results.
Just…wow.
Sure, this is past performance and you can't rely on that for future results.
But few booms I've personally experienced, or researched in the market history books, have gifted early investors those kinds of hyper-growth gains.
Believe me, there are some very happy, very rich "crypto-coin" owners out there right now.
Imagine nailing just one of those gains.
Or any of these:
| | |
| --- | --- |
| SIBCoin | 641% |
| Counterparty | 432% |
| ShadowCash | 231% |
| Storjcoin X | 870% |
| Nexus | 3,860% |
| Potcoin | 9921% |
| Synereo | 379% |
| NAV Coin | 5,535% |
| Stellar Lumens | 2,411% |
*17 May 2016 – 17 May 2017
Past performance and forecasts are not a reliable indicator of future results.
Now picture owning a small portfolio of them…
You may not have to picture that much longer.
Because I'm about to present to you a portfolio of three.
While they share similar characteristics to the cryptos above – there are FIVE core differences that I believe could, potentially, send them hurtling EVEN HIGHER over the next 12 to 24 months… and into "dream gain" territory over the next 5 to 10 years.
Even bitcoin – the most well-known and widely traded cryptocurrency in the world – is up 275% over the last 12 months.
And it's up over 34,000% in the last five years.
One major crypto has climbed over 4,900% since 1 Jan 2017. If you had just £50 in that price rise, your stake would be worth £2,450 today. That's the opportunity here.
Ok, let me point out again…
You can't rely on past performance for future results.
This is a new market. So it's true that these gains are coming from a low point. But that also means there is a hell of a long way for them to grow, too. As I'll show you – the growth potential ahead looks staggering.
And, yes, these cryptos can be very volatile. The lesser ones shoot up one moment and down the next. I've experienced it first-hand. But looking at the market as a whole – the upward trend is overwhelming.
Holding on to the right crypto for the next year, two years – even ten years – could make you a royal personal fortune. That's my aim here.
And scores of investors are already playing this market explosion for life-changing money. One crypto investor – Kristoffer Koch – has turned $27 into $886,000.
That's at the extreme end. But many others, like investor Greg Wilson, have made gains of 1,191% and almost 2,000%.
Today it could be your turn.
So here's a simple proposition for serious investors:
If you want to get in on the #1 growth market in the world today…
All you have to do is sit there and I'll show you how.
They called me "crazy" for backing this… then it soared 134%!!
My name by the way is Sam Volkering.
I've been a professional investor and IFA for over a decade… I've recommended opportunities that have returned 400%, 700%, even over 1,200% – as my readers will attest:
"So far, I am up in excess of $100,000" – John wrote in to tell me.
"As of today I'm up $117, 000 profit, the stock is up 1,076 %" – says Jim.
"A profit of $432, 000. Very, very pleased with my investment" – Vince emailed in to say.
Look, I know an opportunity when I see one.
I've been a guest on live US TV for my expertise on the tech sector. And in 2014, I was asked to share my insight on the booming cryptocurrency market… specifically on bitcoin…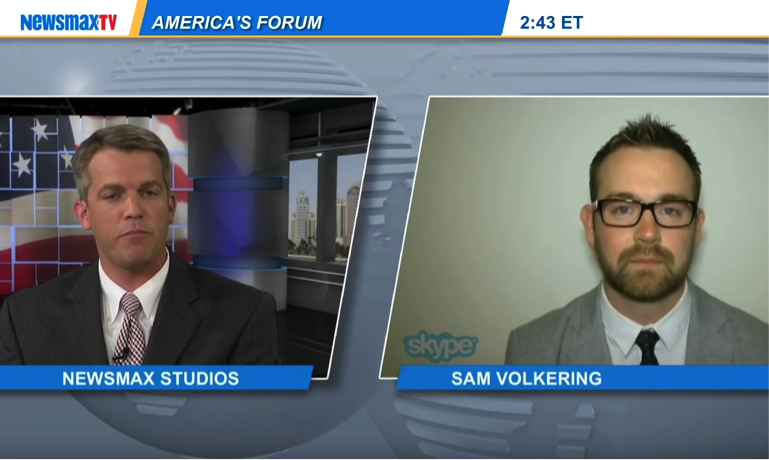 Source: NewsmaxTV
I told them what I'm telling you:
In the 1990s you had computer stocks that turned stakes of £250 into over £25k.
In the early 2000s you had the rise of internet companies making early investors a fortune… and now we have the cryptocurrency market.
And, if played right, I believe it will mint more millionaires than any financial boom we have ever seen.
Believe it or not, on live TV, I got called "crazy" for making such a prediction about the crypto market.
That's right – this market! And look what's happened since:
| | |
| --- | --- |
| SIBCoin | 641% |
| Expanse | 484% |
| Aeon | 3996% |
| BitBay | 2983% |
| CureCoin | 253% |
| Burstcoin | 3,700% |
| Viacoin | 4837% |
| CloakCoin | 486% |
*17 May 2016 – 17 May 2017
Past performance and forecasts are not a reliable indicator of future results.
Are you seeing what I'm seeing?!
If you're looking at this knockout list of gains and you're not thinking " how do I get some of that?" – then why not!?
In fact, if you're not already tickled by this idea – you're wasting your time.
This is for investors ready and willing to hunt "big game"… investors who want to take a FRACTION of their spare capital and turn it into potentially huge money over the long term.
Of course, not all cryptos have gone up in price like this. Virtacoin, for example, is down 63%, over the last year. Some have disappeared from the scene altogether.
As I said earlier, you have to be selective. You have to know what to look for to find the cryptos with the odds stacked in their favour.
Just like in the tech bull market of the 90s, some cryptos have the capacity to crash and burn. But the really great ones, the Intels, Microsofts and Ciscos of this market will mature to dominate the sector… and could return investors a fortune.
Some of the smartest entrepreneurs and speculators in the world can see where this market is heading. They are piling into cryptocurrencies as fast as they can…
That includes people like Peter Thiel, cofounder of PayPal and the first outside investor in Facebook…
Marc Andreessen – a Netscape cofounder and one of Silicon Valley's most influential venture capitalists.
Billionaire Richard Branson… Yahoo founder Jerry Yang… Salesforce CEO Marc Benioff… Google Ventures… and more.
The financial sector is going "all in" too.
The world's big banks, including JPMorgan Chase, Barclays, Citigroup, and Goldman Sachs, are starting to invest in cryptocurrency technology.
The whole financial industry is scrambling to get in on the action.
For example, there is now a bitcoin investment trust offered by Hargreaves Lansdown.
The same goes for the Depository Trust & Clearing Corporation, Wall Street's main clearinghouse. The Depository is involved in nearly every stock, bond, and derivative trade in the US.
By next year, it will record around $11 trillion worth of trading with cryptocurrency technology.
According to high-level officials in the financial community, soon every stock and bond could be traded using this technology.
Connect the dots. This revolution is on the cusp of tipping over into the mainstream. It's the ultimate sweet-spot for a speculator willing to stake a few hundred quid.
Through a series of £200-£500 investments, you could generate five times, ten times, as much as 20 times your money.
And at the most extreme level, I'll show you how 50 times your money is a possibility here. That's the scale of this opportunity.
If I'm only HALF right about this, that could turn a stake of £800 into £35k!
The question is…
WHY are cryptos making the biggest and fastest gains the world has EVER seen?
Well, a convergence of very rare (and probably never to be repeated) factors are driving "cryptocurrencies" from a niche obsession…
Into a downright mania. Here's what some of the most respected voices in tech have to say about this powerful new trend:
"You can't stop things like Bitcoin. It will be everywhere and the world will have to readjust. World governments will have to readjust." John McAfee, Founder of McAfee
"It's money 2.0, a huge huge huge deal." Chamath Palihapitiya, Previous head of AOL instant messenger
"Gold is a great way to preserve wealth, but it is hard to move around. You do need some kind of alternative and Bitcoin fits the bill. I'm not surprised to see that happening." Jim Rickards, economist and investment banker
"The conditions are ripe [for digital currencies]." Fan Yifei, deputy governor at the People's Bank of China
"Cryptocurrencies are the smartest speculation in the world today… your best chance of turning pocket change into a huge windfall." Former fund manager Teeka Tiwari
Cryptocurrencies are just like any other currency. You can move out of pounds and into bitcoin just in the same way you can buy dollars or euros.
Then, you can use the crypto to buy an increasing amount of stuff – or hopefully just watch it appreciate in value.
The difference is… cryptos aren't issued by one government. They're private.
Think of them as like "digital gold". Gold isn't issued by any one particular government… but it's traded and valued worldwide.
The same goes for cryptos. It's an alternative store of money.
And in the era since the financial crisis of 2008 – when trust in governments and banks has evaporated – cryptos have allowed regular people to invest their wealth OUTSIDE the traditional financial system.
This idea has caught fire.
Don't take my word for it. Just look at the market cap growth of cryptos over the last few years: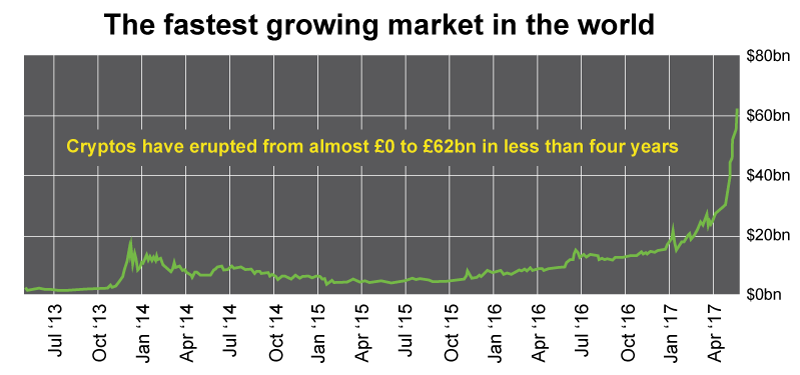 Source: CryptoCurrency Market Capitalizations, Coin market cap website
According to cryptocurrency expert Bruce Fenton, it took seven years for the value of all cryptocurrency to hit $10bn, another year to hit $20bn, and a mere three months more to hit $40bn.
This is exponential growth.
And I believe this market hasn't even warmed up yet!
Investing in cryptocurrencies now could be like claiming a stake in Apple in 1980 – when the company still had world domination ahead… and 28,000% still to climb.
I think that's the potential here. In fact, I believe it's even bigger.
Because it's still the ground floor.
That means this is your ONE shot at the early rush of returns.
Follow me into this opportunity today and you'll have your chance to make more than 34,000% on your initial stake.
But I must be clear…
This market is rising at an incredible rate, it's completely defying expectations.
You need to get in as fast as you can.
I'm serious…
Wait around, and you run the risk of more and more profit potential disappearing off the table for good.
This is a breathless rise. I've already shown you potentially life-changing gains up for grabs…
Some investors are already making all the money they can handle from this soaring sector.
But I've spent six years researching this revolutionary new market. I've spoken to the brains behind the technology – entrepreneurs who have launched their own cryptos.
I've invested in it myself. I put money in bitcoin as early as 2011, when the price was around $12 – just to understand what it was all about.
I don't know any analyst on the planet who has researched these "giga-coins" as thoroughly as I have.
And to my mind, what's to come could absolutely dwarf everything we've seen so far.
In a moment, I'll show you:
Why there is no other market in the world capable of delivering such enormous returns
Why the crypto market growth will accelerate in the NEXT 12 months
Which ten crypto-coins you need to avoid – and why
Three crypto-coins you should buy NOW that could turn a £2k stake into more than £700k!
So here we go…
First off – who is this for?
I don't want you to waste your time (or mine)…
There are risks here. So if you are looking for ultra-conservative, slow moving 3%-5% annual gains, obviously you are in the wrong place – but I just need to make sure.
What we are discussing here is the best and least known ways for regular investors to make big (BIG) money. It's one of the few remaining places the man on the street willing to take a punt can turn a few hundred quid into a huge windfall.
This simple comparison proves it.
Let's look at the top five performers on the FTSE 100 over the last year.
| | |
| --- | --- |
| Glencore (GLEN): | +118% |
| Ashtead Group (AHT): | +86% |
| 3i Group PLC (III): | +74% |
| Micro Focus International (MCRO): | +58% |
| Antofagasta (ANTO): | +86% |
17 May 2016 – 17 May 2017
Past performance and forecasts are not a reliable indicator of future results.
They did well – they averaged 84%.
£500 in these five performers would have turned into £2,110. A tidy sum most people would be content with.
But get this…
The top five cryptocurrencies… averaged 729% in the same period. £500 quid in each of THOSE would hand you back over £20,000.
That's the scale of this opportunity – and precisely why I am bringing it to you with such urgency today.
The difference is truly night and day.
Obviously to own the five best cryptos would take a lot of luck. You probably would never hit on all five.
But the potential here for speculators and investors willing to trade in higher risk… for the evidently massive rewards… it's obvious.
It's staring you in the face.
If you are anything like me, and you can stake a little capital you can afford to lose… it's downright irresistible!
It's like someone has left a Ferrari in your driveway. The keys are in the ignition. The engine is running. The door's open. There's a sign on the window that says "Take me for a spin!" What are you going to do?!
The next question you should be asking is…
Is it risky?
Yes. But maybe not in the way you think…
No doubt this market is inherently volatile. That's to be expected. It's a new and exciting phenomenon. But when done right it can be a lot less risky than traditional investing. Here's what I mean by that…
You don't have to put up nearly as much money to get a much higher potential return. That's the long and short of it. To make £50k or £100k from blue chip stocks, a £500 stake is just not going to cut it. You have to risk a lot more. You'd have to stake £70k-80k to get a meaningful return on your money. That locks a lot of people out. That's a rich man's game.
The cryptocurrency market is totally different. It's for the man on the street. It allows "the little guy" to make the kind of money usually reserved for City investors or Wall Street "insiders".
Almost anyone can stake £100 or £200 in a crypto opportunity… as long as it's money they're not worried about losing… they can move the needle on their wealth massively in one hit.
If you lose £50 or £100 I doubt you will lose much sleep over it. But if your crypto punt comes off you could be looking at thousands – even tens of thousands – in return.
In my book, that's as pure and exciting an opportunity as I've ever seen.
Finally…
Is it EASY to get into this market?
Once you know what you're doing – and I'll show you everything – it's very straightforward.
It's just like setting up an online trading or brokerage account. After the routine of entering your details on a secure page, you're all set.
Don't worry about that for a second – I'll show you what to do so that it's pretty effortless on your part. I'll walk you through all of the practicalities so that you can get in on this opportunity within 20 minutes of sitting down at your computer. Then it's just like buying shares – it becomes automatic.
Okay, so….
Do you want to know more?
Do you want to know WHICH cryptos I'm backing to multiply hundreds – even thousands – of times over?
Good – then let's keep steaming ahead….
809% in three months
I want to show you two things next:
The SPEED with which this market is erupting and…
The MASSIVE gains being achieved.
So let's start by looking at DASH, one of the best emerging cryptocurrencies on the market
Just a few months ago it was virtually unknown…

Source: Coinmarketcap.com
Past performance and forecasts are not a reliable indicator of future results.
It went from $11 at the start of January, all the way to $100 – that's an 809% gain.
If you put just £100 into this… you could have turned it into £1,000 (not including a small currency conversion rate) in around 90 days.
Today it is the world's sixth largest cryptocurrency. That's how fast this market can move – and how quickly the gains can stack up – if you have the nouse to invest now.
Or let's look at Ripple… over the past 12 months it has climbed 4,972%:

Source: Coinmarketcap.com
Past performance and forecasts are not a reliable indicator of future results.
Over the last year, it beat out 99.9% of stocks, delivering a near FIFTY-bagger!
Not every coin in this market is going to fly, obviously. The key is to be selective and to have someone who knows the market show you what to grab a stake in – and what to avoid.
I'll point out again that past performance is not a reliable way to judge what's ahead. You couldn't have gotten in on all of these winners without encountering some losers – of course.
But what these large gains do show you is: this industry is ON FIRE.
And here's the thing…
Those quick-fire gains are breath-taking. I think anyone would agree with that. But as I said, the opportunity here is two-fold:
If you want the potential for high, fast gains – you will find them here. I've just shown you the returns can be explosive. It's good to be a little greedy. So there's nothing wrong with jumping in and out and possibly making ten times your money in 6-12 months from this market.
But that's just a fraction of what cryptos can offer you.
In my view JUST taking advantage of this initial growth phase is SHORTSIGHTED.
That would be like cashing out on Microsoft stock in 1996. You'd have left a huge profit on the table.
What I'd like to show you now is why I believe…
The life-changing money is STILL TO COME
Buy the right crypto currency today, hang on to it for 5-10 years, and I believe you'll have enough money in your account to travel around the world and buy a home in any location you desire.
I'm not kidding.
And I want to get you started with a mini-portfolio of three cryptos…
My analysis tells me that one of these cryptos could grow 34,000 % higher in price than where it sits today.
Think about what that kind of return would do to you overall wealth.
Just ONE of these cryptos needs to reach a fraction of its overall potential for the needle on your wealth to move up considerably.
The entire market has gone from a value of £0 to about $62bn in just eight years.
And as impressive as the growth so far has been, keep this in mind:
I believe just getting started.
The NEXT 12 months are going to be even bigger for cryptocurrency. That's because the same trends that triggered the massive gains of the last few years are coming back EVEN STRONGER.
Let me show you why the time to get in really is RIGHT NOW…
Crypto-catalyst #1:
"Safe Haven 2.0"
Let's call 2016 "the year of worry".
Global political events created a "perfect storm era" for cryptos. Let's run our minds back over the situation that developed:
Britain became the first member of the EU to vote to leave – sending the value of sterling to 30-year lows.
The Venezuelan government deflated its currency and removed HALF of all paper money from circulation.
The Indian prime minister – Narendra Modi – went even further and banned 86% of the notes in circulation OVERNIGHT.
The global "war on cash" has seen money restrictions sweep Europe, with France, Italy and Germany banning transactions over 1,000 euros in paper money.
The Chinese government deflated its currency even further – sending investors flocking into gold, property and…
Cryptocurrencies, en masse.
Political uncertainty and extreme monetary devaluing has sent investors fleeing into alternative assets. They are looking for a way to escape the financial system and wave of wealth repression going on.
And they've found one. Big time.
Here, take a look.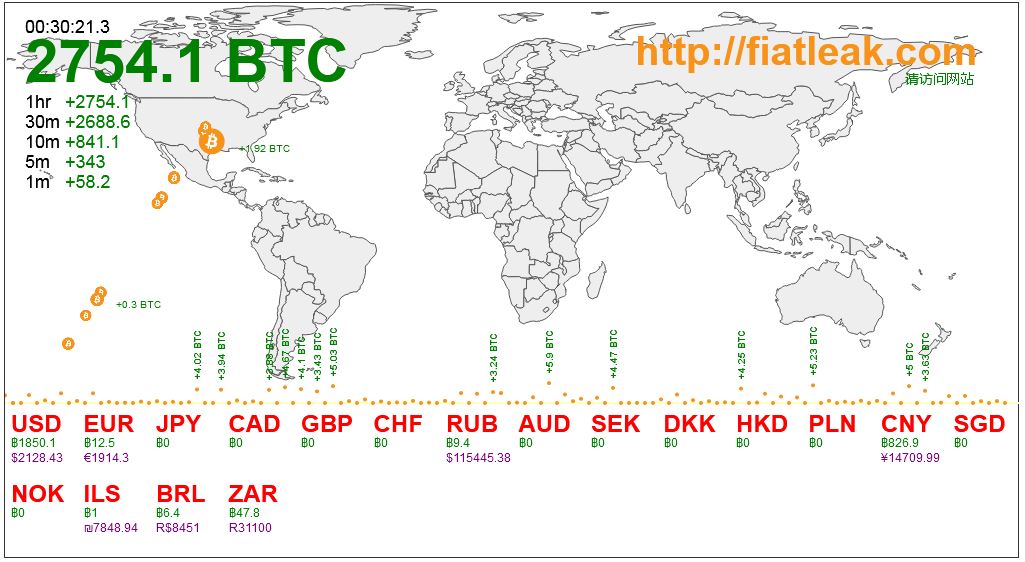 Source: Fitatleak website
What you can see above is a real-time record of traditional currencies like the pound, the dollar, yen, euros and yuan being converted into bitcoin.
Before your eyes you can see people escaping the traditional monetary system and converting traditional money into cryptocurrency.
I left the clock running for just 30 minutes and you can see from the numbers I have circled… with Bitcoin currently around US$2,000 a coin… in that short time that more than $5.5m has poured into this alternative currency! In just half an hour!
If you needed any proof aside from the incredible rise in the value of cryptos – this is it. This is what a boom looks like.
Thousands of pounds a minute, millions an hour, hundreds of millions a day – pouring into NEW money.
And that's just money going into bitcoin.
There are hundreds of alternative currencies. So we can assume billions of pounds of "old money" – that's money in people's bank accounts – are being converted into cryptocurrency every day.
This is the beginning of a unique and never-to-be-repeated moment in history… a mass movement OUT of traditional money and INTO cryptos.
News of this flight from "old money" was dotted around the papers and internet….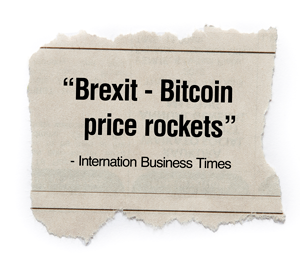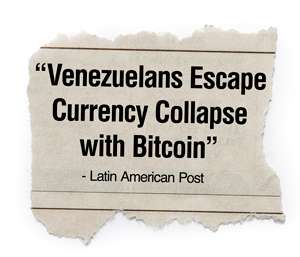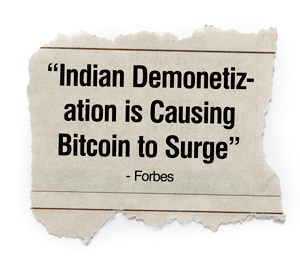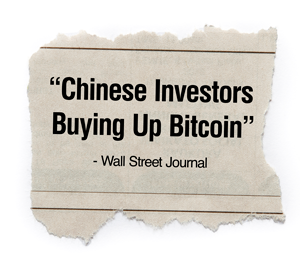 Look at these headlines… connect the dots… the political uncertainty in the world has given birth to a huge new market for alternative currencies.
In November 2016, when China tightened its stranglehold on capital outflows in – there was a surge in bitcoin buying. It was up more than 140%.
Coinciding with these crackdowns, crypto-coins Monero and CloakCoin have climbed 436% and 560% respectively, to date.
As Leonid Bershidsky wrote on bloomberg.com:
"Bitcoin is an escapist safe haven… Speculators are driving up the value of the cryptocurrency because, for the first time in its history, it's looking like a reliable safe haven investment."
When Brexit sent the pound plummeting, the "scared money" poured into cryptos.
BitCrystals soared as high as 591% within three months.
NAV Coin was catapaulted 1,038% in just two and a half months following the Brexit vote.
Again, let me note that past performance isn't a reliable way to anticipate what's to come.
I find this apparent trend of political and financial instability triggering a flight into cryptocurrencies extremely compelling.
This is a trend that begun as early as July 2015 in Greece. Greek savers were being forced to take a "haircut" on their savings… paying for the reckless behaviour of their financial institutions.
In this atmosphere of mistrust and fear, Greeks used bitcoin to do something the government tried to prevent: transfer money out of the country – out of the reach of more capital controls.
Adam Vaziri, a board member of the UK Digital Currency Association, tells it like this:
"When people are trying to move money out of the country and the state is stopping that from taking place,bitcoin is the only way to move any value… There aren't any other options."
This alternative and independent financial system cannot be stopped. Because in times of crisis, cryptos are exactly what people are looking for. They are:
Private: you can transfer money in total anonymity
Safe: your money can't be tracked by centralised government powers
Freely moveable: you can move your money freely across borders
Convenient: all you need is a mobile phone or computer to transfer your funds
All this adds up to a "wealth migration" from old money to new.
I don't know what you think about the rise of alternative currencies. Maybe you'll never use one yourself. Maybe you think it's great. Frankly, it doesn't matter! This is an unstoppable wave that you can profit from. That's my focus here today as an investment analyst.
And in 2017, history is repeating itself… with powerful forces converging all over the globe pushing people into cryptos:
EUROPE: as reported in The Wall Street Journal, there are plans in place for the European Central Bank to eliminate the 500 euro note – the continent's most popular bill. All printing of the note will cease by the end of 2018. If you connect the dots, your heart should be racing…

Look what happened to cryptos when India and Venezuela banned the majority of their paper currency – they exploded.

Given that the EU economy is EIGHT times larger than India's… and 32 times larger than Venezuela's… as this plan unfolds, the cryptocurrency gains could DWARF what we have seen up to this point.

LATIN AMERICA: Argentina, Venezeula and Brazil are mired in financial problems. And – as reported by TechCrunch – people "are turning to bitcoin as a solution, and the recent crises seem only to have accelerated adoption." In 2015 alone, transactions through crypto payment processor BitPay soared over 1700%. The smaller cryptos emerging could see a huge bump in price on the back of this flight from traditional cash.

CHINA: the communist government in Beijing recently announced a new wave of capital crackdowns…

"Beijing's recent restrictions make it increasingly hard to transfer funds overseas" – reports Forbes.

As these punitive measures get underway, we could see the same sort of crypto price explosions all over again in the coming months.
Join the dots and the picture reveals itself…
For the first time in history, people have a viable, alternative financial system they can turn to in times of trouble. And there is a hell of a lot of trouble in the world today.
As an investor with an eye on a profit… you've got to be looking at this situation and drooling right now.
And it gets EVEN better!
Crypto-catalyst #2:
"The Financial Avalanche"
What every industry needs is "a tipping point".
I'm sure you have a feel for what that phrase means, but just to be crystal clear… in his bestselling book The Tipping Point, Malcolm Gladwell describes it like this:
"The tipping point is that magic moment when an idea, trend, or social behaviour crosses a threshold, tips, and spreads like wildfire."
It is the moment of avalanche… when all of that little-by-little pressure is released in one rush of energy.
For my money, this tipping point for cryptos arrived on 3 March 2017.
That was the moment when 1 bitcoin became more valuable than 1 ounce of gold.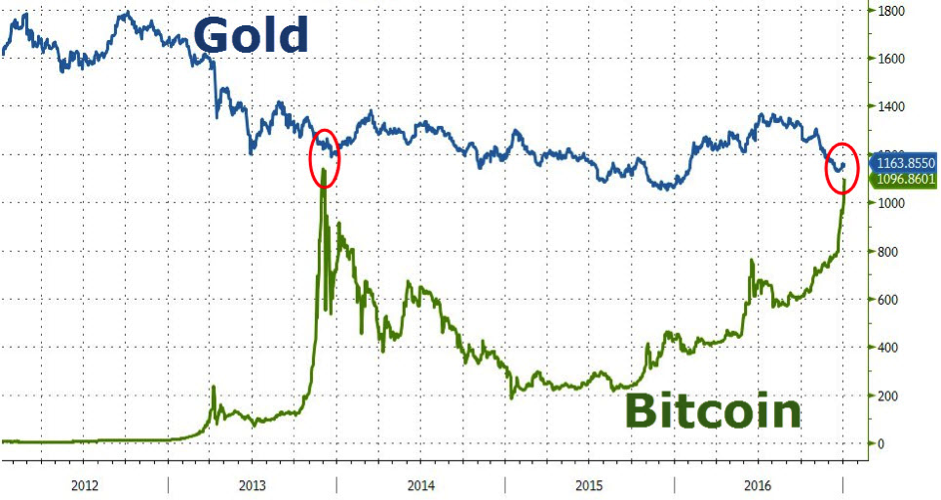 Price of gold 22 May 2017 – $1,257 an ounce
Price of bitcoin 22 May 2017 – $2212 per coin
Source: Talk Markets
Past performance and forecasts are not a reliable indicator of future results.
Think about what that means. Gold – a financial safe-haven for millennia – is now worth less than a single crypto!
And some of the smartest companies and individuals in the world are piling in… these venture capitalists have made a career from sneaking in EARLY into world-changing tech. And they're scrambling for a slice of the crypto market…
Billionaire hedge fund investor Mike Novogratz holds 10% of his personal wealth in two cryptocurrencies. That's more than $100m.
Peter Thiel – cofounder of PayPal has invested $2m in crypto payment systems.
Billionaire Yahoo founder Jerry Yang has invested in BitPay and crypto wallet provider Xapo.
Howard Morgan, founder of the highly successful hedge fund Renaissance Technologies, has invested $1.5m in the cryptocurrency Numerai.
Bill Gates has called bitcoin and cryptos "better than currency… the future of money" and is invested in the technology.
Giant Dutch bank ABN-AMRO is creating its own cryptocurrency wallet – trying to grab a cut of the huge outflow of cash from traditional currency to cryptos!
This is an avalanche of personal investment by – frankly – a bunch of money hungry individuals and institutions. For investors, this is a flashing neon sign that screams BUY IN NOW!
And with every news story I see… with every new commercial adopter of cryptocurrency, the opportunity just gets hotter and hotter.
The Royal Mint is developing a crypto trading platform to sell a new product: Royal Mint Digital Gold. This opens up cryptos to the $1 quadrillion derivatives market.
Communications giant AT&T is exploring using crypto tech to receive payments and log new patents.
Expedia, Amazon, Microsoft, Subway, Virgin, Whole Foods Market – all of these giant companies already accept cryptos as payment. And as the market grows, the opportunity magnifies.
Estimates as to just how big this market may become might actually shock you…
Jeremy Liew, famous for being one of the first investors in $25bn tech superstar Snapchat, believes bitcoin is about to go through a rampant phase of hyper-growth.
He estimates the growth of the bitcoin network will grow to 400 million users by 2030… and for the price of ONE bitcoin to hit $500,000.
That would be nearly 50,000% higher than where it sits today.
Other investors, see it racing even HIGHER.
Financial analyst Rick Falkvinge says that if bitcoin takes as much as 10% of the transactional currency market… one bitcoin could hit $1m.
But could even that sensational climb be a modest estimate?
Crypto guru Trace Mayer thinks so. He believes that a single bitcoin's long-term price could end up closer to $2.8 million!
So if you think you are late to the party because you have been reading about bitcoin or seeing it crop up in the paper…think again!
As I said earlier – compared to the average investor…
You are getting in on the ground floor
Here's why:
Despite its searing growth over the last three years, cryptocurrencies represent just 1.2% of the global currency market: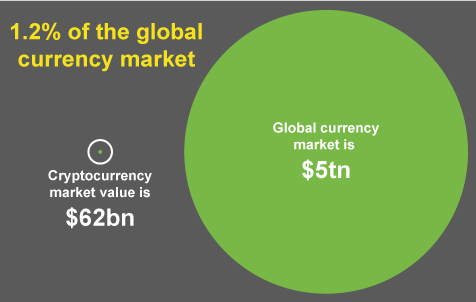 Source: News BTC and Coin market cap website
For you to make a fortune, it doesn't have to capture 50%, 30% or even 10% of the market.
Even if it captured just FIVE per cent… the crypto market could explode by over 5,000%.
That move would be like turning £1k into £50k.
With the possibility of such steep growth ahead…
I think it's critical that every investor reading this letter today puts down a small chunk of change as soon as possible.
Forecasts are not reliable indicators of future results.
I want to start you off with a portfolio of three cryptos that I believe are destined to make you ten, 20, even 50 times your money as this market matures.
And as I said at the beginning of this presentation, I believe this could turn out to be the biggest financial boom in market history!
What I want you to understand is:
This is a never to be repeated moment in history. A global transition from old money to new.
Sure, this isn't the ONLY time you'll be able to invest in cryptos. Not at all.
There will be hundreds of ways to profit as this market matures. You can invest next year, the year after, even five years down the line. Even in a decade this opportunity will STILL be growing.
But now is quite simply the BEST time.
Never again will this moment in history occur. Just like never again will the world rush to adopt personal computers. Never again will Apple release the first iPod. Never again will the internet spread across the world so feverishly.
Never again will the world first adopt cryptocurrencies.
If you want to make the most possible money from this crypto revolution – this is it. The time is now. And it will NEVER be repeated.
Just a small stake in one of these exploding cryptos could redefine all of your expectations about your future wealth.
It's a paradise for punters with a small amount of capital to spare!
So, if you're ready…
It's time to raid the crypto market for potentially life-changing gains!
I've selected THREE cryptocurrencies that I believe are heading for a phase of hyper-growth.
Forecasts are not reliable indicators of future results.
I'm talking about the kind of money that could pay for your kids' university fees, a summer home and a new car… potentially from just a £1k-£2k investment.
I've spent five years analysing this market… watching it mature from the Wild West of the investment world to a prosperous boom town. Yes, we're still on the bold frontier here… but what an exciting place to be!
So the question is – where should you put your money first?
Let me show you – here's my first pick:
Crypto King #1:
"The blue chip coin that could make you a crypto millionaire"
Usually, I wouldn't give away a recommendation for free – it's not fair to my paid-up readers.
But I want you to have every chance of profiting from the powerful rise of cryptocurrencies.
So I'll tell you here and now – BUY BITCOIN.
As an investor, I believe you should have bitcoin in your portfolio like you should have food in your fridge.
And even if you don't buy it for yourself – buy just ONE coin for your kids or grandkids… they'll thank you for it!
Here's why…
Bitcoin will make ordinary people into millionaires
Look, if you're still reading, you can see there is something big happening with money. The spread of cryptocurrencies is like a wildfire.
The number of people using bitcoin is on a sensational growth curve.
According to blockchain.info, there are over 14 million bitcoin wallets in use. Just three years ago that figure was less than a million.
This is exponential growth.
The winds behind bitcoin are strong – and on 4 May, for the first time in history, more than $1bn bitcoins were traded in a 24-hour period.
With that kind of volume increase, Adam Davies of Altus Consulting thinks it could hit $3,000 by the end of this year: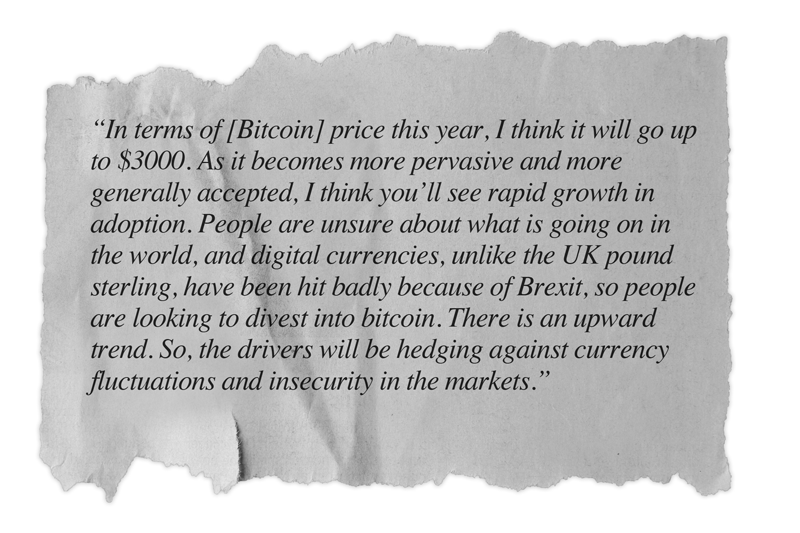 Just as I told you earlier… bitcoin is becoming the destination of choice for investors spooked by political chaos and falling traditional currencies like sterling.
That's why I call it a "Safe Haven 2.0".
But that price rise… more than double where it sits today… is nothing compared to what could be ahead.
Tim Draper – a billionaire venture capitalist – believes the price of one bitcoin could climb to $10,000 by 2018. In a recent interview he said "The current uses of bitcoin are just the tip of the iceberg."
But even THAT 669% climb could prove to be modest.
Forecasts are not reliable indicators of future results.
As mentioned earlier Snapchat investor Jeremy Liew believes this is just the beginning… he estimates that the bitcoin network will grow 6,400% in the next 13 years. In that scenario, Liew believes one single bitcoin could be worth $500,000.
Imagine tucking one or two away for your kids or grandkids today… and in 13 years' time it could be worth a million quid.
As a clued-up investor you might be wondering why the increase in users is set to push up the price.
Good question.
The reason is simple – and one that a lot of people don't realise:
Bitcoin is a scarce resource
Just like there is only so much gold in the ground , the number of bitcoin that can enter circulation is FINITE.
There can only ever be 21 million bitcoins in circulation – that limitation is programmed into its core algorithm. It cannot be changed. Just like you can't grow more gold, it is a limited resource.
So if this explosion in people using and trading bitcoin continues, it will become more scarce. It's a virtuous circle – like a boom has been programmed into the future of the currency!
The oldest economic law – that of supply and demand – is as true for bitcoin as it is for gold, diamonds or uranium.
Right now there are around 16.3 million bitcoins in circulation.
The demand that many experts predict could cause a supply crunch in bitcoin in the near future – sending the price through the roof… into LIFE-CHANGING territory for investors who get in today.
That's no exaggeration. Let's be conservative and say that Liew's prediction that one bitcoin is destined to climb to $500k is only half right. That would mean a £3k investment in bitcoin today could ultimately return you £570,000.
In my 12-year career as a professional investor, nothing compares to the potential I'm showing you today.
You could wait a lifetime… TWO lifetimes… and nothing like the opportunity to explode your personal net worth will come round again for you.
I want to point out to you that there are risks any time you invest, of course. Whether that's in bitcoin, gold or blue chip stocks.
The same advice applies: only ever invest money you can afford to lose and make sure you have the stomach for the volatility ahead.
You can see some of these cryptos shoot up 600% in an afternoon. And fall just as fast. But that's not our focus. Just grabbing the short-term gains would be almost perverse in this situation.
Because the long-term gains and the overall upward trajectory of the market is, in my mind, unstoppable.
In my view, you can ignore the ups and downs you're going to see in this market. The upward trend is what we care about… and it has every chance of hitting incredible highs for us.
This is a once-in-a-millennium disruption to the way we buy goods, save money and accumulate wealth.
Take full advantage of it.
This brief analysis is only a "highlights reel". I've created a special report for you showing you everything… giving you a more detailed investment case for bitcoin and my other two crypto picks.
I've taken care to walk you through this opportunity step by step. I don't want you to get lost. Or for you to get into something you are not sure about. This moment is too important for any confusion to cloud the opportunity – there's a lot at stake here for your personal wealth.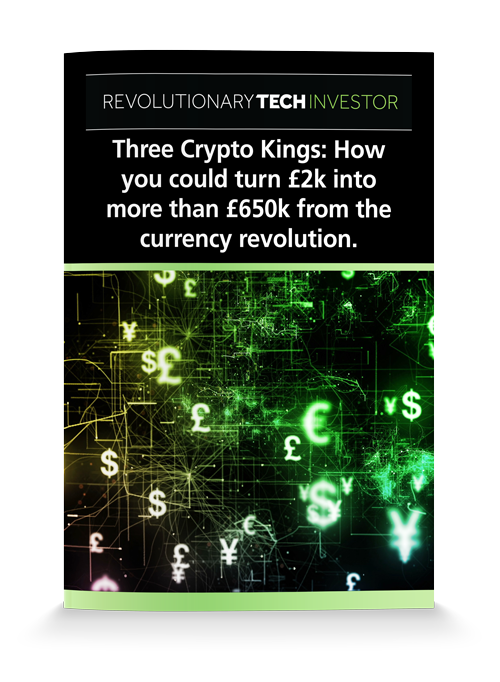 Your report is called: "Three Crypto Kings: How you could turn £2k into more than £650k from the currency revolution".
It tells you everything you need, including which fast-rising cryptos I believe you should buy and how to buy them.
In just a moment I'll show you how to get your hands on the report.
But first let me tell you about my second crypto recommendation… a new type of currency that could be set to climb even higher than bitcoin:
Crypto King #2:
"The bottomless gold mine"
Imagine you stumbled across a rich gold mine…
What the old gold-bugs used to call "a producer – a real humdinger".
The further you explored it, the more gold it contained.
100 meters in, 300 meters, a mile, two miles, ten miles… the rich seam of gold never ended.
It's the world's first bottomless gold mine.
You don't have to dig out all the gold yourself – that's hard work. You can lease it to all the other miners who pay you vast sums to mine it.
They make money from selling the gold, and you get your cut. The more miners, the more money for you. The richer they get from selling their gold, the richer you get too.
That's the opportunity here with a very special crypto I have uncovered.
The company behind it has developed a completely unique cryptocurrency platform – one which has limitless applications.
Described as "the bitcoin for the business world", the entire corporate sphere lays before it as a potential mega-market…a super-industry that gets opened up just once or twice in a generation.
And its early adopters count among the largest and richest names in finance and industry…
Intel is in.
Microsoft is in.
JP Morgan, BNY Mellon, ING, Thomson Reuters, Credit Suisse, BP and Santander are in.
The question is… what is this "bottomless gold mine" all about?
"Bigger than Bitcoin"
I am going to keep this as simple as possible because I want to focus on the opportunity for you to make money here.
So I won't get into the technicals. In my complimentary report you'll get my full professional analysis – all the deep detail you need to really understand this.
But what I want to shine through in this letter is the astonishing growth potential sitting on your lap.
You may know that bitcoin and other cryptocurrencies use something called "blockchain" technology.
The blockchain is simply a 100% reliable digital ledger. It keeps records of digital transactions. It's the backbone of the crypto revolution. Every time a bitcoin or any other crypto changes hands, it's logged.
Imagine an old man writing down the details of everything you bought in an old leather-bound tome, pages and pages of every transaction. It's like that on an infinite scale!
But using the blockchain to log every financial transaction is just ONE way to use this revolutionary tech.
Bitcoin uses it that way and its 34,000% growth in the last five years shows that it works!
But the company I want to share with you -- and I recommend you buy as soon as you can manage – has taken this idea and exploded it.
Their unique crypto platform allows companies to conduct all of their business with 100% accuracy within the blockchain.
Here are just a few uses of it – to show you the vast potential:
Trading and securities exchange
Every share, commodity and financial transaction can be logged using this tech. And it can be done with no errors or lag and without paying for human interventions.
Value: according to Goldman Sachs, this could save financial firms $11bn-$12bn.
Finance
Storing account and payment information could standardise data needed to open accounts. For companies to immediately have instantly verified "know your customer" information is hugely valuable. This would be a tamper-proof record – like a digital passport for every customer.
Value: $3bn-$5bn in savings.
Land and property registry
Anyone who has ever bought property probably gets a headache recalling the arduous process. Not only is it costly, it is filled with errors. The transaction costs of exchanging deeds and insurance costs can be largely eliminated.
Value: $2bn-$4bn in savings.
Smart contracts
This may be the most valuable x-factor of this new tech. It's priceless. And every business on Earth is a potential customer. A smart contract eliminates the need for any middle-man service.
The best way to describe smart contracts is to compare the technology to a vending machine. Ordinarily, you would go to a lawyer or a notary, pay them, and wait while you get the document ready for you.
With smart contracts on this crypto platform, you simply use it like a vending machine (ie, ledger), and your driver's licence or hose deed or freelance contract or whatever drops into your account.
Smart contracts not only define the rules and penalties around an agreement in the same way that a traditional contract does, but also automatically enforce those obligations.
For example, if you are a landlord and your tenant is even one minute late with his rent, a smart contract would (as agreed beforehand) immediately take the money from the tenants account, with a fine.
These smart agreements can be used by on credit card contracts, mobile phone agreements, car payment schemes – you name it. This crypto platform provides the adaptable tech for ANY kind of agreement. With no middle-man.
Value: well, I'll leave you to try and figure out what every company in every industry on Earth is worth!
This crypto platform is fast becoming the lifeblood of the new business world.
Just like IBM computers transformed the workplace and corporate world in the 1980s and 1990s (seeing its stock rise 800% in those two decades)… this crypto is transforming how business is done RIGHT NOW.
And the scope of this tech is even bigger than that the enormous world of business and finance.
In early May news broke about a development for this crypto that could prove a tipping point… an avalanche moment in its history…
The Chinese Royal Mint is exploring the use of this tech in creating a new NATIONAL digital currency.
I have also discovered that one of the world's largest payment companies is also using this crypto king for processing in China.
How this story develops could be the trigger that sends this crypto king VERTICAL in price.
This crypto-play ticks ALL the boxes for me.
One-of-a-kind technology

I can foresee a time – soon – when using this crypto platform will be a standard as it is to use Microsoft Word to write a document. It will just be "the way it is" – and every business will just adopt the tech as a matter of course.

Corporate backing

Microsoft, UBS, Intel, JP Morgan, Credit Suisse… and some of the biggest payment processors in China. The fuse has been lit.

Established network of users

More than 1,837,631 unique clients use this unique crypto platform. I expect the adoption rate to explode over the coming 12 months as possibly more than five million new clients join the network – increasing the total number of unique addresses four-fold.

Track record of milestone achievements

This company has a proven track record of developing technology with consistent upgrades to improve upon its service. And the explosion in the number of users makes it clear to me that the platform and team behind it can handle this eruption in scale.

Unique plan to commercialisation

This crypto king has formed a special alliance that includes some of the biggest names in tech and finance. Nothing else in the crypto-sphere has that kind of backing.
Let me be crystal clear here: if I had to tip one investment in the world today that I truly believe could take a small stake and turn it into a large fortune…
This is it.
And here's the most exciting part of all…
This crypto king could turn £2k into £682,000!
Forecasts are not reliable indicators of future results.
This crypto is up over 1,000% this year to date.
That is outrageous growth – most people would be happy to bank that profit and live it up.
But I believe that is a tiny fraction of what will turn out to be a legendary growth story.
I think the way we look back at the growth of IBM, Cisco, Norton, Google from the last tech revolution… that's how we're going to look back at this crypto king.
And then some!
Given the scope for growth here – the opportunity to penetrate the entire corporate world – I believe this crypto has every chance of outpacing even bitcoin's unstoppable rise. In my view, the estimated valuation of one bitcoin at $500,000 is well inside the realms of possibility.
Imagine if this crypto could indeed blow past bitcoin. If you invested in it now and it went to the price of bitcoin today you would turn US$170 into US$2,187 . You'd make almost 13 times your money in one blast. But the long-term gains could be even greater than that…
Let's say this crypto only achieves a FIFTH of bitcoin's price… one unit of it would cost $100,000…
You'd be looking at 2,500 times your money from where it is today. You cannot ignore that potential upside.
But look, there's no way to realistically put a price ceiling on this one.
How would you have valued the potential fortunes to be made from the railways as they spread like vines across the US in the early 1900s? The growth potential would have been too enormous to calculate.
You could never accurately estimated how many tracks would be laid… how many towns would spring up… how much of an essential utility it would become.
This is the same kind of pure, ground-breaking opportunity. Think of this crypto king as the railroad upon which all businesses going forward will ride.
There are risks of course. This is as early stage as it gets for this kind of breakthrough technology. There's a long road ahead and there will be (and is) volatility.
But if you can stake money on this you can afford to lose, then the rewards – in my book – massively outweigh the risks.
My advice: buy a few coins today and hang on to them.
Have I been clear enough? If not – let me say it again:
If it's money you can afford to spare, buy at least £500 worth of this crypto and don't let go.
Like I said, there's a possibility of course that you could lose that £500. That's true of any investment you make.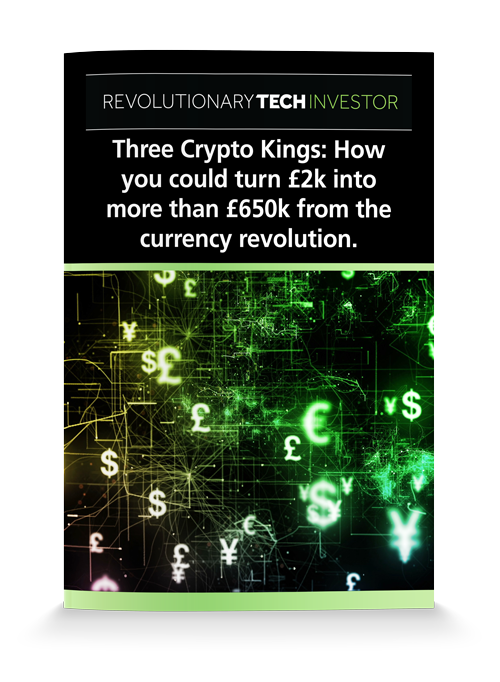 I approach risk as a choice rather than a fate. And that's the way I see it when you take a punt on a play like this… or any cryptocurrency. If it comes off you stand to make a tremendous amount of money.
And if it doesn't, then you are at least the master of your own destiny, giving yourself a chance at making a radical improvement to your investing returns.
All of my analysis on this crypto king and my other two urgent picks are in a detailed and urgent report I have put together for you.
It's called: "Three Crypto Kings: How you could turn £2k into more than £650k from the currency revolution".
I want to get this report in your hands right away.
You'll get all my thorough research – including a full run-down of all the risks and potential rewards when buying cryptocurrencies.
And I'll go into further detail about why I believe this opportunity is unmissable for anyone who wants to gun for a life-changing profit.
Ultimately, given the potential reach of this new digital currency – a "net internet" for the corporate world – you could see your stake grow as much as much as 34,000%. That kind of move would turn £2k into £682,000.
Remember, this is a new market. That means it's not regulated by any all-seeing body. That means you aren't compensated for any losses or events – for example, there is no option to use the Financial Services Compensation Scheme if the cryptocurrency or platform goes out of business.
But remember, that is part of the appeal of this phenomenon. These alternative currencies are not controlled by a central authority, so people feel free to move their money across borders – out of the increasingly unstable influence of world governments.
And let's remember, we're not talking about "betting the farm"… you only need a tiny stake to put yourself in the running for a potentially huge return. So that mitigates a lot of the risks in my book.
I've been investing in and out of this market for a few years now. I've won some and lost some. And you should be prepared for that too. The point is, the market is now reaching boiling point – and cryptos are taking off like nothing the world has ever seen.
I have selected what I consider the best and safest way available for you to buy and sell this new asset class. Just like online brokerages, some crypto exchanges have good reputations and some have bad ones. I have recommended the exchange I use personally. One that I trust completely with my own money.
What's more I recommend a way for you to hold the cryptos offline, for extra security.
Buying cryptocurrencies is just like setting up a trading account. Once you've done the necessary filling in and registering, you're all set and you can buy and sell in minutes. That's why I've created a special video, walking you through it every step of the way to make it as simple and quick as possible.
This free video tutorial is included in your special report – "Three Crypto Kings: How you could turn £2k into more than £650k from the currency revolution".
I want to hand you this report as soon as possible.
But – and forgive my frankness – I have spent too much time researching this opportunity simply to give it away in this open presentation.
I'd like to give you this report in a much more discrete way…
Introducing…

Your shortcut to the most profitable investing opportunities in the world
I'm willing to send you this valuable report right away if you'd like to try out my monthly newsletter Revolutionary Tech Investor for 30 days – under no obligation.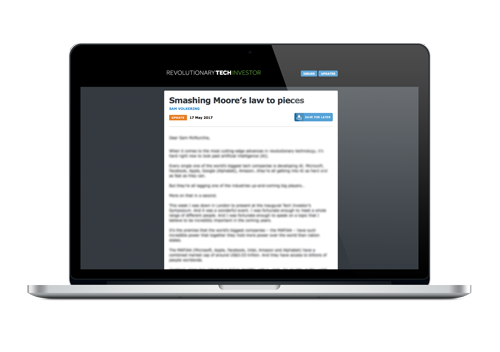 This is a way I can talk to you "behind closed doors" and exchange my valuable report privately.
There's no pressure to continue beyond your trial. You are free to take a look around, download your urgent crypto report and see the other opportunities in my exclusive Revolutionary Tech Investor portfolio.
In Revolutionary Tech Investor I search for the best, leading-edge technology opportunities worldwide.
I scan the pages of every technology magazine and website. I read every academic white paper I can get my hands on. I follow every company announcement in the sector. I travel hundreds, sometimes thousands, of miles to talk to the people in technology who matter. The men and women at the razor's edge of innovation.
I relish finding new, cutting-edge technology companies.
Whether it's a banking technology conference in Dubai, a 3D printing show in London, a futurist conference in Florida, a hacking symposium in Amsterdam, or an internet expo in Paris… I hunt down the latest discoveries and innovations in the world for my readers.
Right now I believe the cryptocurrency revolution is your best chance of turning a small stake of £500 or £1000 into an enormous amount of money.
In truth, there's no ceiling to the money you can make here. And I'm starting you off with the three best picks right now. Three cryptos that I believe could see consistent hyper-growth as the market continues to catch fire.
I'll only briefly tell you about my third crypto recommendation here in this letter. I'll save the deep details for the report.
But just like the other two – its capacity to multiply a small stake many times over is undeniable:
Crypto King #3:
"The New Internet"
In your report, I'll give you the full rundown why I'm so excited by this crypto.
What you really need to know here is:
It has partnered with the largest online bank in Japan and a consortium of 5,000 businesses
It is developing in-game currency with a giant computer game publisher
In February 2017 it announced a major deal with an online "digital wallet" developer
This fast-rising crypto is the fifth largest on the market and over the last year its reach and growth has been significant… climbing 7,524% to date.
But that's not why I'm excited about this crypto. Besides the fact that past performance tells us nothing about what's to come… it's the future growth potential that could be truly staggering.
I like this crypto because it uses a completely new branch of blockchain technology. This innovation has been embraced by the Japanese business world – a market leading the way in crypto tech.
Without getting into the nitty gritty here, it's new tech is more secure than its competitors… and uses less computer power – which is a major factor in scaling out the use of cryptocurrencies.
What really attracts me to this crypto is the headway it is making in Japan… counting some very wealthy corporates among its clients.
Ultimately, it's impossible to put an upper limit on the potential… because the reach could be so vast.
As this tech sweeps the Japanese business world, entire companies could be built on this crypto platform… creating a completely new and self-contained internet for the corporate world.
I can't realistically price in a new internet (!) but I can say that if this crypto grows at its current rate, a small sum invested today could really snowball 2-5 years down the line.
I believe this could turn out to be the biggest financial boom in market history. And you could make a life-changing amount of money from it.
But to be in with a chance, you need to take a no obligation trial of my tech investment newsletter…
Revolutionary Tech Investor
Some people will get flat-out rich as crypto coins revolutionise the world of commerce and banking forever.
If you learn just one thing today, make it this:
You can be one of them.
I wouldn't have published this letter otherwise.
My mission in Revolutionary Tech Investor is to bring you the most compelling and profit potential packed opportunities in the world of breakthrough technologies.
Everything from robotics, to biotech, to AI, to driverless cars and cybersecurity…
But there is no trend in the tech world right now as big or as pivotal as what's happening in financial technology – aka cryptos.
Forecasts are not reliable indicators of future results.
Get your report – "Three Crypto Kings" – and seize this opportunity for a chance to make as much as 34,000% on your tiny stake.
In return, all I ask is that you try out my newsletter for 30 days. That's it.
Take it for a spin and see if it's for you – if not, you are free to walk away with a full refund in the first 30 days.
If that sounds good to you….
Within minutes, I'll send you a private password so you can access your urgent cryptocurrency report right away.

Your report will give you a full investment analysis of the three cryptos I'm recommending. And, importantly, exactly what you need to do to buy into them immediately. If you've ever opened an online brokerage account… or trading account… it's practically the same.

The moment you come on board, you'll also have access to a host of special reports I've prepared for new members – to get you up to speed with all my latest opportunities in the world of revolutionary tech:

"Ten crypto-coins to avoid at all costs"

It's just as important to know what NOT to buy in the fast-paced world of cryptos. I'll run you through what makes a bad cryptocurrency opportunity and reveal which specific coins I think you should avoid.

"What is a revolutionary tech company and why should you invest in them today?"

In this report I introduce you to the exciting world of revolutionary tech investing and outline what I look for in my recommendations.

"Two tech superstars for Project 10-x"

I have selected two companies that I believe are capable of making you TEN times your money. You'll get the names of the companies and my full analysis in this briefing

"Winning the imitation game: the brain behind the future of AI"

The era of true artificial intelligence is upon us. And it represents a huge opportunity for investors to profit. Here I run you through this world-changing technology and where you could see enormous growth in the years to come.

Then, you'll begin to receive your Revolutionary Tech Investor stock alerts via email.

Please understand: these issues will not be your typical investment research briefings, offering only a cursory overview of the market and comments on held positions and how they're trading.

Each confidential briefing provides you with in-depth analysis of new technologies and recommended companies poised to break out.

In most cases, these are technologies and companies not yet acknowledged, much less discussed, by mainstream media or investment websites.

This is thanks to my unique and extensive network of tech industry connections and insights built over a lifetime of immersion in all things technology.

In short, you get an early-bird advantage each and every time a stock alert triggers.

You'll also get a weekly update – usually on a Wednesday – where I will publish the entire Revolutionary Tech Investor portfolio.

I'll explain why I like each individual idea… and why it's a revolutionary investment… as well as the breakthrough tech trends and developments I'm looking into.

I'll tell you how to buy, when to buy and sell, and I'll also alert you to any risks you should be aware of.

I'm here to help you as much as I can.

You'll also get instant access to my in-depth BONUS report, " Six Breakthroughs That Will Astound the World, Transform Your Life and Unleash Powerful Fortunes ".

I've only touched on the themes, ideas, threats and opportunities these trends will bring in this letter. But in this exclusive, members-only report, I lay it all out for you.

It's a briefing that will truly open your eyes.

Over the coming 12 months, I will expand on these ideas in every issue… offering you what I believe to be the best ways to potentially profit from them.

As soon as you accept my invitation to receive Revolutionary Tech Investor, I'll also send you a dedicated contact email address.
If you have any questions about my service at all, just drop me a line.
Write to me as often as you like – I want you to get as much out of this research as possible.
The good news is that you can try Revolutionary Tech Investor without any obligation to stay on after 30 days.
But I'm so keen for UK investors to tap the crypto profit-stream…
I'm going much further than merely offering 30 days under no obligation…
I'm offering you £300 off the full price of Revolutionary Tech Investor – if you take a trial today.
Okay, I've shown you that I'm confident about this…
I've shown you the market is at the start of an explosion…
I've shown you the knockout gains already being made…
And I've shown you why the coming years are set to be even more exciting.
Now, I'm making it as easy – and affordable – as possible for you to potentially lock-in your 'crypto' fortune…
I'm offering you a £300 discount off the regular price of Revolutionary Tech Investor.
No strings.
You can secure that £300 discount today… along with your urgent crypto report AND the FOUR bonus reports I've prepared for new members…
The moment you begin your no obligation trial of Revolutionary Tech Investor.
Remember, this is an obligation-free trial membership. If my Revolutionary Tech Investor service doesn't meet your expectations, or you find this kind of investing is not for you, I'll give you a full refund at any time during the first 30 days.
You can rest assured that this money-back offer is guaranteed by my publisher at Southbank Investment Research.
This really is an obligation-free trial.
And I've tried to make the deal as good for you as possible by discounting the cost of the first year's membership, giving you…
£300-off the full price – if you take up my offer today
The full price of membership to my premium service is £1,447 a year.
If that sounds expensive… I make no apologies.
That's what it costs to get cutting-edge, revolutionary investment ideas from all over the world.
The fact is, as far as I know, this is research NO ONE else in the world is doing – let alone for UK investors.
Remember, I'm scouring the technological field working solely for you, hunting down these ideas, week in, week out…
To connect the dots between the amazing technological innovations in the coming years…and the INVESTABLE ideas in which you could potentially profit from them.
This kind of expertise and work does not come cheap.
So, if £1,447 for one year sounds like too much money, I can tell you right now, this research is probably not right for you.
But the explosion cryptocurrencies has got me excited. And I want to cut you a great deal so you can take maximum advantage.
So, for the first year of membership, I'm bringing the price down by £300.
That means you can become a brand new member of Revolutionary Tech Investor for 12 months at just £1,147.
This is a generous offer, I'm sure you will agree.
The most important thing, though, is that you don't sit too long on this decision, because
The crypto revolution has only just begun… act now and it could make you flat-out rich
I don't mind telling you that I've got money in cryptocurrencies.
As an investor, I'm not going to sit by and watch on as some of these double, triple and quintuple right before my eyes.
And nor should you.
This is a speculators' paradise and an opportunity for small-time investors to make big-time profits… the kinds of profits that are only normally available to City insiders or flat-out lucky traders.
I think the gains made by investors with a sense of adventure are going to be life changing. I equate it to buying gold in the 1970s… this is legacy-making stuff.
I think those that turn their back on this opportunity will come to regret it.
They'll keep half an eye on the crypto market and see it explode in value. And they'll see individual cryptocurrencies – possibly the three I've recommended in my report – climb ten, 20, even 50 times in price.
And they'll KNOW they've made a terrible decision. They KNOW they turned down a small fortune.
Don't be one of those people. Don't let that happen to you.
I've put a great offer on the table. One that puts you in control.
Click here now to start your trial, get the name of the crypto kings I think you should buy right now…
And secure your £300 discount.
Just remember, if you do want to claim your stake – you must act quickly.
Soon, 100,000 profit hungry investors will see this presentation. And I can't promise how long we'll keep this offer open.
So don't hang around!
Many thanks,
Sam Volkering
Investment Director, Revolutionary Tech Investor