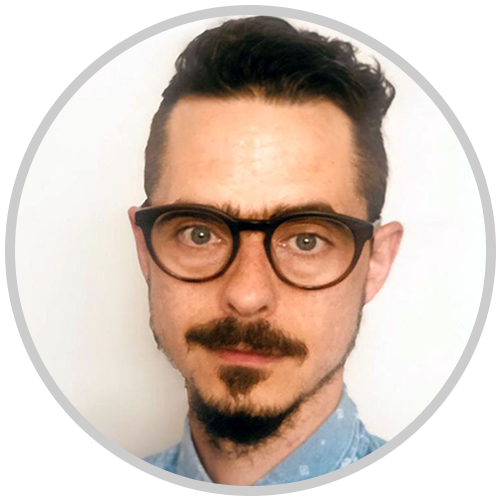 Paolo Cabrelli
Publisher, Southbank Investment Research
Dear reader,
Please be aware that this message is not for general circulation…
This message is only going to a small fraction of our subscriber-base.
Because this is a behind-the-scenes communication and it contains details about our business I can only really share with our most committed subscribers.
That includes you Reader.
I have to be frank:
It's been a difficult and unprecedented year so far. One that has forced many changes in our financial lives. And that includes here at Southbank Investment Research.
You've probably noticed that since the turn of the year, we've undergone some major changes. An ongoing re-structuring of the services we offer, aiming to keep our readers ahead of the market.
As such, we've made the decision to close 3 of our advisories. And we've introduced two brand new services, with another new service announcement imminent.
And, frankly, more changes are coming. Like you, we need to adapt to the new financial landscape.
That means your experience of our work is likely going to change too. I want to pre-empt that by writing to you today.
I understand that as one of our most loyal subscribers, the amount of changes we've made this year might concern you, and I want to address that.
So, it's time for me to level with you.
I've been in this business since 2008, and I've never seen the markets tougher or as unpredictable as they are today.
Even Charlie Morris, who's dealt with no less than 11 bear markets in his two decades as an investor, has admitted it's never been trickier to know where your money should go.
Rob Marstrand, Investment Director for UK Independent Wealth, recently wrote:
"In terms of protecting and growing wealth – which should be the basic aim of any investor in the long run – I believe this is the hardest environment in my nearly 30 years of working in finance and investment ."
But as challenging as the conditions are, I think there's something more going on here.
This is the end of the 'everything bubble'
For years the world was defined by low interest rates and easy money, which fuelled the longest and most rampant bull market in history.
That trend has ended.
And I don't think it is coming back.
I think you sense that too.
The era of higher inflation, rising rates and expensive energy is here to stay, and it will impact every financial asset in the world.
The US Federal government have absolutely flooded the market with printed money, doubling how much money is in the financial system in just two years: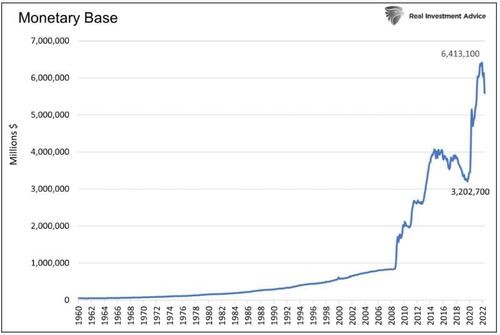 Source: Zero Hedge
This is an extreme financial experiment taking place before our eyes. And it's going seriously wrong.
I believe we could suffer the consequences for a long time to come.
I'm not alone:
"Jeremy Grantham: 'Prepare for an epic finale of the superbubble.' – Interactive Investor
"Big short' Michael Burry says 'mother of all crashes' prediction is underway' – NY Post
Even earlier this year, legendary trader Paul Tudor Jones said "you can't think of a worse environment than where we are right now for financial assets ".
Just recently, even ECB President Christine Lagarde said:
"I don't think that we're going to go back to that environment of low inflation,"
"There are forces that have been unleashed as a result of the pandemic [and] as a result of this massive geopolitical shock that are going to change the picture and the landscape within which we operate ."
As the Economist recently put it: "The era of free money is coming to an end ."
And Vanguard Global Chief Economist Joe Davis has called this "A welcome end to a low-rate era ."
I'm writing to you today because I think there are still many people who believe that this is just some correction… and that within a few weeks we'll be back to watching prices shoot up to record levels all over again.
Perhaps they believe their money will magically ride out the storm and they will emerge unscathed.
I don't have a crystal ball, but as far as I'm concerned, that's delusional at best.
Just take a look around, and you'll see headline after headline to make you realise that we are in a new era:
"Now Britain is in the 100% debt-to-GDP club, what's the spending plan?" – The Guardian
"Bank of England: Britain will fall into recession this year." BBC
"Bond bear market: 'Worst year in history' for asset as inflation bites." Reuters , quoting LPL Financial
"UK economic crisis could see sterling plunge to 200 year low." Financial News
"Interest rates will rise to more than 4% next year and remain there well into 2024, say City forecasts" This Is Money
"Borrowing costs on UK's debts hit by biggest monthly rise since 1986" – The Guardian
And it's not just the headlines; the market is telling you the same story.
Even taking into account all the ups and downs, the FTSE 100 comes out FLAT over the last 5 years:

Source: Yahoo Finance
Britain, meanwhile, has averaged just 0.4% in annual growth since the financial crisis .
Things have become so pathetic that one Saxo Bank analyst already likened the UK economy to an "emerging market country "
Please understand:
I'm not here to make you angry or to try and depress you, but it's important that I give you the facts of where we are, and that's in the midst of an important change to our financial lives.
The rules have changed, the landscape is shifting FAST.
And your investment strategy has to change with it – or you will be left behind.
We may want to pretend it isn't happening… that everything will 'go back to normal'. But I think you, like me, understand that the root-changes we are seeing now are here to stay.
These new rules apply to everyone. Everyone must adapt or suffer the cost.
And I don't just mean us as investors: I am also talking about Southbank Investment Research.
It is my job at Southbank to make sure that you as our most loyal subscribers have everything you need to survive and thrive no matter what comes next.
And when that 'everything' changes… so must we. The markets are undergoing a tectonic shift, and it's right that we change our strategic approach to investing accordingly, so we can help you do the same.
For instance, it should be obvious that the commodities supercycle will play a huge part in wealth building over the next decade, which is why we've brought in leading mining expert Shae Russell… to run our brand-new commodities advisory, "Supercycle Profits".
We welcomed James Allen's brand new service New World Investor, which helps investors tap into the incredible advances in climate technology, which is set to become the biggest investing trend in history…
We've welcomed the deeply experienced analyst James Early, whose Early Advantage videocast has already delivered ground-breaking financial intelligence from some of the top financial thinkers from around the world…
We're on the verge of sharing another new service with you – a clever way to trade small, regular – and we believe extremely predictable – moves in the market on an almost daily basis. It's not quite ready for you to review yet, we're still in the back-testing stage… but the data so far is extremely compelling.
And over the next 12 months you can expect us to open more new services to meet what we feel are the key needs for you to succeed as investors not only this year and next year, but for the next decade or more. I'm going to tell you a little more about those potential new advisory services in this message.
What won't change, though, is our number 1 goal:
To make sure you have the opportunity to protect and grow your wealth by tapping into the most exciting investment opportunities anywhere in the financial world.
I think our record of doing that is unprecedented.
In fact, since Southbank Investment Research opened our doors officially in 2015, I'd put our record of getting big calls right up against anyone.
For example, Sam Volkering was telling our readers about cryptocurrencies back when bitcoin was worth just a few hundred dollars… Today, even taking into account the recent dip, it's still priced at more than $20,000… a huge return for those who took Sam's advice.
Past performance is not a reliable indicator of future results.
We brought James Allen to London in 2018, to show our readers the potential in renewable energy back before almost anyone in the mainstream media cared. Between 2019 and 2021 he closed no less than eleven 100%+ gains. (Some even during the massacre that was the Covid-19 crash .)
But our work isn't just about pinpointing profitable stock opportunities… we've also helped warn our readers about several of the market's major shocks before they took place.
James covered the potential danger of a Russian-caused 'energy shock' in May 2019… a prediction that looks almost eerie in light of the situation we're dealing with now .
Nickolai Hubble predicted a "Bloody October" for the markets back in 2018… weeks before the markets cratered and the FTSE 100 ended up suffering its biggest yearly fall since 2008's financial crisis .
Back in January 2021, Rob Marstrand and Nigel Farage warned readers about the threat of inflation… months before it became clear just how serious a threat inflation would become.
In 2019, we launched Gold Stock Fortunes with the warning that gold could be about to skyrocket in price. Almost immediately, Gold went on its biggest tear for almost a decade.
Charlie Morris, meanwhile, has helped guide subscribers who have followed his Fleet Street Letter Wealth Builder strategy to a meaningful profit despite dealing with no less than 3 major corrections!
Past performance is not a reliable indicator of future results.
I hope you can see why I'm so proud of our work so far.
Do we get everything right? Of course not. If you're looking to find a 100% record anywhere in investing, good luck with that. Markets move against you. It's unavoidable. All our services have experienced losses at one time or another.
And, of course, not every stock we pick is a profit maker. That's impossible for anyone. If you don't accept – and even expect – losses, investing is not for you.
We're not in the business of waiting until things happen and then pretending we knew what was coming afterwards. We're not politicians or bureaucrats.
Our goal is to help you get ahead of the game. To bring in leading experts and analysts. To help you make strategic moves now so that when the next major shifts in the market happen… you're already positioned to take maximum financial advantage.
Many people don't realise that at Southbank Investment Research, we're completely independent. (You may not be aware of this yourself.)
We don't take external advertising or sponsorship, so we don't answer to anyone. As far as we know, that makes us unique in the world of financial publishing.
Our only obligation is to you, our subscribers. If you don't like what we do, and decide our work isn't worth paying for, we go out of business. It's that simple.
That's why messages like this make me incredibly proud:
"I would not have achieved the kinds of returns that I have seen without the skill, knowledge and insight of the various newsletter editors." – Chris Quinn
"In these dark days of biased and dishonest reporting, Southbank stands out as a lighthouse." P.H.
"Very highly recommend. The breadth of investments that are covered by the very knowledgeable team means there is all the information you require to create a highly profitable portfolio." S.C.
"Southbank has made me more confident as an investor." Maurice.
I want to continue to get many more messages like this in future. And I don't mind telling you:
I think that together, we're on the cusp of an incredible opportunity.
Because when the markets "turn", things do get tougher for investors, but within the struggle, there are always massive opportunities waiting.
I'm talking about the assets and stocks that will form a key part of the next few years as the smart money begins to migrate to new environments…
If you know your market history, you'll know that this has been borne out over and over again:
Go back to 1971. President Nixon's decoupling of the dollar from gold caused a mass exodus of stocks…
But over the next decade, investors saw the price of commodities absolutely rocket up across the board: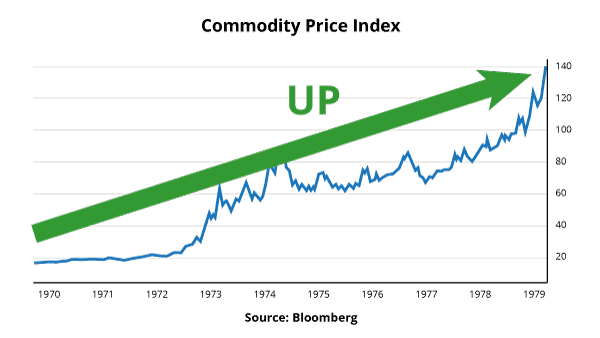 In 2001, the Dot.com bubble collapsed and annihilated tech stocks… but investors with the foresight to act fast got into gold and saw it go on an absolute tear for nearly a decade: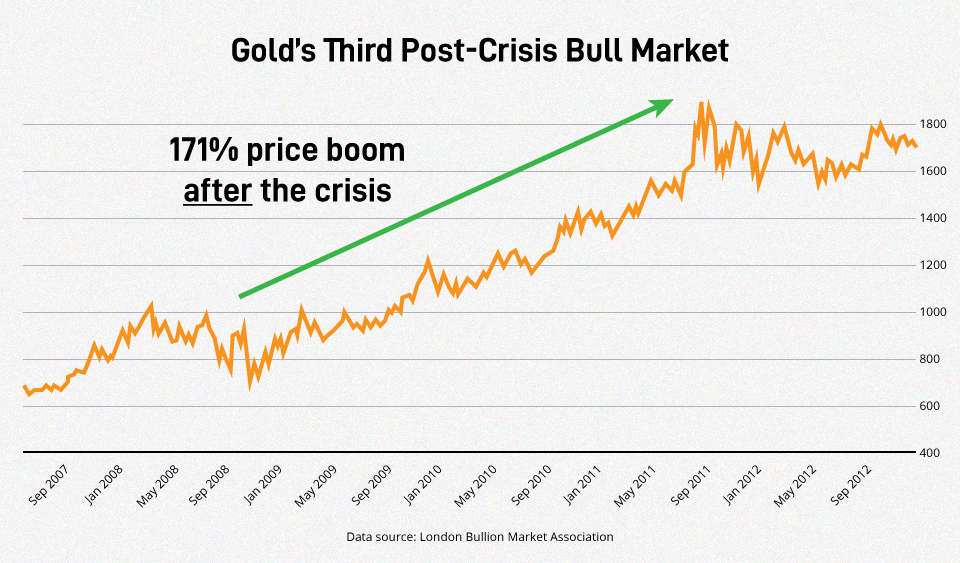 Past performance is not a reliable indicator of future results.
And the aftermath of the 2008 financial crisis, we saw the birth of the new tech giants like Facebook, Apple and Amazon, with early investors reaping huge rewards…
Many believe the distrust that arose from the crisis also led to the development of cryptocurrencies, which have minted more than 66,000 new millionaires at least in the subsequent rallies.
The facts are that many of the biggest trades in history – from George Soros shorting the Pound through to Paul Tudor Jones getting ahead of the 1987 crash – have been made when markets were plunging, not when they were hitting all-time highs.
Even Warren Buffet himself called the 2008 crisis "an ideal period for investors".
I hope it's clear:
Right now, you are standing at a crossroads in your financial life
Even in the market carnage of the past few months, our top analysts have delivered some outstanding results:
In the carnage of the energy markets this year, James Allen has closed gains ranging from 4.40% right up to 400%... and of the 10 positions closed this year, 5 were in profit.
Sam Volkering, meanwhile, closed 2 gains of 130% and 49% out of 4 positions sold in the crypto space...
Past performance is not a reliable indicator of future results.
And Eoin Treacy's Reflex Trader strategy has so far delivered more than 700 points in profit by trading an index that is currently nearly 1,000 points down this year.
This all happened in some of the worst market conditions you'll ever see, and should prove to you that there is always opportunity lurking if you have the right guidance.
Today, I am offering you everything you need to grab this chance to build true generational wealth for you and your family.
If you are ready to accept my invitation and stake your claim to what could be the most PIVOTAL year of your investing life…
Southbank Investment Research will be there for you, to give you everything you need to improve your chances of success.
Put simply, I am inviting you today to become an insider within our business.
I want to unlock the most popular advisories we offer to you today, for life.
That means you will cease to be a subscriber of ours and be closer to what I think of as a partner.
You will receive all the research, recommendations and investment intelligence shown here today, for as long as you choose to take advantage of it. Forever, if you wish.
And then, when the time comes, you can pass this onto your family, so they can continue to take advantage. Think of it as a "legacy membership" without the hassle and inconvenience of ongoing subscription fees.
A single decision you can make today that your family can still benefit from ten, twenty, even thirty years into the future.
I'll go through the details of everything you're going to receive in a moment. I'm really excited to show you just how much is on offer here.
We've opened two brand new services this year alone, and there will be more before the end of the year.
I'm speaking to more than half a dozen financial experts, leaders in their field, who's work I am excited about developing – and sharing directly with you.
What's in store over the coming 12-24 months has the potential to transform your financial life – and help you profit from the powerful new trends shaping the world today.
Without breaking confidences, I would like to share some projects we are developing, behind the scenes. Frankly, as one of our committed readers, I want to pull back the curtain a little. Here's what's on the slate.
An exclusive quant trading system developed within the halls of one of England's most prestigious academic institutions.
An income-generating strategy for those seeking a lower risk, long-term portfolio. If you're approaching retirement, isn't it time to let your money work for you?
Opportunities to invest in small, innovative companies - usually off-limits to the private investor - before they list on the stock market.
A live, interactive trading room – where you can watch on as experienced traders analyse and trade the 'opening bell' before your eyes.
The 'Fight or Flight Symposium' – a 2-day private event held in London. World-leading guest speakers share their newest research to help you stay ahead of emerging trends.
We're in the early, 'R&D' stages with these new projects. Some may drop off the list if other new opportunities become apparent. Our only goal will always be to change and improve what we do, so you have everything you need to succeed.
Normally, as new services launch, we'd give you the opportunity to join. We'd offer you a great deal.
But I want to do things differently for you today

Reader

.
Today, I want to give you the chance to sidestep all that.
No more ongoing subscriptions. No more renewal fees. None of it.
Whatever further changes we make to ensure our business helps you get what you need, one simple thing remains:
Every service you read about here is yours, for as long as we publish it, under lifetime terms.
If you have the spare capital and resources to take advantage of this, I believe it could make the difference of hundreds of thousands of pounds to your net worth over the coming years.
Forecasts are not reliable indicators of future results.
You know as well as I do that the financial markets can be a blessing or a curse, depending on how you play them.
And these moments of change are the moments when investors like you have the chance to take a massive step forward.
Ask yourself:
How many world-shaping trends will take place over the next five years?
How many new millionaires will be created?
How many investors will end up bereft because they get the big calls wrong?
How many will be left behind by powerful new market trends?
I want to make sure you end up on the right side of history, by giving you unlimited, lifetime access to every one of our advisories, and every one of our elite team of analysts.
As a new member, if you join us today, here is everything you will receive…
Starting with:
New

Price over 5 years: £9,495 Lifetime membership INCLUDED.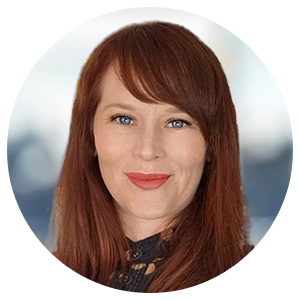 Shae Russell
Imagine you had the chance to jump on the megatrend of the next 10 years.... before most investors even realise the opportunity exists.
I believe that right now, that's what you're looking at in the commodities sector.
Commodity supercycles are not a regular occurrence in the markets. In fact, in the past 120 years, there have been two: the first in the 1970s and the second in the early 2000s.
Both gave investors the chance to make massive returns by pinpointing the best companies within the sector and riding the wave all the way up.
And you're reading this at the perfect time if you have plans to do the same.
You see, for the past decade we've been stuck in a down cycle, with commodities under-invested and prices low.
But in the last few months, things have begun to change.
Stocks are volatile… inflation is spiking higher…. Gas and oil prices are erupting…
Meanwhile, shortages of the every day things we take for granted, like food, petrol, diesel, are all becoming commonplace.
This is setting the stage for the new UP cycle of spiking prices and increasing investment.
Take a look back through history and this pattern is clear: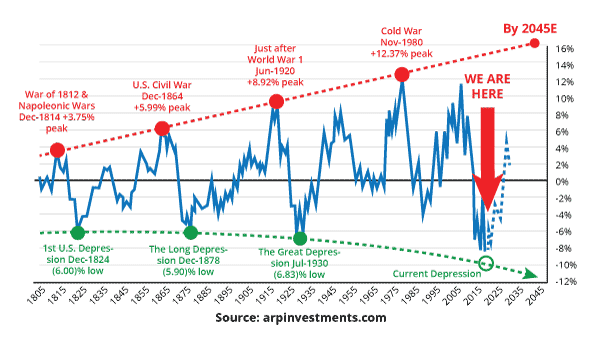 As you can see, you're standing at the perfect time to act. The next commodities supercycle could help you add tens of thousands of pounds to your net worth, if you make the right plays.
Forecasts are not reliable indicators of future results.
Take one look at some of the top gains in the last commodities boom of the 00s, and you'll see the potential on offer here:
Fortescue metals: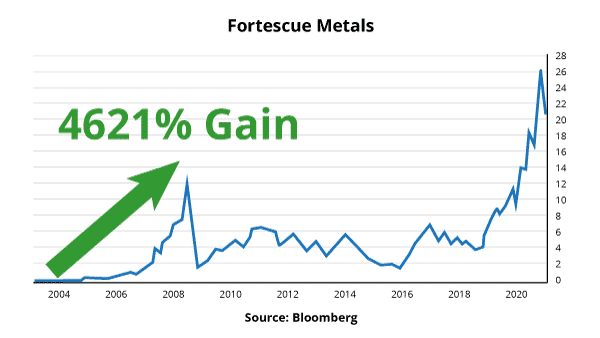 Five year performance for Fortescue Metals: 2017 -9.51% | 2018 -9.43% | 2019 +182.34% | 2020 +135.64% | 2021 -2.73%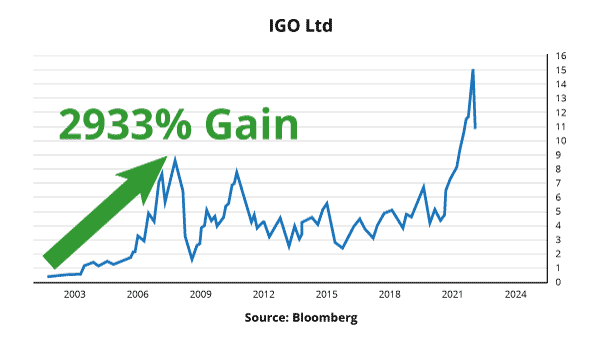 Five year performance for IGO Ltd: 2017 +10.65% | 2018 -19.12% | 2019 +65.97% | 2020 +5.06% | 2021 +81.35%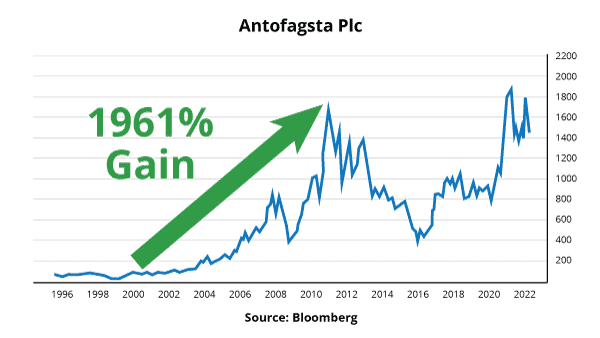 Five year performance for Antofagasta: 2017 +51.79% | 2018 -18.58% | 2019 +21.78% | 2020 +58.27% | 2021 -3.48%
Past performance is no indicator of future results, as you know. And these are 'peak to trough' examples - it would be near impossible to catch a move precisely from bottom to top. I'm simply illustrating the massive potential on offer here if you act now.
I consider commodities to be such a key part of Southbank Investment Research's future that I've enlisted one of the best analysts around – Shae Russell – to head up our brand-new advisory, Supercycle Profits.
For more than a decade, Shae has been obsessed with the commodities market. She's built up one hell of a list of contacts, ranging from CEOs and economists to drillers and more than a few industry 'a-listers'.
She's also on first name terms with leading experts like Rick Rule, Nomi Prins and Jim Rickards, and for more than six months leading up to the recent launch of Supercycle Profits, she called in every favour she could to find out where the biggest gains will be made in the upcoming supercycle.
Shae has only been working at Southbank for a few months, and we've already been inundated with praise for her analysis:
"I don't actually need help; this is just a note to thank whoever was responsible for recruiting the brilliant new co-editor Shae Russell. Shae clearly has a deep knowledge of her subject and communicates in a clear and entertaining manner. Please ensure she stays on board." – John W
"Love your stuff, keep it coming!" – Edward J
"What I've seen of Shae's work so far is very good and she seems to be a great addition to the F&F editors." – Keith PF
In Supercycle Profits, Shae shares every one of her top stock picks designed to help you profit from the next great commodities boom. And I'm unlocking lifetime membership to her work today, so you can take full advantage and squeeze every drop of potential from this once-in-a-decade opportunity.
The value of accessing Shae's work could be immense as this supercycle unfolds. Quite rightly, it doesn't come cheap – at £1,999 for a single year's subscription.
But, as a Platinum member, you get unrestricted, lifetime access.
You will also get lifetime membership to:

Price over 5 years: £7,235 Lifetime membership INCLUDED.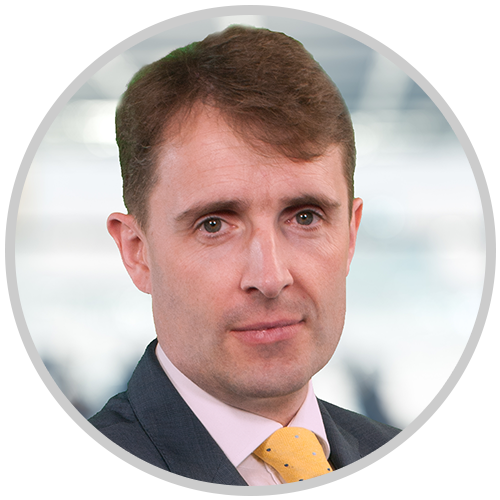 Eoin Treacy
"I am lucky to have access to your work." C.C.
"I am very happy with the results and find your reports well argued…" A.K.
How can you make more money from stocks at a time when everyone knows it's getting harder to produce good returns?
That's what award-winning trader Eoin Treacy wants to share with you: the chance to make 50-150% returns every time you trade in 2022, no matter what the markets do.
Forecasts are not reliable indicators of future results.
No shorting. No spread betting. No leverage.
This surprisingly simple strategy to trading typifies Eoin's unique approach to the markets.
He is, after all, the fund manager that trains other fund managers. Eoin is routinely flown all around the world to hold his renowned 'Chart Seminar'.
New York… Dubai… Singapore… London…
His students include sovereign wealth funds, billionaire market veterans, some of the richest family offices in the middle east… even one man whose 'rags-to-riches' story because the subject of a Hollywood movie.
Eoin is popular with the 'elite's elite' because he shares ideas with huge potential to deliver the kind of returns that would make average investors sick with jealousy.
And in Trigger Point Trader, Eoin Treacy is ready to share with you his personal strategy to target massive returns, even in the depths of the most brutal bear markets.
Not every trade is a winner, of course. Any exceptional trader will tell you that accepting and managing losses is a vital part of their strategy.
But as you can see below, over the six years this service has been operating, we've seen some great results:
2016: +64% on Fresnillo
2017: +98% on Kite Pharma
2018: +198% on Turtle Beach 2019: +52% on Mattel
2020: +98% on Cemex
2021: +126% on Lucid
Past performance is not a reliable indicator of future results.
Trigger Point Trader average five year performance: 2017: +6.91% / 2018: +11.35% / 2019: +15.13% / 2020: +10.78% / 2021: +8.9%
How does Eoin produce results like this?
It all comes down to a special chart signal which Eoin calls a "Snapback Trigger". A unique market occurrence that's usually spotted in stocks that are massively under-priced.
Spot the "Snapback Trigger" early, and you have the chance to take 50-150% gains every time you trade.
Remember, no elite trader has a perfect track record (if they tell you they do, you should run a mile). In the six years, since Eoin's been sharing his recommendations with readers some closed recommendations have made a loss, like -68%... -55%... and -54%.
Losses will always be a part of investing, and if you don't plan for – and even expect – to experience them, you shouldn't be investing full stop.
Eoin Treacy has kept his strategy under-wraps since 2019. But as part of my invitation today, you will get unrestricted access to Trigger Point Trader.
Inside, Eoin will pinpoint the stocks showing his "Snapback Trigger" and deliver them direct to your inbox. No matter what the markets do, you will always know exactly where the right stocks are… giving you the chance to make exciting returns.
I'm also going to unlock for you…
Starting with:

Price over 5 years: £2,995 Lifetime membership INCLUDED.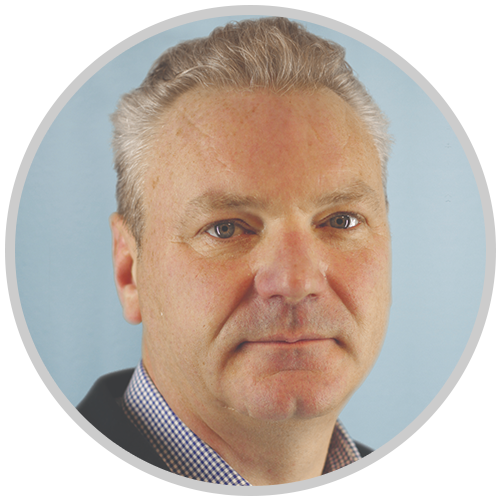 Charlie Morris
"Privileged. Invaluable. Consistent Returns. Don't hesitate." R.C.M
"If you want a solid investment portfolio that will perform in all weathers and want to avoid panicking in a bear market then the FSLWB is the best in the business." T.F.
Since we first launched in 2016, subscribers of The Fleet Street Letter Wealth Builder have benefited from one of the most consistent wealth building strategies in Britain.
In the past six years, Charlie Morris has navigated more financial crises than anyone should. From the Dot.com bust, to the 2008 financial crisis, to the Covid-19 wipe out, to 2018's "Bloody October"…
Catastrophe after catastrophe. The kinds of setbacks that can ruin investors.
Despite all of that, if you'd followed the recommendations here to a tee since 2016, you'd have turned a £100,000 investment pot into more than £200,000 today, and crushed the respective benchmarks.
The Fleet Street Letter Wealth Builder isn't about being wedded to one tactic, or one kind of investment. It's about analysing the market, and working out which assets are best poised to give you the only thing that really matters: absolute return.
Even since the turn of the year, with markets suffering and many investors licking their wounds, the Fleet Street Letter Wealth Builder portfolios have continued their almost relentless march upwards.
That's no surprise to me, because I've had the privilege to work alongside Charlie for six years now, and to my mind, he's the finest pure wealth builder in Britain.
I don't know about you, but when making any money from the markets feels torturous and it's hard to know where to turn to get any kind of headwind… this is exactly the kind of wealth building strategy I want to benefit from.
During his city days, Charlie Morris charged a minimum of £5,000 a year to manage wealth for his clients. (And you needed a pot of at least £500,000 to get in the door.)
Today, The Fleet Street Letter Wealth Builder is yours for life, if you choose to accept this chance.
I'm also going to unlock lifetime membership to:

Price over 5 years: £9,985 Lifetime membership INCLUDED.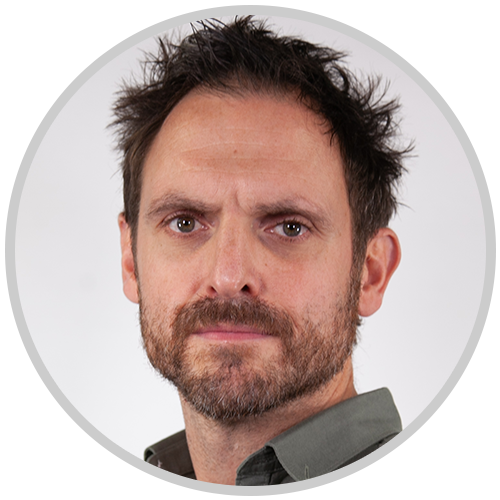 James Allen
"This service is in a different league to everything I have seen previously, no hype, no hard sell, just quality information and assistance from the start." G.N.
"Combination of really deep understanding of the space, plus excellent (it would appear) company analysis."
Kevin R
"Absolutely amazing service worth every penny, unique in the world. I really trust James." D.S.
Right now, the fevered energy market is the story on everyone's lips:
"Strains mount in European power market as UK generators call for help ." – Financial Times
"We are at war – shameful profiteering in the energy markets justify radical intervention" – The Telegraph
"Global energy markets enter winter of discontent." – Forbes
Whatever the end result, Putin's invasion of the Ukraine has changed the world, and the energy markets with it.
Take a look at the headlines, and you can feel the shock at what's happening, but one man was not surprised… our own James Allen.
As far back as May 2019, James understood the potential for Russia to target strategic weaknesses in energy and online infrastructure:
"Look abroad and you see that Russia has a frighteningly wide array of weapons it can use in a hybrid war…
In December 2015, Russian hackers cut electricity to nearly a quarter of a million Ukrainians. They did the same thing a year later, on December 16 2016. This time cutting a FIFTH of Kiev's power for several hours.
"Russia's [2018] attack on Ukraine was a warning to the rest of the world – one you'd be foolish to ignore. As a piece in The Conversation put it, "The cyberattack on Ukraine's power grid is a warning of what's to come"
Remarkable foresight, as you can see.
But as readers of his know, James has made a habit of being ahead of the game when it comes to the energy market.
As far back as 2018, he was telling his subscribers about the huge potential for renewable energy stocks to explode in value.
Back then, renewable energy had attracted virtually no attention, but that changed in 2020 when James closed out no less than 12 winning positions, with gains ranging from 16% right up to a staggering average gain of 816% on one stock.
And in 2021, even with the market suffering a pullback, James still closed out gains like 251% on Ballard Power Systems and 64% on Canadian Solar.
Past performance is not a reliable indicator of future results.
Of course, he saw some losses in both years too, and in 2022, there is no doubt that the clean energy markets have suffered a pullback, along with the wider stock market. This is part of investing, and in a financial world undergoing such uncertainty, it's no surprise that some investors are avoiding the more revolutionary trends.
But in chaos lies opportunity.
Position yourself correctly now. Get ahead of the major energy market trends and as you've seen for yourself, the potential is there for you to make 100%+ gains over and over again.
James Allen is the man to help you.
He understands this market as well as anyone I've ever met, and his message is simple:
"The current crisis in Ukraine has acted as a catalyst for an accelerated European clean energy transition, with increased renewables and energy efficiency targets for 2030.
Meanwhile, in China, new figures released last week show that 80% of all the offshore wind generation installed around the world last year were in Chinese waters.
Indeed, China is expected to add more offshore wind power annually than any other country through at least 2035.
It is really not that hard. The UK gets it, so does Europe and, increasingly, China too.
Faced with the twin threats of a burning planet and a cost of living crisis, green energy is our one true hope."
And it's not just in the UK and Europe where incredible opportunity lurks.
Ignore the strange name of President Biden's "Inflation Reduction Act of 2022" and focus on the money, and you'll see a huge $369 billion of spending on climate and energy reforms earmarked for:
Building clean energy manufacturing hubs for EVs, solar and wind power
Decarbonising America's agricultural sector
Tax credits for US manufacturing of batteries, wind and solar power.
State government and utility company clean energy products
A "Green energy bank" that gives grans for clean energy projects
American-made clean energy vehicles
In 2009, when President Obama signed the American Recovery and Reinvestment Act, it lit the touchpaper for the clean tech markets.
I hope I don't need to spell out, then, why Biden's $370bn flood of capital could be so incredibly exciting for Exponential Energy Fortunes subscribers.
James is already positioning his readers to take maximum advantage, by tapping into:
An energy niche market that analysts believe could grow to be worth $3,000 BILLION in just the next 3 years…
The 1 stock perfectly positioned to profit from sky-high energy prices …
Which natural resource could skyrocket as demand rises 19-fold by 2040…
As well as a number of other hand-selected investments with massively lucrative potential…
I suggest that when you get your unrestricted, lifetime access to Exponential Energy Fortunes, you pay very close attention if you want to tap into a sector that has had a tough 12 months… But could be about to return to the incredible heights of 2020 and 2021… and even surpass them.
Let's move onto your next unrestricted, lifetime membership…

Price over 5 years: £15,545 Lifetime membership INCLUDED.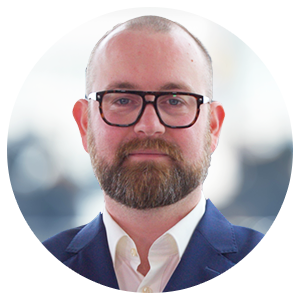 Sam Volkering
"I'm enjoying your service very much Sam and it's certainly helped me to make a lot of money." M.S.
"Really interesting research. Thank you!" A.H.
Sam Volkering has made a history of proving other people wrong when it comes to crypto currencies.
He first bought bitcoin when it was just $12… and Ethereum when it worth was £10.
And he cashed out on XRP at the top of a $20,000 gain.
Past performance is not a reliable indicator of future results.
As far back as 2014, Sam was laughed at on US tv for saying crypto could mint more millionaires than any financial boom ever.
Every step of the way, Sam has had to listen to investors and analysts calling bitcoin a scam.
His track-record, contacts and credentials within this market speak for themselves. And right now, Sam is as excited about the crypto markets as I've ever seen.
We've seen a strong correction, and I don't doubt that some coins will eventually end up at zero.
Crypto investors need to be prepared to only risk spare capital – that is, money you can afford to lose – in this volatile new market.
But crypto trading has never been about just picking coins at random. It's about making strategic decisions and investing in technology that has real potential to transform the traditional financial system.
And Sam Volkering is already focused on where he believes the biggest potential is hiding within the crypto markets. What he calls the 'next gen' coins, and what Nobel Prize Winner Sir Christopher Pissarides calls "the most exciting development in financial markets in recent years".
These 'next gen' coins have already attracted investment from men like Elon Musk, Dallas Mavericks owner Mark Cuban, legendary fund manager Ken Griffin, Ray Dalio, the Winklevoss Twins and more.
And Sam believes that the crypto investors who get in now could turn every £1,000 into as much as £769,000 in the long-term. That's how much he believes in the 'next gen' cryptos, and how excited he is about what comes next.
Forecasts are not reliable indicators of future results.
If you accept my invitation today, you'll get every 'next gen' crypto recommendation Sam makes in Crypto Profits Extreme not only in 2022, but in every year after that.
Now, let me focus on what I believe could be the cornerstone asset of your portfolio over the coming few years:

Price over 5 years: £4,995 Lifetime membership INCLUDED.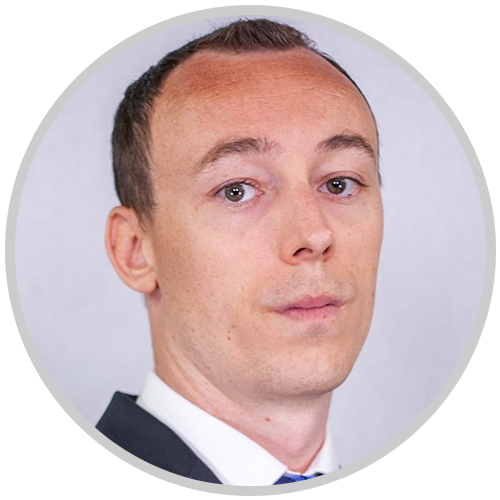 Nickolai Hubble
"Very useful research in a complex investment area." C.C.
"When the rules of economics and investment are upended and money is in unlimited supply, you need to understand gold." C.S.
"It is excellent advice on a sector I firmly believe to be in at the moment." J.G.
It doesn't matter if you're a gold bug or not, history shows us one indisputable fact:
Sooner or later, inflation means a massive increase in the gold price.
And with inflation in Britain set to hit an all-time potential high of as much as 18%, owning the right gold stocks may well be the most lucrative decision you make.
In fact, with inflation up and the cost-of-living already punishing savers, you might wonder why the price hasn't already skyrocketed.
Actually study the real history of the Gold Price – rather than relying on second-hand 'commentary' - and you'll find the answer.
Here's Gold Stock Fortunes supremo Nickolai Hubble:
"Gold doesn't boom during a crisis. It booms after a crisis. It booms after central bankers and governments have implemented their mad policies to stop a crisis from turning into something worse. There's a delay."
The first great gold bull run was in 1971, when Richard Nixon infamously 'decoupled' gold from the Dollar…
Finally allowing gold to send an honest pricing signal after 7 years of constant monetary crises.
See what happened next: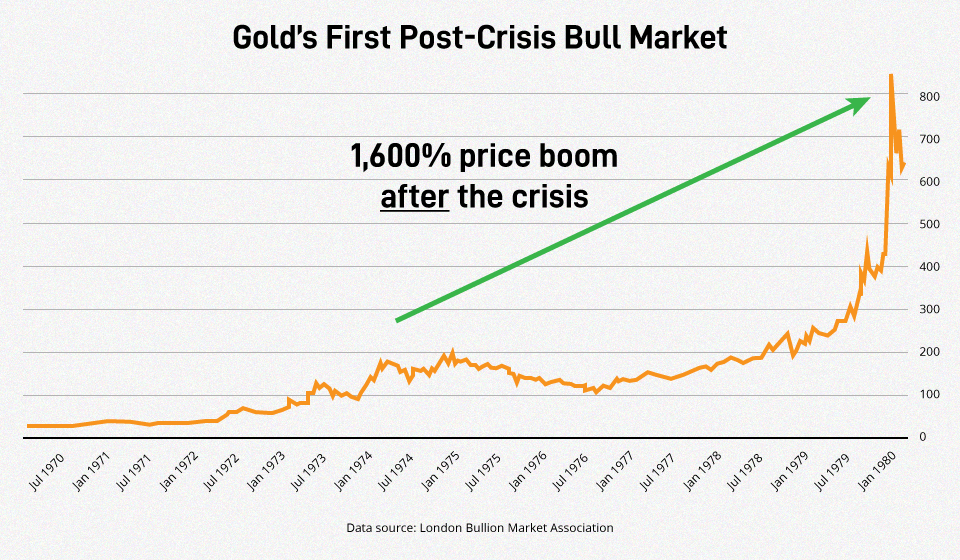 Past performance is not a reliable indicator of future results.
The second post-crisis bull came after the dot.com boom. Central banks slashed interest rates to try and spur on the economy…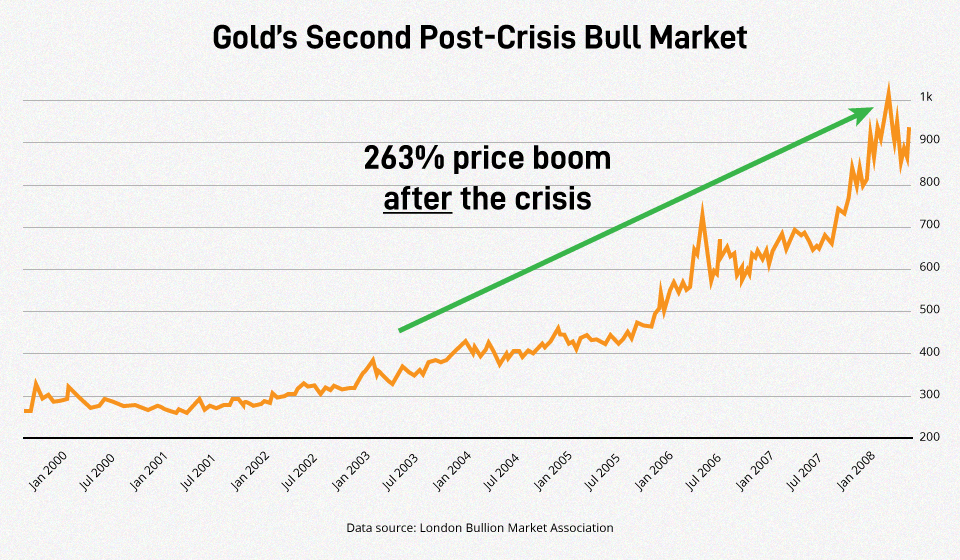 Past performance is not a reliable indicator of future results.
Which initially tanked the gold price… until after the worst of the crisis was over, when gold flew up from $700 to be worth more than $1,900 in 2011.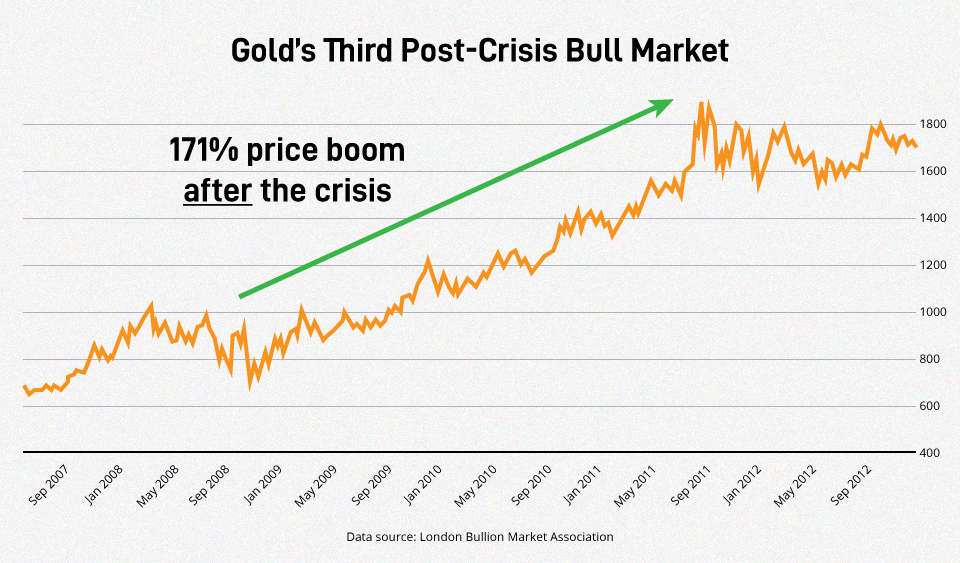 Past performance is not a reliable indicator of future results.
Do you get the picture? I hope so, because right now we're enduring one of the most challenging economic periods in Britain's history…
Which means that right now, we are in the eye of the gold storm. The crisis is on our doorstop.
And you have the clowns in charge to thank…
"They have sown the wind, they shall reap the whirlwind." – Winston Churchill
Governments and central banks have flooded the financial system with easy money for more than a decade…
Deluding themselves that somehow "this time would be different". That, for them, the rules do not apply.
Now, inflation is looming and stocks are crashing… stagflation is here.
If you're to succeed in making money as an investor in 2022 and beyond, you must understand the gold market.
And it's not enough to just invest in gold itself… you need to be able to maximise your returns by investing in the right kinds of gold stocks.
In Gold Stock Fortunes, Nickolai will not only show you how to pinpoint the investments most likely to boom over the coming year and beyond…
He'll also share with you his "magnifier" gold stocks… the select group of investments that can explode upwards as the gold price rises…
In just the last year alone – even while gold has been relatively quiet and the portfolio has suffered some losses – we've closed gains of 30.61% on Siba, and 137.7% on Great Bear.
This shows you how potentially lucrative these gold stocks can be… and exactly why now is the time to position yourself before the next great bull run begins.
Partnering with Nickolai is award-winning wealth manager and gold investing veteran Eoin Treacy. Eoin was a key part behind launching Gold Stock Fortunes in March 2019, right before the Gold price went on a massive tear in 2020: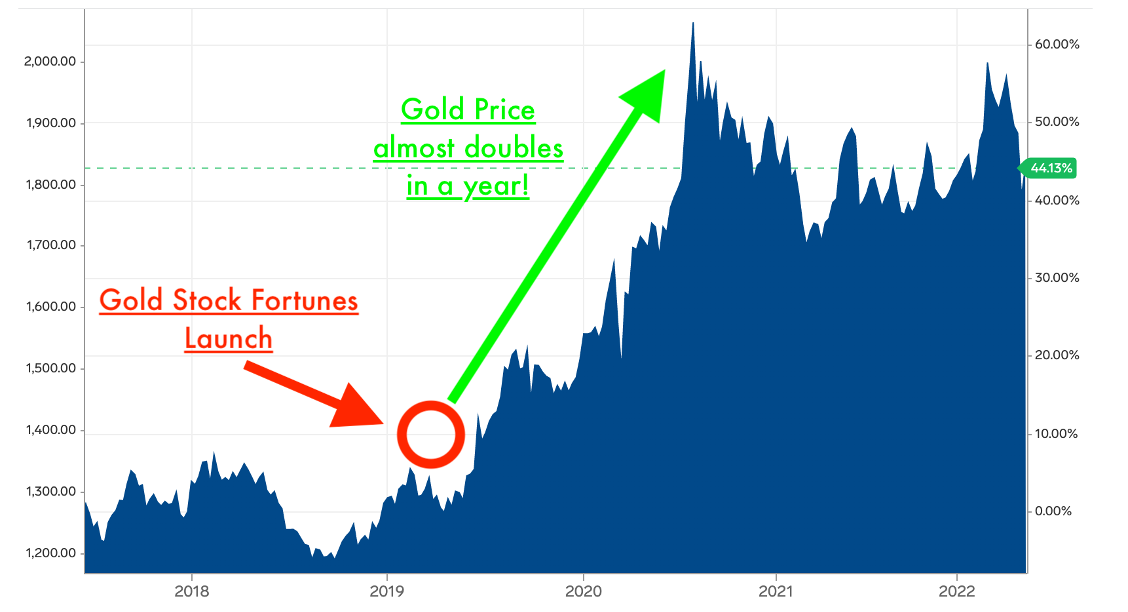 Past performance is not a reliable indicator of future results.
This isn't about the past, though. It's about how you can prepare for what's coming.
Both Nick and Eoin believe we are on the verge of a 1970s-esque gold price surge. As you can see, the evidence is overwhelming.
Gold's time is coming. Any investor worth their salt needs to understand how the gold price works, and how to position yourself for maximum potential profits.
That's why, if you accept my invitation today, unrestricted, lifetime access to Gold Stock Fortunes is yours.
I'm also going to unlock for you what I think could be a hugely effective strategy to increase your income and help cut down the amount of damage inflation can do to your spending power:

Price over 5 years: £9,995 Lifetime membership INCLUDED.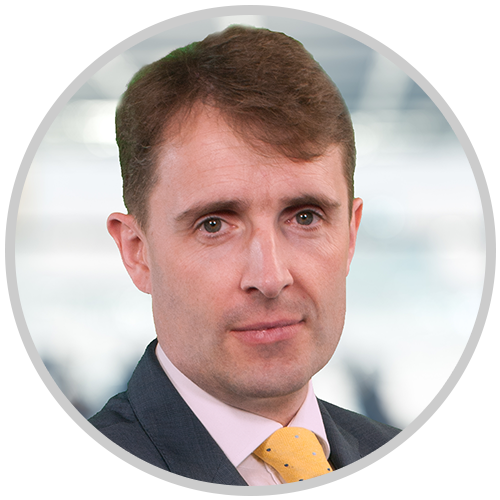 Eoin Treacy
"Love it wish there were more paydays in a month." Caroline.
"Very positive." J.O.
You might have read about Reflex Trader. It's unlike anything we publish.
Here's Eoin Treacy to explain things further…
"I want to be clear from the get-go: this is not 'day-trading'. It's not options. And it's not traditional 'buy-and-hold' investing, either.
It's all to do with something I call 'Reflex Trading'.
If you've ever had your reflexes tested by your doctor, you'll know they sit you up on a table and tap just below your kneecap with a small hammer.
Provided the doc taps you in the right place, your foot will automatically swing upwards...
This is a reflex action.
It's not pre-meditated. You're not thinking about it. It just happens.
A tap below the knee causes a reflex action in your leg.
Now...what if I told you that 'reflex actions' occur in stock and commodities markets, too?
By that I mean asset prices shoot up automatically in response to certain events...You know when these events are coming. And you can trade the 'reflex'.
I call the dates when these events are coming 'Magic Windows'.
And if you simply follow my trades during these windows then you could make a five-figure profit by the end of the year from these 'reflex trades'."
I remember when Eoin first brought the idea behind Reflex Trader to Southbank HQ. There were plenty of raised eyebrows around the place.
How could anything be so repeatable… so simple… and yet still actually work? That an idea like this could make money… it's like the holy grail for spread-betters.
Before I go on, though, let me be clear:
This is a strategy that requires discipline. A quality not every investor has.
Spread betting is leveraged and leveraged trading IS risky, because you can lose more than you staked if the market goes against you.
Therefore – you must cover yourself with a healthy margin.
For instance, if the Dow Jones Industrials were a buy at 24,582.5, £10 a point is a margin of £12,290.50. So you'd need that as starting pot to make that trade.
£2 a point would be £2,457, and £5 a point would be £6,144.75.
74-89% of people lose money spread betting so it is imperative you understand the risks and follow the stop loss strategy.
And that you understand there will be losing trades. In fact, in the first year of Reflex Trader, the strategy ended up over 1,000 points down.
It was horrible for all concerned, and we wondered at the time if we'd just got this one wrong.
The same thing happened in early 2020, when the unprecedented Covid-19 disaster caused the strategy to be stopped out or frozen – due to the US market freeze – five windows in a row.
Many investors would bolt at that point. Some did, and I understand that.
But those that did bail out had to watch while the traders who stuck with this strategy end up making 1,500 points in profit by the end of 2020.
That's enough to make you £4,650 tax-free at £3 a point.
And those who chose to persevere after 2018's frankly worrying start?
They saw the "magic windows" strategy make 2,449.90 points profit in. Enough to put £7,347+ in your account at the same £3 a point.
Past performance is not a reliable indicator of future results.
If your tolerance for risk was higher and you went in at £5 a point, you could have made £20,025 tax-free between January 2019 and the end of 2020.
In 2021, the market chaos saw us take a loss of 454 points. Again, this will happen, and losses are just part of the strategy.
Now, as I write this to you, the strategy is up 769 points so far for 2022 (as of 13 September).
As you can see, this isn't just about one window… this is about looking at your total return at the end of the year, and taking what may well be the simplest – albeit high risk – tax-free profits you'll ever get from the markets.
Reflex Trader is simple. It's repeatable. And if you've got the stomach for it, it could make you a lot of money.
Normally, access to Reflex Trader is £1,999 for a single year. Today, if you take my offer, you'll get unrestricted, lifetime access without every paying another penny in subscription costs.
You'll also get lifetime access to:

Price over 5 years: £9,995 Lifetime membership INCLUDED.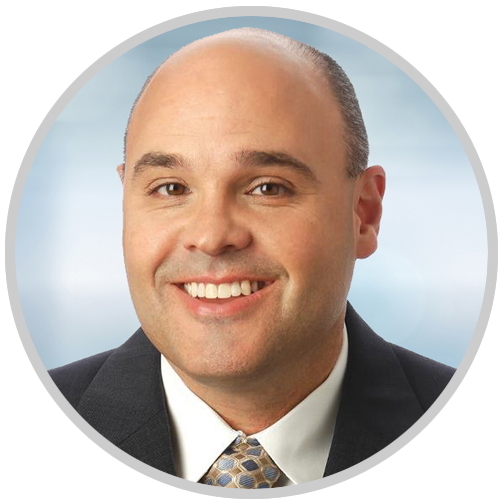 Brian Christopher
How would you like to legally use 'inside' information to pinpoint stocks with the potential to return anywhere up to 175% every time you trade ?
Let's face it, no matter how much research and due diligence you do on a company, there's one set of people who will always understand it better than you: the people who work there.
There are a lot of buying signals that can indicate a company's stock is about to shoot up in price, but I can't think of any signal that's as strong as the people who work there hoovering up shares themselves.
CEOs, senior directors, other key staff… if they start rabidly buying up their company's shares, you can bet they're doing it for a reason.
These company insiders will always have access to knowledge we don't.
They know which customers are paying and which aren't…
They know if their suppliers are having problems…
They know where the company's biggest profits come from…
And all this knowledge can be invaluable to you as an investor.
Mervyn King – who went on to be governor of the Bank of England – once investigated this 'insider' knowledge and found that companies being bought up by insiders out-performed the market by 51% in the year after the purchases were made.
Here's what's exciting about this:
If you know how, you can find out exactly which company's shares are being bought up by insiders… and it's completely legal for you to use that information to trade.
Although the information is completely public, interpreting it for potential profits is not easy. It's not enough to take a look at the data, you have to know what you're looking at, and what the data is telling you on a deeper level.
In other words, you need experience and knowledge of what company numbers really mean.
That's why I invited Brian Christopher to join Southbank Investment Research and head up Follow The Money, a service designed to help you pinpoint these 'insider buyer' companies and trade them.
Brian is the perfect guy for the job. He's a forensic accountant by trade, and he's also served as chief financial offer and controller at a number of major companies. Over decades, he's developed an eagle eye for detail, and knows exactly which companies are likely to struggle in future, and which companies have the potential to explode in value.
We're already starting to see the promise of Brian's approach.
If you want to focus only on stocks with the real potential to explode in value… Brian is your man. And Follow The Money is well worth your attention.
Lifetime, unrestricted access is yours today.
I'm also going to unlock unrestricted access to:

Price over 5 years: £7,235 Lifetime membership INCLUDED.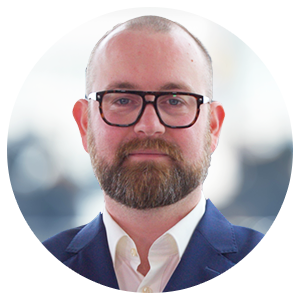 Sam Volkering
"Keep it all coming, along with the investment advice, the whole thing is an education." C.C.
"I am pleased to be a member of Revolutionary Trend Investor and I am very happy with what you do." V.C.
Take a look at the last twenty years of investing, and you'll see the same formula for generating massive stock windfalls play out over and over again:
Pinpoint the tech trends of tomorrow before they hit the mainstream…
Invest in the 'best-in-class' companies within these sectors…
Watch 'average' investors finally catch on and flood the market with capital, while the early investors see their stakes shoot up in value.
From crypto currencies to FAANG stocks to Fintech, this same 3 step process has minted a whole lot of fortunes over the past decade or two.
Of course, this sounds simple. And it is.
But it is NOT easy.
Unless you truly understand technology and investing – not to mention how to spot hot trends before they emerge into the mainstream – you're more than likely going to fail.
To have a chance of success using this strategy, you need guidance. And that's why I've included lifetime membership to Revolutionary Trend Investor in my invitation today.
Sam Volkering understands technology trends better than anyone I've met. He'll hate me for saying this, but as far as I'm concerned he's a genuine futurist. Sam's ability to look five, ten, fifteen years into the future is almost uncanny.
Way back in 2015, before anyone even knew what bitcoin was, Sam was telling me to jump on something called Ripple. Like an idiot, I didn't listen.
Sam, meanwhile, later cashed in an astonishing 20,000%+ gain!
Past performance is not a reliable indicator of future results.
Oh, and bitcoin itself? Sam first got in on it when it was worth just $12, and as I mentioned earlier, he was telling investors to jump on as early as 2014.
Sam spends hours every day researching, reading and travelling all over the world to uncover the most exciting investment opportunities out there.
In Revolutionary Trend Investor, Sam pinpoints what he believes to be the most exciting, revolutionary – pun not intended – technologies of the future. The key trends that are set to transform our world and at the same time make investors who get in early a lot of money.
From CBD oil… to driverless cars… to satellite technology…
The stocks you'll find in Revolutionary Trend Investor are growing rapidly, and have huge potential to generate big returns.
One of Sam's picks is at the forefront of an industry disruption, driving a revolutionary new technology both in the UK and in the USA…
As well as a stock that Sam believes could form the bedrock of the new financial system for the next decade or more.
You don't have to like every industry Sam moves into. (You probably won't.) Some trends aren't just transformational… they're unstoppable.
And that means huge potential to add thousands of pounds to your net worth over the coming years.
Let's just take a moment to pause here
Think of everything I've shown you here. Think of just how transformational this opportunity could be for you.
This is your chance to ride the next great gold bull market by tapping into gold mining stocks with incredible potential, shared in Gold Stock Fortunes.
… to add five figures in tax-free profits to your portfolio by trading Eoin Treacy's "payday trade" strategy in Reflex Trader…
… to pinpoint the clean energy stocks most likely to erupt in price as Joe Biden's $300bn stimulus package hits the market…
… to ride the next great crypto price spike by tapping into Sam Volkering's secret "next gen" cryptos…
Every one of the advisories I'm opening to you today could make you a huge amount of money not only in the next 12 months, but for years to come.
Remember, I'm offering you unrestricted, lifetime access to everything.
Just think how critical receiving direct investment intelligence like this could be for your financial life
Accept my invitation today and within minutes, you'll have access to the world's most lucrative trading strategies.
Commodities… gold… cryptocurrencies… stocks… funds… indices…
No matter what happens from today, you will be able to move into any area of the market with total confidence, using research backed by some of the finest financial minds in Britain.
This is an invitation I'm very excited to extend to you, because I know just how much it's helped investors just like you who've already accepted it:
"As a complete novice to the investment world, you have opened my eyes to some spectacular opportunities." E.N.
"Amazing research. My only regret is that I don't have time to read it all." J.W.
"…a world class outfit of which you should all be justifiably proud." M.T.
"I didn't really invest before, as I didn't know what to do or where to start. Thanks to the Southbank people I know a lot more than I did a year ago." F.H.
"…You will have an array of high quality publications providing advice which is not available anywhere else to my knowledge." C.C.
"Do it – best investment you will ever make." P.C.
I invite you to join these investors and to transform the way you make money from the markets.
You've seen the changes we've been making to our services in order to better meet your needs.
I guarantee that if the markets continue to shift and evolve, so will we.
There will be new services introduced, likely in the next few months alone. I spend most of my working day seeking out leading financial thinkers, analysts and investors – so that I can bring their work directly to you.
As I said, when those new services are launched, we'll be inviting you to join for a reasonable fee.
But as one of our most important subscribers, I'm inviting you to bypass all of that.
No more keeping track of your subscriptions…
No cancelling one letter to try another…
No individual renewal fees…
None of it.
Accept my invitation today to become a Platinum subscriber and you will get every single advisory I've shown you here, for life. That's it.
One single one-off price to join, and you access all of these exciting investment opportunities.
Over the coming years you will obviously save many thousands of pounds in subscription fees. But, of course, it is not the money you will save that makes this level of membership so special.
You can use this research to make tens of thousands in additional profits from the market, every single year from now on.
You've seen the evidence for yourself of the kinds of returns we've helped subscribers make.
I think it's clear that this one decision today could change your financial future.
Now, I must be serious
At Southbank Investment Research, we tackle the markets with our eyes wide open. And that means being aware about risk. And taking all available steps to mitigate it as much as possible.
We always advise our readers to keep it simple. And that means you should never invest more than you can afford to lose.
If you want to target the kinds of returns we've talked about here, then you need to have spare capital to invest.
The amount of capital you have will determine what kind of returns you can shoot for.
If you've only got a few hundred pounds to invest, this opportunity is not for you. You simply won't be able to take advantage of the kind of potential I'm talking about here.
This is for serious investors who have spare capital ready to take advantage of the opportunities we're going to deliver over the coming months and years.
If that's not you, we can still help, but I recommend you start with one of our less premium services.
Apologies if I'm preaching to the converted, but there will be some people reading this that need to understand this fact.
All investing carries risk.
Our offer today covers all kinds of investing, and because of this, each advisory will have its own risk profile.
Small companies can be volatile and less liquid, which means they can be harder or more expensive to trade. Some shares will be listed in a currency other than sterling, which can affect the value of your returns. Taxes and dealing costs can also be a factor.
As you've seen, some of our services involve spread betting, where it's possible to lose more than your initial stake.
And some of our opportunities, such as cryptocurrencies and physical assets such as gold, are not regulated by the Financial Conduct Authority. If you lose money on an unregulated investment, you'll have no recourse to the Financial Ombudsman Service or the Financial Services Compensation Scheme.
So you should read our research in full to ensure you understand the risks involved, and only invest spare capital you can afford to lose.
Because that's what this offer is. You get everything I'm telling you about here today. All the benefits of these advisories, and naturally, all the risks that come with investing.
Every one of our investment recommendations will come with a comprehensive risk profile; it's our analysts' job to arm you with all the information you need to make an informed decision.
We will never make a recommendation without you knowing exactly what the potential rewards and the knowable risks are, so that you can choose if that particular investment is for you.
If you understand this, then I invite you to join us in transforming the way you invest.
By taking unrestricted, lifetime access to every one of our most lucrative, exciting investment strategies.
Today, that is what I'm offering you: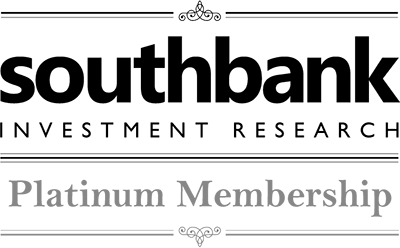 Southbank Platinum Membership is by far the most elite level of membership we offer.
Platinum Membership opens you up to a new world of wealth creation from the finest analysts and investing experts in Britain.
But more than that, it's about knowing more and getting ahead of the pack About getting totally independent analysis with no mainstream 'influence' or 'party line'.
It's about you getting everything you need to increase your investing returns through strategic, informed decisions backed by the truth:
Picture being able to tap into every money-making market trend for the next decade, backed by a true expert in their field…
And being able to protect and grow your wealth to combat inflation and the upcoming recession, guided by some of the most experienced investors around.
That's what's on offer here.
Want to turn the new energy markets into a massively lucrative opportunity for you and your family? Let the man who called today's conditions, James Allen, guide you.
Crypto markets rebound? Sam Volkering, the man who cashed out a 20,000% Ripple gain, will show you where the most exciting cryptos can be found.
Need to combat inflation? Let gold experts Nickolai Hubble and Eoin Treacy – who called every one of the last 3 gold bull markets – guide you to maximise your returns from the yellow metal.
Let 30 year market veteran Rob Marstrand uncover stocks and investments designed to let you tap into the legendary "Room 305" trading strategy…
Let forensic accountant to the stars Brian Christopher shows you how to follow the "insider" flow of money into stocks set to explode in value…
Follow Eoin Treacy's patented Reflex Trader strategy to tap the markets for potential hundred point gains every 2 weeks…
Forecasts are not reliable indicators of future results.
Become a Platinum member today, and you unlock the ability to better protect your wealth… and to profit from any market opportunity that comes your way, whether it's tomorrow or five years from now.
You enter an elite group.
No other investors in Britain get this level of insight and market knowledge delivered direct.
I have tracked down the very best investors in the world – leading analysts and financial minds like Charlie Morris, Rob Marstrand, Eoin Treacy and James Allen – because I believe having access to their research and recommendations can make a profound difference to your financial life.
And I think that's what sets Southbank Investment Research apart from the mainstream media and 99% of financial advisors.
If you want 'Jacks of all trades' who're afraid to make the big calls and don't have the true in-depth experience you need to make serious money from the newest trends…
And you'd rather get 'hindsight' explanations and wishy-washy platitudes…
Just switch on the TV or read the papers. That's what most people do.
Over time they'll be poorer – financially and intellectually – but that's fine with me. Like I said, I'm extending this invitation to you because I want the RIGHT investors.
If you have the resources to take advantage of these opportunities, and you value independent thinking and true expertise…
I believe that our Platinum Membership could add hundreds of thousands of pounds to your net worth over the next few years.
Forecasts are not reliable indicators of future results.
And I want to save you tens of thousands of pounds today.
As I've already shown you, Platinum Membership grants you unrestricted, lifetime access to every single one of these advisories:
Supercycle Profits – Ride the upcoming commodities supercycle to incredible potential returns, guided by leading analysts Shae Russell.
Price: £1,999 per year.
The Fleet Street Letter Wealth Builder – Access one of the most effective wealth building strategies in Britain over the past few years. Protect and grow your wealth no matter what the markets do.
Price: £599 per year.
Reflex Trader – Eoin Treacy's 'payday window' strategy that could add five-figures in tax-free profit to your bottom line every single year. Simple, repeatable and potentially very lucrative.
Forecasts are not reliable indicators of future results.
Price: £1,999 per year.
Exponential Energy Fortunes – Claim your stake in the second great clean energy boom, as President Biden's stimulus hits the markets.
Price: £1,997 per year.
Gold Stock Fortunes – As inflation rises, gold prices spike. History shows us this. We are now in the eye of the storm, and the time is now to tap into hugely lucrative gold mining stocks. Eoin Treacy and Nickolai Hubble show you how.
Price: £999 per year.
Crypto Profits Extreme – Sam Volkering's 'crypto inner circle' are already tapping into his 'next gen crypto' picks to potentially make a fortune. Today, those picks are yours if you choose.
Price: £3,109 per year.
Follow The Money – Forensic accountant Brian Christopher pinpoints the companies where the 'insiders' are furiously buying up the stock… allowing you to do the same ahead of what they think is coming.
Price: £1,999 per year.
Revolutionary Trend Investor – which major trends are on the horizon? How can you tap into them for potentially massive returns? Southbank's resident mega-trend expert shows you how.
Price: £1,447 per year
Trigger Point Trader – Eoin Treacy's patented 'snapback' stock trading strategy could put 50-150% gains every single time you trade. He's been sharing this strategy with his wealthiest clients for the past few months, but today it's yours.
Forecasts are not reliable indicators of future results.
Price: £1,447 per year.
Total Value per year: £15,595 You'll get unrestricted lifetime access to all of these subscriptions for less than this.
On these subscriptions alone, you'll save thousands of pounds in your first year.
And remember that from day one, you'll unlock investment opportunities that could put tens of thousands of pounds in your pocket, depending on your risk appetite and how much spare capital you have available to invest.
Oh, and one other thing, I'm far from done.
I'm also going to unlock unrestricted, lifetime access to every one of our 'flagship' advisories. These are our most popular advisories. The ones that readers sign up to in their thousands.
And they're all yours, for life, today. Starting with…

Price over 5 years: £995 Lifetime membership INCLUDED.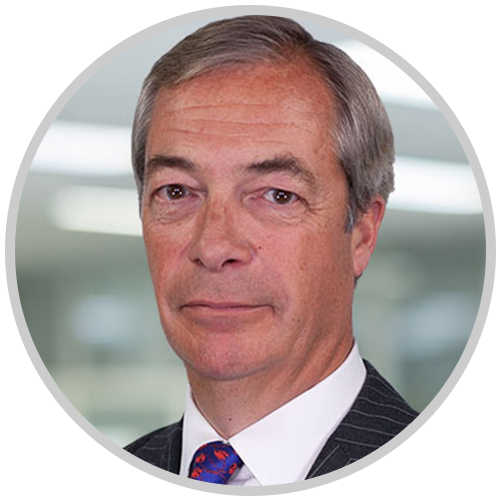 Nigel Farage
"It's perfect for somebody who doesn't trust the government, banks and institutions to give them the honest truth without spin." R.B.
"Interesting and informative helping the little man understand the opportunities available to him and not just for the wealthy." G.P.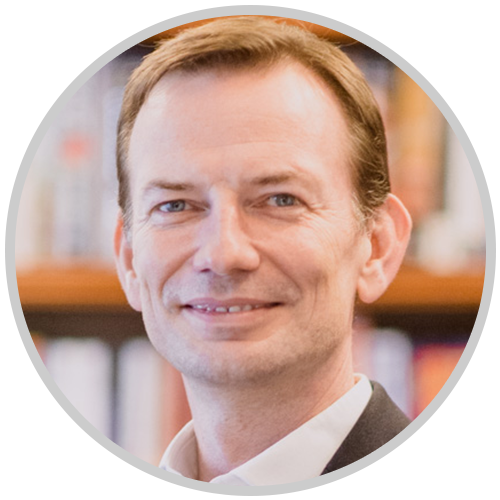 Rob Marstrand
Some love him, some hate him. Whatever your view, one thing you can't deny is that Nigel Farage understands how to take control of your future.
The aim of UK Independent Wealth is simple; to help independent-minded Britons take responsibility for their financial future… and put it back into their own hands.
To ensure his readers got only the best investment guidance, Nigel teamed up with master investor Rob Marstrand.
Rob spent 15 years managing investments at the highest levels for UBS, the world's largest wealth management firm. Unlike most mainstream 'talking heads', he understands wealth creation in the real world.
Since launch, more than 6,000 investors have signed up to receive Rob's valuable investment analysis and actionable recommendations.
As early as their first issue back in January 2021, when the mainstream press was still focusing on Covid-19, Rob and Nigel issued a warning that inflation was on the horizon.
Since then, they've continued to expose readers to key strategic investing moves essential to maintaining and building wealth in 2022, including:
How to collect property 'rent' without the headaches of being a landlord…
A list of stocks to buy that could help you ride out the inflation surge…
Two ways to profit from the next gold price surge by owning the right types of gold…
And Rob and Nigel recently teamed up with Sam Volkering to deliver a brand new set of investment briefings, designed to help any investor interested in taking their first steps into the world of crypto currencies:
The Crypto investor's Bible
Digital Income – your personal guide to the world of decentralised finance
The three biggest crypto mistakes to avoid
Eyes wide open: the risks of crypto
A guide to NFTs
The most important cryptos in the world today
Rob and Nigel have gone out of their way to help as many British investors as they can, and it's no surprise that UK Independent Wealth readers continue to send emails like this:
"Honest information available without financial advisers trying to line their own pockets out of your hard earned cash." I.L
"Interesting and informative helping the little man understand the opportunities available to him and not just for the wealthy" – Gary P
"It's perfect for somebody who doesn't trust the government, banks and institutions to give them the honest truth without spin." – R.B
If you've no desire to follow the herd, and are ready to question what most people 'know' is true about the way your money is governed, then I'm delighted to include unrestricted, lifetime membership to UK Independent Wealth as part of your Platinum Membership.
You're also going to get immediate, unrestricted access to:

Price over 5 years: £995 Lifetime membership INCLUDED.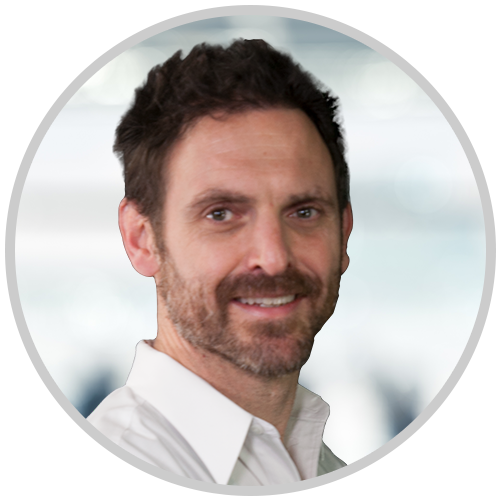 James Allen
"All good and professional - Well researched and presented." K.M.
"Very knowledgeable. Open your mind and read the literature." Matthew.
"Really informative." Faiq.
Persuading James Allen to give up his Manhattan lifestyle and return to London may be the best decision we've ever made at Southbank Investment Research.
Generating huge windfalls from stocks requires one thing:
The ability to identify the most lucrative opportunities before your average 'investor-on-the-street' even realises they exist.
And that is what James Allen does best.
He exposed the incredible potential of clean energy back in 2018, when hardly anyone in the mainstream press recognised the hidden opportunity, in his Exponential Energy Fortunes advisory.
But a select few savvy investors did take notice and listened to what James had to say. It turned out to be an incredibly lucrative decision.
About 18 months later, James went on one of the hottest stock picking runs in Southbank history., with two losses in 2020 of -17% and -40% compared to no less than 6 gains ranging from 41% up to an average gain of 816% on one stock...
And then followed that up in 2021 with 3 losses between -12% and -43% compared to 8 gains of between 8.15% and 870.27%.
Past performance is not a reliable indicator of future results.
He was riding high, that's for sure. Which was why I was surprised when he came to me with a simple admission:
"I've made a strategic mistake. For a long time, I was only focused on energy.
But after spending months buried in research, I began to realise that there was a very important question I hadn't been asking myself:
"If we've made some huge returns investing in the companies fuelling the energy transition… surely the same opportunity exists in the other multitrillion dollar sectors around the world?"
Then he showed me some of the research he'd already done… and frankly, it blew my mind: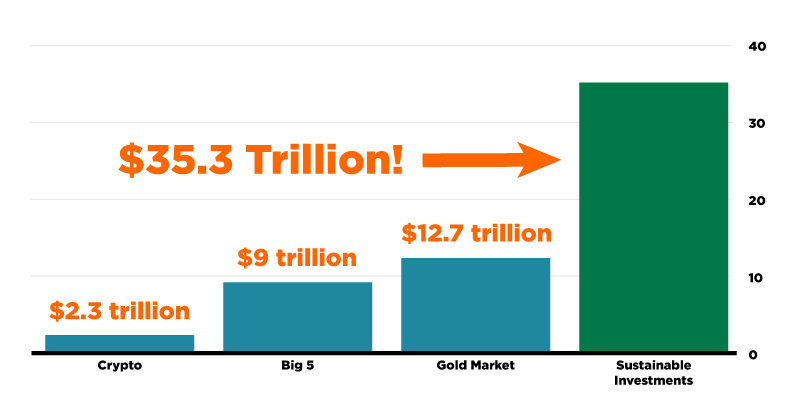 Sources: Bloomberg, YCharts, Companiesmarketcap.com, Reuters
Despite the market pullback and despite sustainable stocks having taken a hit this year, the sustainable investment market still dwarfs both the gold and crypto markets… combined.
It even dwarfs the so-called 'big 5' stocks of Microsoft, Apple, Amazon, Facebook and Google.
And yet, we're still in the earliest days of this irreversible trend.
So James dug further, and soon found that many of the world's most relentless money makers are already piling billions of their own money in.
Jeff Bezos… Bill Gates… Elon Musk… Ray Dalio…
All of them see what James sees: the potential for early investors to make one massive windfall after another from the race to net zero.
Once James showed me this, it became very clear that we needed to act as soon as possible to make sure you had all the guidance needed to take maximum advantage.
New World Investor is the result.
James has teamed up with sustainable investing expert Kit Winder to pinpoint and share with you the most exciting stock and asset recommendations from the trillion dollar industries undergoing huge disruption from sustainable tech.
Food… transport… natural resources… energy…
All four markets are already massive, and should throw up opportunity after opportunity for investors to profit.
Some estimates believe that the sustainable investment world could hit a goliath $160 TRILLION in value by as early as 2030.
That would make it, quite simply, the biggest financial sector in history.
How many fortunes could it build in that time? Likely more than any market trend we've ever seen.
As James puts it, "the opportunity at our feet is enormous, tantalising".
Now I want to be clear: recommendations in New World Investor will often be higher risk. This is a new market made up of smaller companies that offer huge opportunity but in some cases can be volatile and illiquid.
The sustainable revolution may be the key investing trend of the net twenty years or more…
So it was non-negotiable for me to include unrestricted, lifetime access to New World Investor as part of your Platinum Membership.
I've already received multiple messages from the investors who were savvy enough to join at the first opportunity:
"If you are looking for extensive, detailed, informed information with which to base your medium to long term investment strategies on, then look no further." Gary N.
"NWI keeps you up to date with current trends and is invaluable as an
investment guide. I would certainly recommend the service to others." I.W.
"Make money, join now. Be green, clean and comfortable." Greg
"This is a truly informative publication. It will definitely improve people's knowledge of the area." Faiq.
"Their comments on recommended stocks are clear, detailed and accurate." Bev
And today, you can choose to join them.
You'll also get the chance to get lifetime access to:

Price over 5 years: £495 Lifetime membership INCLUDED.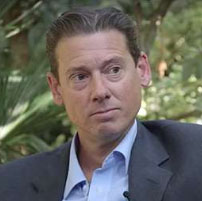 John Butler
"His knowledge and broad sweep overview of what is happening, in the long view historical context is fantastic." D.S.
"Very valuable. He has a forensic mind and can justify all his opinions." M.O
"Highly educational and informative." Doc Ken.
I'm not here to spread doom and gloom, be clear on that.
But as 2022 moves forward, preserving your existing wealth should be just as important part of your strategy as growing it.
The Fleet Street Letter Monthly Alert exists for one purpose: to help you protect your wealth against the biggest threats lurking in the financial system right now.
Every successful investor I've met has a key, defining characteristic:
The ability to see the markets as they are, rather than what we might want them to be.
And the reality is very simple: the suits in charge of the financial system do not really care about you or your money. Trusting in them to make sure you have a secure future is an act of insanity.
Does that sound extreme? Maybe. But honestly, tell me I'm wrong.
In 2008, salesmen remorselessly sold mortgages to people who couldn't afford them, then piled those mortgages up into CDOs to sell them again…
Building up a debt pile so big it almost broke the global financial system. Did they pay the price? No. Governments paid them off with yours and my taxes.
Were any lessons really learned? I'd say not.
For the past decade or more, our governments have been flooding the financial system with cheap money.
Now we're the ones paying higher taxes and having our savings eroded by 9% inflation… and meanwhile, some MPs are claiming £200,000 in expenses each year and getting their rent paid for… again by the taxpayers!
Trust between ordinary investors and the lunatics in charge of the asylum
is being eroded by the day.
As far as I'm concerned, safeguarding your existing wealth should be a vital part of your future investing strategy as maximising your gains from stocks.
That's why I've invited John Butler to join your Platinum Membership team by heading up The Fleet Street Letter Monthly Alert.
For more than 25 years, John has navigated the deep waters of international finance.
His knowledge of almost every area of investment banking is unrivalled, from research and strategy through product development and asset allocation. His CV is a 'who's who' including Deutsche Bank and Lehman Brothers.
John is exactly the kind of man to help guide you. He fully understands the 'dark arts' of the establishment.
John has also worked as an elite advisor to some of the world's largest private and institutional clients, and no less than Institutional Investor once ranked him as their #1 Investment Strategist.
He's also built a hell of a career as a financial publisher, both through his legendary "Amphora Report" newsletter, and through his two published works, The Golden Revolution and The Golden Revolution, revisited.
I hope you can see why it was such a coup for us to bring John to head up The Fleet Street Letter Monthly Alert. Just like his colleague, Charlie Morris, listening to John for just a couple of hours makes you a better, smarter investor.
He's already shared numerous illuminating views with his readers, while guiding them on how best to combat the current market chaos, including:
Which specific assets should be a key part of your "anti-stagflation" portfolio, and why…
Which asset Russia is already stockpiling behind the scenes, and why this could have a huge impact on Britain's future…
Why we're already moving into a "bear market in trust", and how this shift in investor psychology could spell disaster for 1 specific group of stocks…
Some of the world's elite investors have paid through the nose to have John advise them… today, his top market analysis becomes yours for life as part of your Platinum Membership.
I'm also going to unlock lifetime membership to our most popular advisory:

Price over 5 years: £745 Lifetime membership INCLUDED.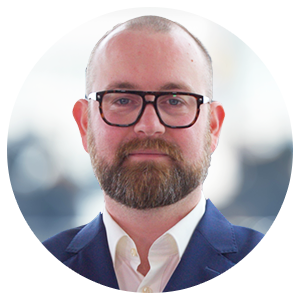 Sam Volkering
"A big thank you to you, long may you continue." C.E.
"It keeps me ahead of my peers in the market knowledge." Steve.
Frontier Tech Investor is about one thing: pinpointing the most exciting, most revolutionary trends inside the world of small cap stocks… and profiting from them.
Now let's not kid ourselves. Recently, the markets have seen a big sell-off, and stocks are not at all-time highs.
But do you believe for one second that they're staying that low forever? Of course not. In fact, the FTSE 100 is already beginning to creep back up.
This means that if you act quickly, you have the chance to snap up the next generation of breakthrough stocks for possibly the lowest prices they'll be found at for a long time to come.
Sam Volkering is the man to help you find them. He has a habit of pinpointing the right stocks at rough points for the market.
For example, between March and June 2020, when the Covid lockdown was punishing the markets, Sam made a series of big calls on stocks that he thought were under-performing:
Marston's, which he later closed for a 108.27% profit in just under 2 years…
Moderna… 124.32% in just over a month…
And Sunrun… 207.95% in under six months.
It's important to understand of course that not all Sam's picks will be winners. This is high-risk stock picking, and losses come with the territory. For instance, in June we closed a loss of -71.74% on Hyve Group, which had been in the portfolio since April 2020, and -35.29% on Wandisco.
Past performance is not a reliable indicator of future results.
No stock strategy avoids losses.
Frontier Tech Investor is about approaching volatile markets with a calm, strategic approach, rather than running around panicking like the mainstream media would prefer you to.
Right now, if you are strategic, you have the chance to buy some of the future's most lucrative tech stocks at seriously under-valued prices…
And Sam Volkering will be your guide in Frontier Tech Investor, which is yours under unrestricted, lifetime membership.
I hope you're beginning to see that Platinum Membership gives you benefit after benefit.
In total, you'd be looking at paying £16,241 every single year for life for everything here.
Over five years, you're looking at £63,015 in value.
Over ten years, everything here would cost you more than £126,030.
But this isn't just about saving money: it's about the chance to make one decision today that will unlock lucrative investment opportunities for you from day one…
And then for years to come.
I've shown you all the evidence as to just how many opportunities we've delivered to our readers in the past five years, and how much of a difference we've been able to make to them.
So imagine now what this single decision could do for you just between now and Christmas.
While other investors have to struggle with their returns and rely on tedious, impotent and average recommendations from the mainstream media…
Southbank Platinum Members will continue to get the most exciting, cutting -edge recommendations, every one capable of delivering thousands of pounds in potential profits:
So how much does it cost?
I'm going to get to the price of Platinum in a moment, but first, I want to deliver t to you an exclusive bonus… a full additional advisory designed to help you tap into what can be an incredibly lucrative investing niche: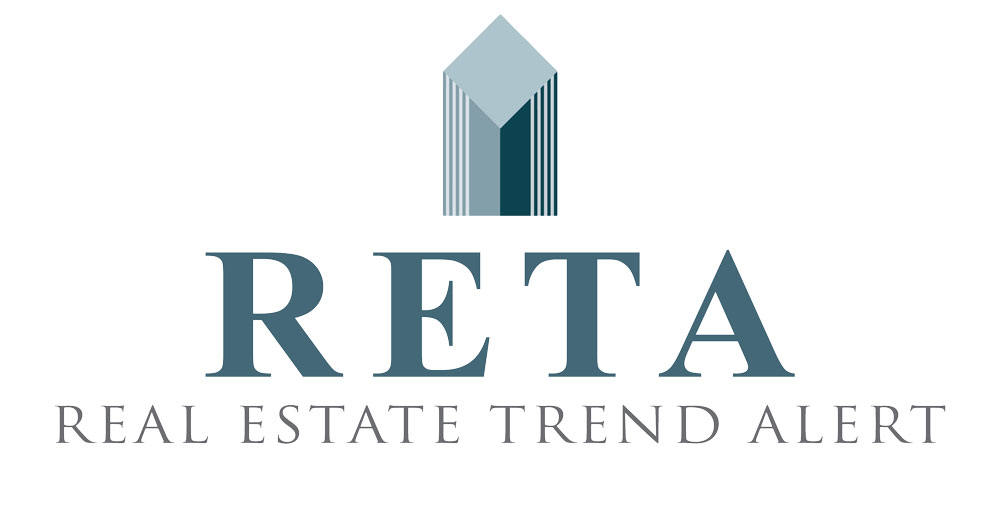 Price over 5 years: £470 Lifetime membership included!
Ronan McMahon
For more than 19 years, Ronan McMahon has scoured the globe to find the most exciting opportunities hidden in the international property market.
He and his team spend more than a million dollars each year on travel and research…
And he's visited more than 127 different locations, from Brazil to Mexico to Spain and Greece.
Why search so relentlessly?
Because Ronan has brutally strict criteria in place when it comes to recommending properties to his readers. And that means only a very small percentage of the properties he visits make the grade.
What's more, Ronan works as hard as he does because he understands a simple secret about profiting from property that most investors never understand:
Profit is made when you buy… not when you sell.
Watch any TV show on property development… any show where people are trying to 'flip' houses or apartments.
You'll see that 95% of the time, people are focused on getting more when they sell.
"Do up the kitchen and sell for more…."
"Paint the living room to increase the value…"
"Add a conservatory and make an extra £2,000…"
As Ronan himself puts it:
"Sure, a cleaner house might get you an extra couple of thousand… and a new kitchen might make you more than you paid to have it installed…
But I'm not interested in a couple of thousand here or there, and I assume you're not, either.
Five figure profits and above? They come when you buy BELOW market value.
That's why I spend so much time hunting down properties: because I'm looking for the ones that are trading far below what I think they should.
No denying it: these opportunities are hard as hell to find, but as far as I'm concerned they're worth it.
Think about it, really:
If you buy £20,000 below market rates… you can sell at ten grand below yourself and still make ten grand in profits!
Go ask any standard property investor if they can sell below market value and avoid going broke.
I bet the answer is a 'no'.
And the thing is, things can get even more exciting… Imagine you buy a property £20,000 below market value and the price skyrockets far above market value…"
Ronan's method speaks for itself. Over and over again he's pinpointed properties trading below market rates that have later shot up in value.
In June this year, Ronan revealed that some luxury homes he'd first recommended back in 2015 had more than doubled in value over the past few years, giving investors the opportunity to cash in a £435,214 profit before fees and taxes.
That's how exciting the opportunities he shares can be. But it's important you understand one thing:
Uncovering these deals is long, hard, tiring work. Most people in the world simply will not have the time or resources to track them down. Not unless they're prepared to turn it into a full time job!
That's why Ronan shares every one of his top opportunities with readers of his own elite advisory Real Estate Trend Alert.
He supplies you with ALL the details for each property opportunity, and it's up to you if you choose to act.
Now, it's important I tell you here that Real Estate Trend Alert is not a Southbank Investment Research advisory.
We've arranged with Ronan to share his work with you, because we believe to a certain kind of investor, his analysis and recommendations could be invaluable.
Today, as a special bonus for you, I am including lifetime access to Real Estate Trends Alert as part of your Platinum Membership.
If you're excited about the idea of targeting property opportunities that 99.9% of investors will never uncover… Real Estate Trends Alert could become your most trusted companion in 2022 and beyond.
So, how much does Platinum Membership cost?
Let me just remind you just how much value I'm delivering here:
| | |
| --- | --- |
| | £1,999 per year |
| | £1,447 per year |
| | £599 per year |
| | £1,997 per year |
| | £3,109 per year |
| | £999 per year |
| | £1,999 per year |
| | £1,999 per year |
| | £1,447 per year |
| | £199 per year |
| | £199 per year |
| | £99 per year |
| | £149 per year |
| Total Value | £16,241 per year |
As you can see, to subscribe to everything included here for one year would cost you £16,241'.
To me, that's worth it. If you have the resources available to take advantage, I think Platinum could add tens of thousands to your net worth every single year. Maybe more.
But remember, Platinum is a pay once, receive forever membership.
Over five years, all of this would cost you £63,015.
I think it's remarkably good value, then, that I am now pricing our Platinum Membership at £17,999.
Virtually the same price as it would cost for just one year of everything included here.
But don't think I'm a fool.
Right now, I know you need us to deliver as much value as possible to you, for the lowest possible price.
And I am committed to bringing our highest level of membership down to a price that is within reach. Now more than ever – when investors like you need our full spectrum of services the most.
Which is why I'm offering up the single biggest discount in Southbank Investment Research history:
Today, you can claim our one time only offer:
£10,000 off the price of membership.
Yes, you read that right. Ten thousand pounds off.
That means that in your first year of platinum alone, you'll save £8,242 in subscription costs.
Over three years, you save £29,612.
Over five years… you save £54,620.
And over ten years, that number hits an incredible £117,140.
This might sound mad, but this means that for every ten investors who take me up on this invitation….
I'm giving up an astonishing £1,171,400 in potential future revenue!
That's how determined I am to help you upgrade your ability to protect and grow your wealth.
I must warn you now: this enormous £10k discount is only available to the first 50 people who claim it.
I cannot run this deal for a long time and give up millions of pounds of future revenue. So, to get the best deal you may ever see to join out top tier membership circle, you will need to hurry.
And the truth is I'm actually not stopping there. I want to reward you even more for being such a committed reader of our work.
Let me introduce your personal discount…
which could see you save another £2,000
I've decided to go all out to reward our most trusted members.
Which is why I'm also allowing you to claim the cost of your remaining subscriptions off the price of membership, up to £2,000.
So, let's say you've got two subscriptions with us, and your remaining liability is £2,000…
Once you've added that to the £10,000 discount I've already promised you...
You will only pay £5,999 for Platinum Membership… a total saving of twelve thousand pounds off the full price.
I hope you can see that I am going absolutely all out to deliver you as much value as possible here. The more you've already invested with us, the more you save.
Over the next five years alone, joining every service in Platinum would cost you £63,015.
Today, you the chance to save as much as 97% off that price.
The only extra we ask for is a £99 maintenance fee paid annually after your first year.
And you get a full 30 days to try out Platinum Membership, obligation-free.
So, shall we get started?
I can't tell you exactly how much you'll save personally, because that's entirely down to your existing subscriptions.
That's why I urge you to call our customer service team today on 0330 808 7916 and ask about Platinum Membership.
They'll be able to guide you through exactly how much your personal discount will be.
They'll also be able to answer any questions you might have about Platinum Membership, and then tell you exactly what your personal saving will be.
But of course, this isn't just about how much you'll save. It's about what this single one-off cost could do for you.
Imagine just how much money you could make from the markets in just the rest of 2022...
Let alone in 2023, 2024, 2025 and beyond.
Think about how much of your wealth you could preserve if you minimised your losses during not just the next bear market… but for every major correction of the next decade or more.
That's the potential on offer here.
If you're a serious investor with spare capital earmarked for investing, I believe that Southbank Investment Research's Platinum Membership could make the difference of at least six figures to your net worth over the next few years.
Forecasts are not reliable indicators of future results.
Remember, from now on, you'll get every single investment recommendation we make in every single one of the advisories I've promised you here, direct to you from a true market-leading expert.
Men like:
Elite trading-advisor Eoin Treacy…
Macro-specialist and Gold strategist Nickolai Hubble…
Crypto genius Sam Volkering…
Energy insider James Allen…
International property guru Ronan McMahon…
Former $3bn fund manager Charlie Morris…
The most influential British political figure of the last half century, Nigel Farage…
Former banking insider Rob Marstrand…
International mining expert Shae Russell…
I could go on, but let me get to the point:
I believe that Southbank boasts the finest collection of financial experts, insiders and investors in Britain.
And that if you become one of the people to take up a Platinum Membership today…
No matter what the markets do over the coming months and years, you will be prepared.
This is an opportunity no-one else in Britain has access to…
But today, you do.
The experts and investors you're going to get access to today have decades of experience in their fields.
They've won awards, managed billions in wealth, and made the biggest calls under huge pressure to deliver.
Today, if you take this chance, you could shortcut the decades of grinding work they took to get to where they are…
And in just a few moments, their know-how becomes YOUR know-how.
For a single one-off cost that could be as low as £5,999, plus a small £99 admin fee each year, you get everything you need to quickly become one of the most elite investors in Britain, purely by virtue of the connections you'll have.
This is an investment in your wealth, and in your financial future. It's the chance to make a single one-off investment today…
And reap the rewards for years to come.
With the financial world in flux, and Britain's immediate future so uncertain, there has never been a better time to make a fundamental shift up in your ability to profit from the markets.
And the huge discount I am offering is only available to 50 people. On a first come, first serve basis. I have to cap it as the potential revenue we are giving up is enormous.
I urge you to not miss out.
Our customer service team is ready and waiting to take your call:
Dial 0330 808 7916 and ask about Platinum Membership.
Now, let me answer your questions.
My goal here is to highlight as best I can the tangible edge this membership gives you.
But if you still have some queries about this, I've done by best below to put myself in your shoes and anticipate them.
Q. Isn't this too expensive?
Absolutely not. If anything, it's underpriced. And I'm not just talking about how much you'd pay if you had to stump up full price for all 16 subscriptions that are included…
Think of what's on offer here: the chance to get world-class financial analysis from some of the finest financial minds in Britain.
For instance, Eoin Treacy is routinely flown around the world by his wealthy clients in order to teach his renowned chart seminar. But within your Platinum Membership, you'll have Eoin deliver his hand-selected stock recommendations right to your inbox over and over again.
I could go on and on here, but you've already seen for yourself what Southbank Investment Research have been able to deliver to our readers… and just a few of the many positive returns we've been able to deliver.
I think every one of our analysts could make or save you tens of thousands of pounds over the next year or two.
So if you find another opportunity that offers this for anything less than the £7,999 I'm asking today for our Platinum Membership, you come and tell me, and we'll talk.
You won't, of course… because that offer doesn't exist.
(And don't forget, your personal discount means you can offset the cost of your existing subscriptions, so the chances are you won't even pay the £7,999.)
Q. What if I can't afford it?
That's a very different matter, and I want to be very clear:
If you cannot afford Platinum Membership, or you're stretched to afford it, please do NOT take this offer. Platinum is our most elite service. It is designed only for a very specific section of our audience.
I'd guess that as little as 5% of our readership will be able to join, and that's as it should be.
If you're not financially stable, please work on that first. We have other more affordable advisories that can help you get started.
Platinum Membership delivers an astonishing amount of value, but only if you're actually able to take advantage of what it offers.
If not, I urge you to wait and come back when you're in a stronger financial position.
Q. I'll never use all these services; it's too much information.
I actually agree in that this can seem like a lot.
But remember, this is not about jumping in and following every single trade. It's about taking the very best of our work and applying it to YOUR specific goals.
Perhaps you want to take advantage of the expected spike in the gold price, in which case you have Eoin Treacy and Nickolai Hubble ready to help you uncover the most exciting gold stocks from around the world.
Or maybe you plan to ride the recovery in cryptos, or energy, all the way back up to the top. James Allen and Sam Volkering are already delivering their top stock recommendations to their members… today, they can start to do the same for you.
Whatever your goals, you will have a world-class financial expert working to help you achieve them. And, over time, if your goals change, the way you use our work can do the same.
And this is all yours for a single one-off investment today, and a small yearly maintenance fee.
Q. What does 'lifetime access' to your services mean?
Exactly that: for as long as we publish a service, it's yours. Unrestricted, lifetime access.
It's all you'll ever need to pay to access everything I've promised you today.
Q. What if I decide to join, but then decide it's not for me?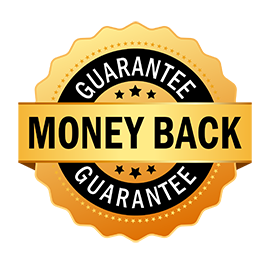 No problem. I've done all I can to remove all the pressure I can from this decision. I have decided to offer a comprehensive 30-day money back guarantee on Platinum Membership. During that time, should you decide that your Platinum Membership isn't right for you, just contact us to cancel and we will refund you in full. All the complimentary research, books and reports you access in that time will be yours to keep.
Q. When will my lifetime access begin?
Immediately. Right after signing up, you will have all the privileges of a paid-up member to everything I have listed above. I'll send you an email to show you where to go to gain immediate access to our dedicated area of the website, and how to collect all of your complimentary research.
You'll also get a single comprehensive portfolio where you can immediately see the results of every single advisory in one place, if you're interested in getting an immediate bird's-eye view.
Q. What if I've just paid for a subscription to one of these services?
Don't worry. We've got that covered. If you've just joined one of the publications or if you still have weeks or months remaining on your current subscription… we can work this out for you so you don't pay a penny more than you need to.
Remember, I'm offering you the chance to claim as much as £2,000 off Platinum Membership, depending on how much time you have left on your current subscriptions.
Although the price of Platinum today is £7,999, we'll work out the remaining value of your current subscription on a pro-rate basis and this will be deducted from the membership cost, up to £2,000.
So, in reality, if you've bought anything from us in the last 12 months, you won't need to pay anywhere near the £7,999 price.
If you have any questions about this, you can call our customer services team directly on 0330 808 7916.
They'll be able to tell you exactly what your own personal saving will be.
Depending on how much you already subscribe to, you could end up paying as little as 5% of the full cost of everything included!
Our customer service team is ready and waiting to take your call:
Dial 0330 808 7916 and ask about Platinum Membership.
Thank you for your time today. Just before I go, I'd like to make it very clear just how determined I am to deliver value to you for years to come.
Let me introduce a benefit I've not seen any other financial publisher in the UK offer…
The Platinum Membership Legacy Programme
When I say this is a membership that never expires… I mean it.
And while no-one likes to think too much about their own passing, this is a benefit hopefully your children and grandchildren will thank you for.
The Platinum Membership Legacy Programme allows you to pass on your membership to a family member in the event of your death.
You simply let our dedicated membership team know who you'd like to nominate and we'll take care of the rest.
That family member is entitled to get everything mentioned here, and they'll still never pay a penny in ongoing subscriptions.
This is a true investment – in ideas, in your wealth and for your family.
Not only could this one-off cost could still be making you tens of thousands of pounds three, four, five… even ten years from now.
It could continue to do the same for your family decades into the future…
I believe that taking Platinum membership today could be the most valuable financial decision you ever make for your family.
Our customer service team is ready and waiting to take your call:
Dial 0330 808 7916 and ask about Platinum Membership.
Platinum Membership is my way of delivering as much value as I can – potentially hundreds of thousands of pounds worth of invaluable intelligence – for the lowest possible price.
I firmly believe that there is nowhere else in the world where you can get as much potentially life-changing advice for so little.
So I hope you choose to join us today.
Many thanks for your time.

Paolo Cabrelli
Publisher, Southbank Investment Research