This promotion – while not financial advice – should be read carefully. It contains the important information, facts and figures you need to make an informed decision – including the risks to your capital involved – about our research. If you are unsure whether this type of investing is right for you, seek independent personal financial advice.
Urgent update:

avoid Italy crash – buy gold secretly
The below offer is now closed. Because if you want to protect your money from another financial crash, here's the most urgent warning sign in the world right now:
You've probably seen it reported in the news, but here's what really scares me...
You won't see it talked about in The BBC, Bloomberg or even the Financial Times...
Politicians could effectively STEAL our money if the Italian financial crisis gets really extreme. It's happened before:
US citizens were forced to sell their gold to the Federal Government at a knock-down price during the Great Depression of the 30s...
The Cypriot government literally stole savings from every citizen who had more than £85,000 saved up in their bank account during the Cypriot financial crisis of 2012-13.
And Jeroen Dijsselbloem, former President of the Eurogroup, said what happened in Cyprus would be the template for dealing with future banking crises across Europe!
I don't want politicians to steal YOUR money in what could be the biggest financial crisis we've ever seen...
So I've put together three "Zero Hour Alert" reports to help you protect your savings and assets before the global financial crisis could kick off.
Here's what you'll find in one of them - Stealth Wealth: Four Ways to Get Off the Financial Grid.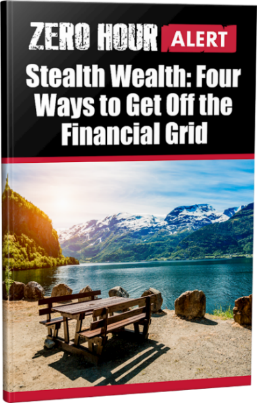 The secret hidden system for buying gold anonymously. This one's not for everyone, it involves going through a special type of "private currency" first. But I guarantee, with this method, it will be virtually impossible for anyone to find out you've got your own stash of gold.
Gold bullion and sovereigns may be your ultimate safety net for the economic crash. But contrary to what amateur investors think, there are particular types of bullion you should buy – and types you should avoid. (Case in fact: You do NOT want to buy 99.999% pure gold. I show you why).
The exact amount of cash you should put aside as an "emergency fund" (and the exact denomination you should use too)
How to transfer wealth anonymously without detection. It is possible through this secret "Third" way. I take you through it in this four-step process (and I show you the four things you need to get started).
One of the only investments that: (1) can be consumed, (2) can be sold, (3) performs well, (4) can be held for long enough to survive a financial crash, (5) diversifies your wealth, (6) has a big demand and more... What is it? I show you inside.
Time is of the essence. You need to read and act upon the information in these reports BEFORE Italy could trigger the next global financial collapse.
Click here to get your copies now.
Nick O'Connor,
Publisher, Southbank Investment Research