Hit the orange button below to gain instant access to this FREE Trading Triggers: "Trading The Rebound" tutorial
UNLOCK MY FREE TUTORIAL NOW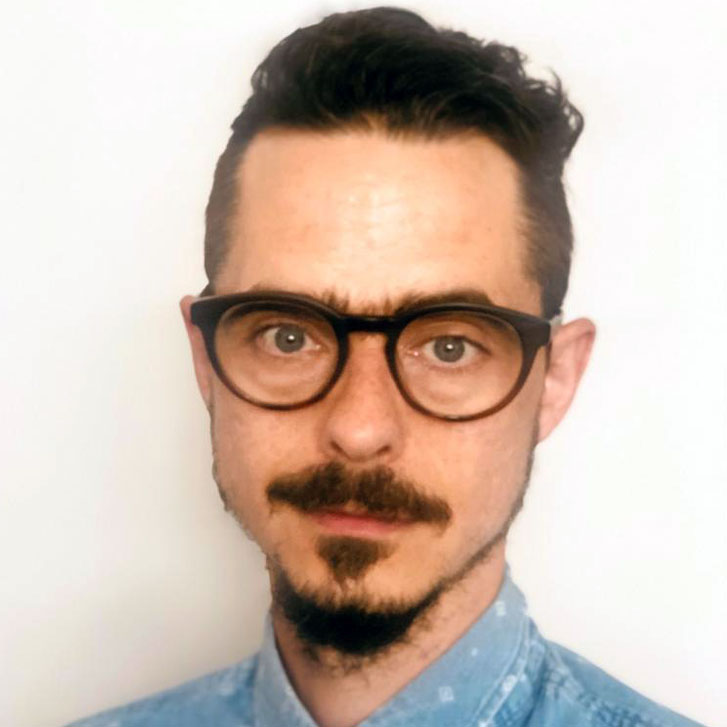 Paolo Cabrelli
Publisher, Southbank Investment Research
Dear Reader,
With markets soaring once again…
And the FTSE100 sailing past 8,000 for the first time in history…
A multitude of stocks like JD, Rolls Royce and Card Factory, are surging one after the other.
Most people will be dithering on the side-lines… wondering whether this is a sugar-rush, a 'bear market rally'…
Or the start of a brand-new bull market…
But who cares?!
The market has hit four new record highs in the last four weeks alone...
And if you move FAST, if you know what you're doing, there's a real chance to catch double- or even triple-digit rebound returns.
Forecasts are not reliable indicators of future results.
So, if you want to know how to quickly scalp the rebound for yourself…
Exactly WHAT to buy… WHEN to buy it… and WHEN to sell it…
And would like a shot at 50-150% returns every time you trade… without going short, spread betting, or using any type of leverage…
Then our FREE 4-part Trading The Rebound masterclass could help you quickly take advantage… and squeeze the market rebound for all it's worth.
You're about to meet a $1 billion fund manager who knows exactly what it takes to make big, fast returns during a breakout.
And learn how this investor – one of the best in Britain – uncovers trade after trade, as the market bounces back…
Like the energy stock he got his readers in on in November… already up 35% as of March 3rd (of course, it's a live position so it could still go down as well as up).
And this 63% rebound gain he closed out for some private clients in February:
Over the course of four in-depth online tutorials he's going to teach you…
A surprisingly simple way to predict when a beaten down stock is about to 'snap back' to the upside.
You can gain instant access to the private training series by hitting the big orange button below.
UNLOCK MY FREE TUTORIAL NOW
Your instructor for the week's proceedings will be Eoin Treacy.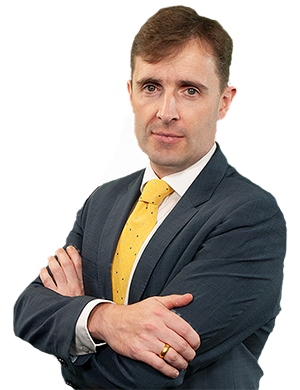 "Some of the returns have been huge… currently the running profit for me is 81%."
- CQ
"To say I am delighted with your service would be a gross underestimate. On that front – well done! May it long continue!"
- MM
"I am learning a lot from you with Trigger Point Trader, thank you very much... I am lucky to have access to your work!"
- CC
"I have made nearly £138,000… to say that I am delighted with your service would be a gross understatement."
- MM
Previous
Next
In the investing world, Eoin is known as the fund manager that teaches other fund managers how to trade.
He's a living legend within the world of technical analysis, having written the landmark text on how human psychology drives price chart movements – Crowd Money.
His contribution to the field allowed him to obtain the coveted Extraordinary Ability Green Card. The very same visa that allows David Beckham to live and work in the United States.
That same expertise has led him to accrue almost $1 billion in client capital, in his award-winning asset protection fund.
But when he's not shepherding the wealth of his wealthy clients…
Eoin is travelling to New York, Dubai, Singapore and London to hold his renowned 'Chart Seminar'.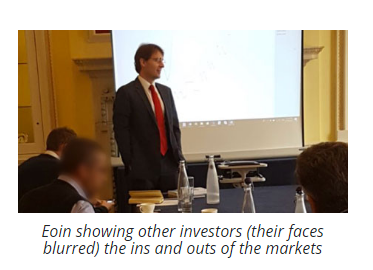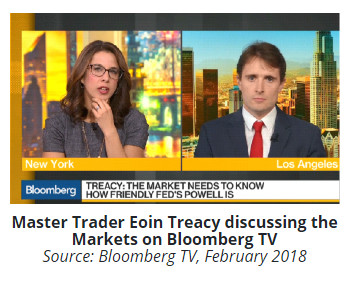 Eoin's students include sovereign wealth funds… billionaire 30-year market veterans… some of the richest family offices in the middle east and Asia… and even one man who's rags to riches story became the subject of a Hollywood movie.
And over the past 12 months…
He's been teaching his students his personal strategy that aims for double- or triple-digit returns in volatile conditions…
Forecasts are not reliable indicators of future results.
Whether the market is trending upwards or downwards… breaking out on the upside or even the downside.
Like the recent example I showed you above.
According to Eoin, finding these opportunities comes down to spotting a special chart signal called a 'Snapback Trigger'.
Spot it, and you have a good idea that a beaten-down stock is about to rebound and embark on a price tear.
In fact…
While wider markets were plunging last year, Eoin helped one of his private clients get in on a 74% gain on Clovis Oncology in just TEN days, using this strategy…
And he captured a 126% gain for his readers on LucidGroup, when the bear market first took hold at the end of 2021…
But of course, not every trade Eoin recommends is a winner.
In the six years, since Eoin has been sharing his recommendations with readers some of his closed recommendations have made a loss, like -68%... -55%... and -54%.
As Eoin will tell you himself, no elite trader has a perfect track record. (If they do, you should run a mile.)
The world's most successful traders don't shy away from losses. They learn to accept… embrace… and manage them.
Very soon, you're going to have the chance to learn the risk management and trading secrets of one of the world's most renowned traders.
Eoin doesn't share this particular strategy with the general public very often.
He hasn't hosted a free tutorial like this since October.
But until Tuesday the 14th, he is pulling back the curtains to help Southbank Investment Research readers take advantage of the market rebound.
During his Trading The Rebound online tutorial series, he'll reveal exactly how he was able to lead his students to such outrageous returns.
And you can gain access for free. All you need to do is click the orange button below to get started.
YES! UNLOCK MY FREE TRADING TUTORIAL NOW
What if you could get ahead of the pack… and make money while other investors are still waiting to make their move?
In times of uncertainty and market volatility, there are two types of investors.
There's the investor who tempers their financial expectations, battens down the hatches and runs for cover.
Taking loss after loss… and watching new opportunities pass them by as they wait for the smoke to clear.
Then there's the investor who sits up… sharpens their focus… and sees the uncertainty as a major opportunity.
While most investors fall into the fearful bucket…
It won't surprise you to know that the worlds smartest and wealthiest investors fall into the second category.
Take Billionaire Howard Marks, for example.
When global financial markets plunged into a bear market in 2008, investors ran for the exits – en masse.
But Marks began buying, at a rate of $500 MILLION per week.
A few years later, he had made over $6 BILLION in profit.
The Oracle of Omaha, Warren Buffett, was another big winner of the Global Financial Crisis.
In October 2008, Buffett announced in an article in the New York Times…
"I've been buying American stocks… Why? A simple rule dictates my buying: Be fearful when others are greedy, and greedy when others are fearful"
It was a move that paid off to the tune of billions.
Then there's Billionaire investor Ron Baron. Back In 1982, the US was enduring the worst economic downturn since the Great Depression. And Baron – a security analyst at an unknown brokerage firm at the time – did the unthinkable.
With $100,000 of capital, he started his own investment firm. It was a move that paid off big time. That $100,000 has now grown to $50bn in client capital.
Fast forward to the present day, and whilst most investors are still gripped by the fear and uncertainty created by last year's sell-off…
Too timid to enter the rebounding market and scalp some profits while the going is good…
The smartest and richest investors in the world are still buying stocks.
In fact, they've been "buying the rebound" well before the rest of us even saw it coming.
In the first quarter of last year alone, Warren Buffett's Berkshire Hathaway deployed tens of billions into stocks.
As early as June, Howard Marks revealed he was making strategic moves into the stock market, telling the FT that "Today I am starting to behave aggressively."
And around the same time, Ron Baron wrote an email to CNBC, revealing how he believed last year's sell-off was "a HUGE once in a generation BUYING opportunity."
Starting today, you'll have the opportunity to follow in these guys' footsteps and make up for lost time.
And don't worry, you don't need millions of pounds in capital to make good in conditions like these.
Because Eoin Treacy – counsel to some of the world's richest families – will show you show you how he's been helping the rich get richer as the market rebounds.
YES! UNLOCK MY FREE TRADING TUTORIAL NOW
Over the course of four videos, Eoin will break his unique trading system down into a series of easy-to-understand lessons
You'll ONLY want to tune in to this four part training event if...
You're aware that the stock market is roaring back to life, but aren't 100% sure of how you can take maximum advantage of it.
You're concerned about the prospect of a looming recession, but you don't want to temper your financial expectations.
You realise the rule book for making money in markets has now changed – and you want to know an effective way to ADAPT.
You understand that with investing comes risk, and that you should only invest money that you can afford to lose.
You'd like to know the FOUR biggest 'snap-back' stock opportunities on Eoin's buy list right now… and how to take maximum possible financial advantage.
Here's the agenda for the four-part programme...
Unlock this exclusive 4-part training event with trader, educator and author, Eoin Treacy now…

'Trading Triggers': How to Spot Stocks on the Cusp of 50-150% Snapbacks
THE AGENDA: PART 1'HERDING CASH' – The only force capable of moving a stock price... and how to trade it...
The range is your friend: the ONE indicator that can tell you when a stock has stopped shedding value – and preparing to snapback
Learn the 'human' truth about financial markets that makes them much easier to read – and profit from (most traders completely ignore this)
Revealed: the untapped profit potential of 'beaten down' stocks... when they go, they go BIG...
Discover how to make big money from trading – WITHOUT spread-betting, fixed odds or CFDs
THE AGENDA: PART 2'READING MINDS' – 3 steps to the perfect snapback set-up...
The 'RANGE' – discover how a stock that's slumped into a range – off the back of a downtrend – stores profit potential like a coiled spring...
The STORY – learn how a stock's next big move to the upside may have already been written...
The CATALYST – revealed: how to decipher when a stock is most likely to snap out of its range and rocket upwards...
THE AGENDA: PART 3'TRADING TRIGGERS' – Big money examples that will seem obvious to you now...
The system put together: learn how to trade for big gains without using ANY kind of leveraged instrument
Discover how a simple understanding of stories, and of human nature, can help you spot major upswings in stock prices before they happen...
Revealed: How to make big trading gains the intuitive way: without using any fiddly 'technical' indicators or software programmes...
THE AGENDA: PART 4'FIGHT or FLIGHT': Your chance to find out how to receive live 'Trigger Point' trading recommendations from Eoin Treacy...
Tune in for the grand finale, where Eoin will reveal details on the four biggest 'snap-back' stock opportunities on his buy list right now.
And give you a chance to put his Trigger Point Trading strategy to the test for yourself.
Over the 6 years he has been quietly sharing this system with readers here at Southbank Investment Research, Eoin has tucked away a series of wins like these:
2016: +64% on Fresnillo
2017: +98% on Kite Pharma
2018: +198% on Turtle Beach
2019: +52% on Mattel
2020: +98% on Cemex
2021: +126% on Lucid
2022: +30% on Regenxbio
Past performance is not a reliable indicator of future results. See 5 year performance for examples in the footer.
Eoin would now like to show YOU how to put his effective trading strategy into action.
Unlock his free 4-part tutorial now by hitting the orange button below…
YES! UNLOCK MY FREE TRADING TUTORIAL NOW
As you'll see in the online training online masterclass, Eoin's system doesn't involve shorting.
It doesn't involve any type of leverage, like spread betting or options.
And it has nothing to do with technical indicators, algorithms or software of any sort.  
And that's why we think you'll like it.
This is trading at its simplest and most intuitive – based, not on some mathematical equation, but on something we all understand and know well: stories...  and the things that make human beings tick.  
Now, this doesn't mean that trading using this method is without risk. You should only ever invest with money you can afford to lose.
Knowing this one fact alone can help you anticipate when a stock is on the cusp of a huge SNAPBACK
After four sessions with Eoin Treacy, you'll realise that making money in market breakouts – whether that's to the upside like today, or the downside like 2022 – is a lot easier than you may think.
That's because his goal is for you to start to see the matrix behind a stock chart's price data.
After all, price data isn't actually data at all.
It's a human reaction to data.
Look at any stock price chart. All you're seeing is a snapshot of the relationship between buyers and sellers. The line on the chart simply shows how these two groups of people have fought over the valuation of an equity or asset.
This struggle is based on their reaction to events: an earnings announcement… a major discovery… the result of an election or referendum… and so on.
If the event is perceived to be good news for the stock, investors will buy. If it's bad news, they tend to sell. The chart simply records this.
The only thing that can move markets is the action of large crowds of people.
Thanks to thousands of years of human evolution, people are hardwired to react in a predictable way.
They're predictable when the markets are going up.
They're predictable when markets are trending down.
Anything that's predictable is tradeable.
You can see this predictable pattern play out below, on a 198% 'Snapback' Eoin got his readers in on in Turtle Beach.
Starting today, Eoin is going to show you how to predict when investors are about to get swept up by the 'mob mentality'…
And stampede into a stock.
Eoin has been trading stocks successfully using this intuitive method for the last 22 years.
He travels around the world putting on 2-day events to show stock traders how his method works. And more importantly, how you can profit from it.
Click on the orange button below to learn Eoin's simple trading method for free. It couldn't be easier:
YES! UNLOCK MY FREE TRADING TUTORIAL NOW
FREE TAKEAWAY #1:
YOUR CHANCE TO FIND OUT HOW TO RECEIVE LIVE TRADING RECOMMENDATIONS FROM EOIN TREACY
In part 4 of the 'Trading Triggers' masterclass, Eoin will hand you the chance to receive his live trading recommendations – so that you can put his 'Trigger Point' system to the test yourself.  
You don't have to commit any money to the trading recommendations. Just stick the details in your watch list and see what happens.
Hopefully you'll see just how easy and potentially lucrative it can be to trade the markets this way. You'll also discover that it's very quick and straightforward to absorb this technique into your regular investment activity.
And even if you're already a successful and accomplished stock trader, you'll come out of the event smarter, with a bunch of new trading ideas you never had before...
If you can only be at one session, make it this one.
FREE TAKEAWAY #2:
CLAIM THREE FREE CHAPTERS OF 'CROWD MONEY' – (costs £33 on Amazon)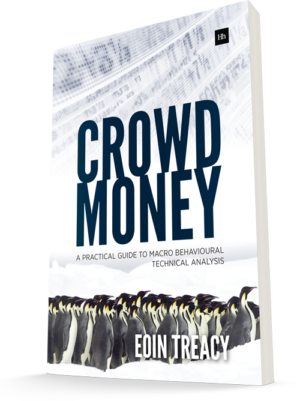 As a student of his 4-part training series, you'll get a PDF taster of Eoin's book, Crowd Money.
In Crowd Money, Eoin shares his unique view of the financial markets in more detail. And he reveals how it's possible to move ahead of the crowd again to make money in the markets – regardless of which way they are turning.
In your 'taster' PDF – which will be emailed to you in part 4 of the training, you'll get...
Chapter 1. The Four Pillars of Global Thematic Investing
Chapter 2. Chart Reading versus Technical Analysis
Chapter 3. Group Formation (Me + Them = Us)
These free chapters are exclusive to our training event and come from a book that costs £33 to buy on Amazon – not including shipping.
"A treasure trove of ideas and insights from a serious student of today's markets."
Bill Bonner on
Crowd Money
Get ready to add an exciting new
dimension to your investing...
Unlock our 4-part training event now and Eoin will explain how it's possible to anticipate large snapbacks in stock prices before they happen...
Not by shorting…
Not by using any type of leverage…
Or by using any complicated technical analysis…
…But simply by understanding that…
The only thing that drives a stock's price are the actions of large groups of people.
The actions of large groups of people are predictable… no matter which way markets are turning.
If you can predict what people are about to do with their money… you can position yourself BEFORE them… for the chance at outsized profits.
Members of Eoin's service pay up to £1,447 a year to receive recommendations based on these powerful upswings.
But over four training videos, you'll learn exactly how Eoin's system works for FREE…
I repeat: there's nothing to buy and no credit card required to get on the guest list.
This training is free.
But out of respect for Eoin, we can't leave it open indefinitely. People pay him 4-figure sums to learn his trading and investing strategies.
To access Eoin's training series, just click the orange button below.
Acting right now gives you instant access and ample time to go through all 4 training videos before we close it on March 14th, next Tuesday.
UNLOCK THE SPECIAL MASTERCLASS:
Eoin Treacy's "Trading Triggers" Tutorial: How to spot stocks on the cusp of 50-150% 'snap-backs'
Please give me instant access to Eoin's 4-part training…
YES! UNLOCK MY FREE TRADING TUTORIAL NOW
You'll be taken to a secure private website with all 4 training videos unlocked.
You will have free access to this training until Tuesday, March 14th, when it will be taken down.
Can't wait to see you there...

Paolo Cabrelli
Publisher, Southbank Investment Research
YES! UNLOCK MY FREE TRADING TUTORIAL NOW
---