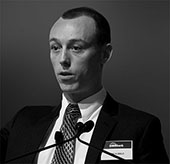 Financial author, analyst and insider – Nickolai Hubble
Dear Fellow Investor,
You've seen them…
They're flocking to the beaches…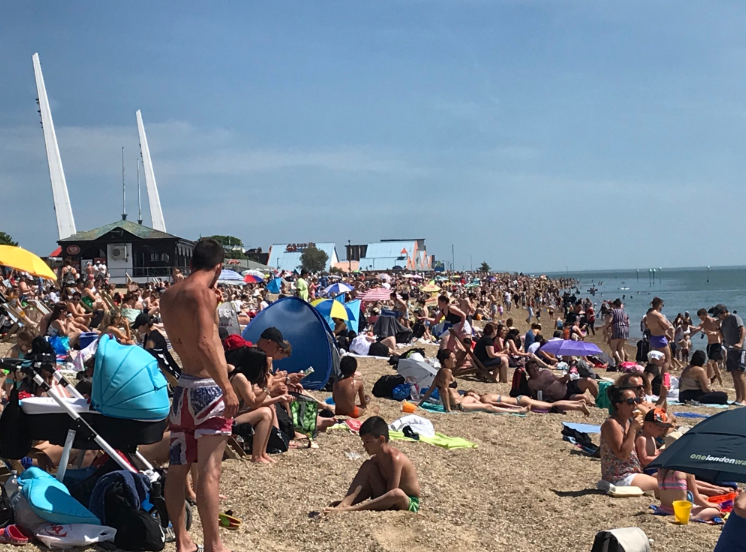 Source: Twitter
Packing out the parks…
Swarming all over the high street.
Masses of people – up and down the country – have abandoned social distancing...
Putting your health and money back under threat.
They're the reason we could see what The Telegraph are calling a "second more deadly wave" of infections…
Why one of the UK's most senior pandemic experts – Oxford University's David Hunter – warned back in May "there will probably be a second wave".
And why you are starting to see warnings of a second national lockdown starting to emerge from the government… and in the press.
We've already seen it happen in various countries.
You already know about America's disastrous re-opening – and the tens of thousands of new cases a day they've been recording since.
But it's happening in Europe, too.
In Spain, Catalonians were advised to stay indoors as the risk for a second wave mounted. After largely flaunting the advice, 4,581 new COVID cases were reported over one weekend alone.
In Italy, we've already seen a second lockdown, with one apartment block in Rome being cordoned off in mid-June, as 78 people died from the virus on one Saturday alone.
Which brings us to the situation here in Britain…
Lockdown was lifted in July – and we're recording hundreds of new COVID cases each day…
Just weeks after the July 4th re-opening, in fact, the entire city of Leicester was forced back into lockdown…. And now Boris Johnson warns a second lockdown will be "like a nuclear deterrent."
The UK economy has already taken a massive hit…
Leaked treasury documents estimate the cost of dealing with the virus will top £337 billion…
The number of those unemployed has shot up from just 50,000 in the first three months of the year… to over 2.7 million in July.
According to the Office of Budget Responsibility reporting in April, the economy will shrink 35% as a result of the first lockdown...
Urging the Bank of England to issue a stark warning that we could soon be facing…
"The biggest recession for 300 years".
And how much worse could a second wave be?
On July 14th, British scientists warned that a second wave could be far deadlier, with up to 251,000 winter deaths.
Not only is this possibility incredibly grim and sad – it also comes with warnings of accompanying financial devastation for the hard-hit countries.
Already the Organization for Economic Cooperation and Development (OECD) is warning that the U.S. could suffer an unemployment rate over the next few months that's double what the first wave caused.
Here in the U.K., they also forecast a 15% rate of unemployment in the event of a second wave – which would make a second wave worse both in terms of loss of life and economic damage.
Now, keep in mind these are predictions, not certainties.
Recession is just a word, of course.
Something you'll hear on the news. Read in the paper. It just washes over you.
But what it means is a drastic reduction in the quality of life for millions of people.
Queues at foodbanks. Shops closing down. High unemployment. Years of recovery. Tax cuts. Wage freezes. A grind.
And if you're looking forward to cashing in your investments to help pay for your retirement any time soon… think again. The coming slump will very likely take a huge bite out of your nest-egg.
I'm sorry to say all of that is already on the cards.
But that scenario doesn't take into account the potentially crippling impact of a prolonged second lockdown.
One that is looking more and more likely as hundreds of thousands of people ignore the rising infection rates.
Things could soon go from bad to worse. And letting your guard down now could be catastrophic for your health – and your money.
During the 2008 crisis, I saw the system collapse, from the inside – working at Goldman Sachs.
Just four years later, I exposed the banks committing mortgage fraud in Australia… helping readers keep their money away from danger.
And just two years ago, I showed UK savers and stock holders how to move their investments out of harm's way…
Before 'Bloody October', the biggest market drop in a decade.
Now I'm here to show you:
There are steps you can take now to protect your finances from this pandemic.
You may already be getting good advice to help you stay healthy…
Taking physical precautions to guard against the infection – they call it 'social distancing'.
And it is imperative that you do the same with your money.
You need to urgently start 'financial distancing' to isolate your money from the falling stock market.
It's very simple to start doing.
And I believe it is CRITICAL you do it immediately.
Because the sad truth is…
It's going to be sink or swim for a lot of investors over the next few months.
At the very least it's going to be wildly volatile.
Once again, we could see stocks absolutely crater – a crisis similar to last March, but even greater in scope.
I'm worried that many investors will simply not know what to do.
The confusion will only escalate from here.
Once Britain enters another lockdown – fear could run riot.
I know that a lot of people will be paralysed by indecision.
They will just try to 'ride it out'. I think that will really cost them.
Even worse, many others will scramble into stocks that will fall even further. That could be devastating for them, financially.
And it's even possible that the government could take actions that restrict the control you have over your own money.
But that does not have to be your story.
There is a smart way through this turmoil – if you act quickly.
As a reader of our work at Southbank Investment Research – you have an advantage others do not.
I can show you six smart steps to take immediately that can help shield your money from the panic.
These are strategic positions designed to shelter your capital in times like these.
I have used measures like these before… shared them with tens of thousands of investors in previous crises in the UK and Australia.
But timing means everything here. With the extremely volatile, I believe you need to move fast.
So let me show you what you can do now to help preserve your wealth…
And even potentially prosper… through the worst of financial upheaval to come.
How much more can you afford to lose?
Because it doesn't feel like last Spring was a blip does it?
Bailouts and stimulus were able to postpone the fallout for another day. Some people think that will be enough.
But you and I know better. You sense that bailouts have big consequences – that debts don't just disappear.
The full impact is yet to be seen, of course. But when the global economy grinds to a halt, airlines and high street stores go bankrupt, oil crashes through the floor and millions of people lose their jobs… it's safe to assume the fallout could be toxic – and for some time to come.
The market is in a state of wild volatility.
On March 12th, £191bn was wiped off the FTSE100 in ONE DAY. The second biggest drop in history.
Here's what that looks like, in some context: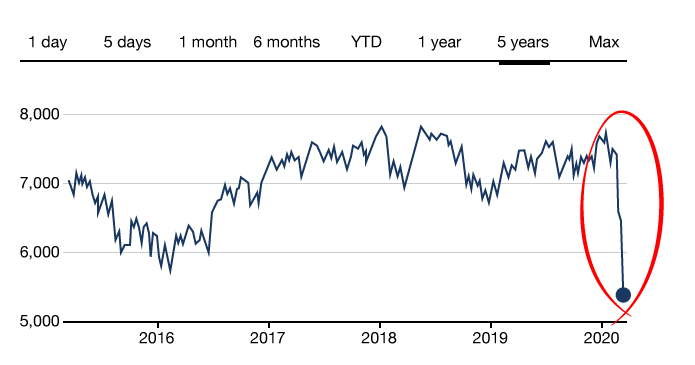 Data source: Google
What's already happened has been brutal.
Every news broadcast seems more disturbing than the last.
The world is in crisis. Borders are closing throughout Europe…
The Mexican border is now closed to Americans.
Americans are even banned from traveling to the EU, which incredibly is willing to forfeit billions of dollars in lost tourism as a result…
Oil has tanked… the stock market's "fear gauge" is spiking…
And the bankruptcies have already begun… with high street store Laura Ashley going under and the airline and train sectors in need of a bailout…
I've been shocked. I'm sure you have too.
Not just by the extremity of what we've seen… but by the speed with which everything is happening.
And the predictions for what happens next are even worse…
"The 2008 financial crisis will be seen as a dry run for Covid-19 cataclysm
Short-term collapse in global output likely to rival or exceed any recession of the last 150 years"

world renowned economist Kenneth Rogoff
"An Italian financial crisis is certain – the big question is how contagious it is."

The Guardian
"Coronavirus impact on economy to be like 2008 financial crisis."

The Economic Times
"The global economy will lose $2.3trn from coronavirus in 'best-case scenario."

London Loves Business
"This Is How the Coronavirus Will Destroy the Economy… This once-in-a-century pandemic is hitting a world economy saddled with record levels of debt."

The New York Times
I don't want to add to the noise.
Or scare you at all.
No one knows how bad things are going to get–or what tomorrow looks like. And I'm not here to speculate. There are plenty of people out there willing to do that right now. Most of them have no more information than you or I.
This is the time for you to understand what is happening right now and take evasive action.
We must be clear-eyed. We must see that things are likely to get worse, before they get better.
If projections are correct, 20m people in the UK will catch the virus. And 200,000 may sadly die. That is a shocking disaster I never thought I'd see in my lifetime.
What's unfolding now has taken the whole world by surprise. A true 'Black Swan' event.
Markets have plummeted once this year – and that's before we have seen a fraction of how bad a second wave could get.
So the impact on our businesses, banks and our stock market is likely to be deep and lasting.
You cannot afford to be passive here.
Leaving your investment capital at the mercy of the markets now could have disastrous consequences.
Especially when there are strategic moves you can make with your money NOW to help you…
My name by the way, is Nickolai Hubble.
You might know me as the author of my best-selling book, How the Euro Dies.
Or you may know me as the Editor-in-Chief of one of the oldest financial letters in the English language, The Fleet Street Letter Monthly Alert… which in its near-century-long history predicted the failure of 1930s-era appeasement of Nazi Germany, the fall of the USSR, and the collapse of the Dot.com tech bubble, among other warnings.
If you're familiar with any of my work… you'll know that I've spent a significant amount of time and money over the last two years warning people of two important things:
That the next major market panic is much, much closer than most people think.
That the financial system is more fragile than we are told.
And that it can unravel at frightening speed.
I hoped that we might be years away from those things being seen in the real world.
But they are happening now, as I write this message.
That's why I have devised a battle-plan to help you prepare for the worst of the fallout to come.
If you are an investor you must at least consider my plan.
If you are responsible for your family's money and financial well-being, you will absolutely want to read it. And put it to work.
As part of Southbank Investment Research, I'm connected to a financial intelligence network with a long and successful history of helping investors navigate social, political and financial crises.
Right now, we have operations on six continents, with offices in London, Paris, Berlin, Melbourne, Buenos Aires, Madrid and Sau Paolo, and more readers than The Economist and the Wall Street Journal combined.
Since 1938 we've been quietly researching, learning, warning... drawing on resources and contacts from all over the world... and passing valuable advice to our readers – particularly at times when the mainstream media lets people down.
In 1987, we predicted that the Soviet Union would collapse. A few years later, that's exactly what happened.

That same year we also exposed the rising threat of radical Islam...

"Especially troubling for many in the West will be the rise of [radical] Islam… This could be the biggest threat to world peace in the next two decades… the bomb at New York's World Trade Center [is] just a small taste of what's to come…" - 1993
In 2000, we warned that a "day of reckoning" was at hand for the dot-com boom...the very day the NASDAQ began a two-year, 77% decline.
One of our top analysts personally predicted the 2008 financial collapse, pointing specifically to housing lenders Fannie Mae and Freddie Mac.
And in 2018, I personally warned our readers of a banking collapse in Italy…

Showing them how to shelter their wealth before it triggered one of the biggest drops in UK stocks in a decade.
Now, here we are:
With a financial and viral pandemic upon us.
And that means once again it is time to move capital out of harm's way. Urgent action is required on your part – as an investor and a provider – to help shelter your wealth from this disastrous event.
You are not on your own.
Today you can download a simple, three-part plan to do just that: shelter your wealth.

I have put this plan together for you in an easy-to-follow, quickly downloadable e-book.
It's called:
"How to prepare for Financial Martial Law in Britain. "
In this timely ebook, I walk you through…
The problems facing you now (your own government included)… and the subsequent consequences…
The potential solutions.
More specifically, I share six urgent moves you can make right this minute…
Critical steps aimed at distancing your wealth from the crumbling stock market.
These are strategic measures designed for the conditions we are seeing now:
Chaotic markets. Wild volatility.
This is your survival guide.
And to make it impossible for you to miss this guidance…

**I have just sent a free copy of the first chapter directly to your inbox... **
As I said, I'm lucky enough to be a part of a wide-reaching network of investment experts, analysts, wealth managers and big picture thinkers. Our four million followers worldwide are testament to that.
I'm in regular contact with multi-millionaire investors… former billion dollar fund managers… industry insiders… banking and property experts… the list is endless.
I've harnessed my network to do something I don't think you can find anywhere else:
Provide UK investors and savers like you with a battle-plan you can use right away. Something to help you survive this financial pandemic – and even prosper by moving a portion of your capital into key "unplugged" assets… isolated from the contagion.
If you sincerely want to protect yourself from this major financial panic – and still have the opportunity to grow your money – you will want this report.
The way I look at it is like this...
If the worst comes to the worst, who can say how safe all those institutions we rely on really are?
Are you sure you'll be able to sell out of your shares if the stock market closes?
Are you confident you'll be able to withdraw your money from your bank if you really need it?
Yes, there are 'countermeasures' against the crisis in place, like the Financial Services Compensation Scheme, which in theory protects some of your money from a regulated financial firm that has failed.
The problem is... the only time it was tested by a real crisis it fell short. Following the financial crisis of 2008 Northern Rock customers discovered that guarantees aren't written in stone. They can be amended very quickly
And if the financial pandemic we are seeing now deepens – how much faith do you have in that promise being upheld?
If you have total faith, I think you are being recklessly optimistic. Perhaps naïve.
No one can guarantee you anything in this financial system. Not me... not your bank... not the government.
And given today's grim numbers, who can say what extreme actions governments and central banks might be tempted to deploy?
One of our financial insiders, Tim Price – an award-winning defensive wealth manager, issued this warning recently to his readers:
"The rapid spread of Covid-19 is only accelerating the likely deployment of helicopter money, MMT – and complete and total insanity."
Frankly, most of us have 100% of our wealth tied to this system. Your banking, mortgage, pension, ISAs... it's all tied to the traditional financial system. A system which may reach breaking point sooner rather than later.
Fine. There's not much any of us can do about that.
Except – as a prudent, common sense policy – to take 3-5% of that capital... and get it out of the existing financial system for good.
Ideas like that are seen as radical... even immoral in today's world.
But to me... it's just good common sense.
Which is why I've put together this urgent ebook: "How to prepare for Financial Martial Law in Britain".

It contains everything you need to know to help survive the next market downturn. In fact, it's effectively…
Your personal "failsafe plan"
Think of the strategic moves in this ebook as your personal survival guide… to help prepare against the collapse of the traditional financial system…
Something that seems to be happening around our ears.
Except rather than just "prepping" you… these moves could actually pay off , big time, if the worst really does happen.
Forecasts are not a reliable indicator of future results.
In it, you'll find a series of simple measures you can take today to separate your wealth from the crumbling financial system.
Let me quickly run you through these moves now – then show you how to download the e-book and start putting them into action:
1:
THE SINGLE MOST IMPORTANT ASSET IN A CRISIS
It's not a stock… bond… or commodity like gold or silver. But this one asset is vital to surviving a really nasty downturn.
Most people don't even think of this as an investment at all. They're making a big mistake. Having a cache of this one secure, asset safely tucked away at home is a must.
As a hedge against the reckless and dangerous policies of the world's central bankers, it seems wise to have this at hand right now.
After the stock market crash of 1987, one industry magnate described this asset as "king" in times of crisis.
With the financial markets in freefall – access to this asset could be crucial for you. In fact, I think stashing this away should be every investors #1 priority right now.
We'll show you what it is… why it's the single best way of readying yourself for a financial crisis… and why it offers you a truly 'unplugged' way to preserve and potentially grow your wealth.
2:
TAP THE "OLD MONEY" SECRET TO GETTING YOUR MONEY OUT OF THE SYSTEM
For instance, did you know that there's a simple secret to getting your money out of the traditional financial system that can deliver huge returns during times of crisis…
…without touching stocks, bonds, gold, property or commodities?
Anyone can take advantage of this secret… and capture major returns when the system freezes up.
In 2007, when the banks were on the brink, it turned £8,000 into £18,000 in a matter of weeks. Over the longer term (say, ten years) I've seen this secret deliver 10x returns.
Past performance is not a reliable indicator of future results.
We go into detail on how to get this working for you in your research report.
3:
THE ONLY KIND OF GOLD WORTH OWNING IN A CRISIS
Here's another great example… there's a special kind of gold that is FAR more durable than regular gold, but with all the same wealth preserving qualities.
It's still outside the financial system… it can still soar in times of currency depreciation and inflation… but it's much more discreet and easily portable.
Why? Because it's more durable. We explain why, and show you how to buy it (without your purchases being traced). If you are looking for truly private wealth – which could be invaluable right now – we will get you up to speed on this investment.
4:
HOW TO AMPLIFY GOLD'S GAINS – WITHOUT TOUCHING STOCKS OR OPTIONS
Gold is a great way to protect your money from the authorities, inflation and crisis. But there IS a way of potentially multiplying gold's gains. And you can do it without using the stock market, gold miners or anything like that.
In fact, this is a "hold in your hand" asset you can store at home… which has a history of soaring when gold rises.
It's the perfect way to amplify gold's gains, without buying stocks.
5:
"Royal Currency": THE ULTIMATE OFF THE GRID ASSET
What would you say if I told you there was a hard asset that is 100% unconnected to the stock market…
…that has a unique 'DNA' built into it, making it extremely hard to forge…
…has soared 367% between 2007 and 2018, according to independent PWC figures…
…and is about to see ALL of new supply disappear by the end of 2020?
With that potential supply crunch, this could be a great asset to won right now.
According to one authority on the subject, "over the longer term, ["Royal Currency"] clearly demonstrate lower price volatility, overall price growth and a lack of price correlation with more traditional alternative assets."
In other words this could be a great 'unplugged' way to grow your wealth when mainstream financial assets are falling.
I know what I'd do. I'd get the full story on this strange and valuable asset as soon as I could. And you can do exactly that in your copy of my special report.
6:
SEED YOUR WEALTH IN THE NEW, DEBT FREE FINANCIAL SYSTEM
Did you know there's a way you can tap into an entire alternative financial system – often anonymously – that is completely cut off from the toxic debt and credit markets?
My view is every single person on the planet should have a small portion of their capital stashed in this alternative financial system, just in case.
And here's the best part: tapping these alternative financial assets can also deliver extraordinary returns. I've seen people turn £1,000 into £30,000 or more in less than a year, without ever touching stocks or bonds.
Past performance is not a reliable indicator of future results.
Are there risks? Of course. But there's one risk you don't need to worry about – and that's having your capital in the bankrupt financial system. This alternative money system is completely cut off from the normal debt, credit and banking system and all the protections this provides.
If and when the traditional markets blow up, no one knows exactly how far the contagion will spread… but you'll be glad you have at least a portion of your capital outside the traditional banking system (and beyond the reach of the government).
It's all detailed in How To Prepare For Financial Martial Law in Britain.
This e-book is yours, for JUST £49.
What's more, because I want you to be kept fully abreast of the threats and opportunities in turbulent months ahead…
That modest £49 will also entitle you to a 365-day trial to my popular investment advisory:

The bottom line is this:
There ARE ways to both protect your money from disaster… and even potentially make some large returns, too.
You have to be bold… think differently… and be willing to consider ideas that you simply will not read about in the FT, MoneyWeek or Bloomberg, because they're dismissed as too "out there" for regular investors.
But you know what I think is "out there"? Leaving all of your money tied into a system on its last legs, about to hit the floor!
With stock markets barely treading water despite massive stimulus – now is the time to get forward looking intelligence about what's happening, what could happen next… and how you can position your money to capitalise…
To start preparing an effective "Plan B" that will help you prosper if (or more likely when) the s*** REALLY hits the fan.
Which is why I've used my connections within the world's largest underground research network to launch a very special project with exactly this mission: to show you the secret, profitable actions you can take to turn the looming disaster in the financial system to your immediate advantage.
Or in other words…
To share the ideas that could turn market collapses into financial reward for you and your family…
To get a portion of your money OUT of the broken financial system by any means necessary…
To show you the secrets to making money no matter how bad things get in the financial system.
To do this, I've created a first of its kind research advisory designed to share these ideas with you on a regular basis.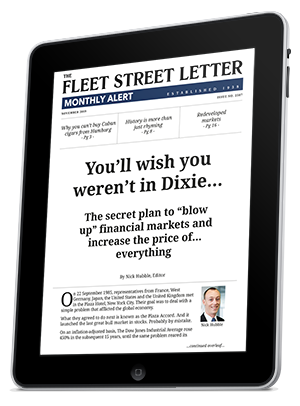 It's called The Fleet Street Letter Monthly Alert
And if you're worried about the fragility of the global financial system…and how this financial pandemic will unfold… it's absolutely vital reading.
It's headed up by me and my team here at Southbank Investment Research – Britain's biggest publisher of independent financial advice.
If you have never heard of Southbank, I wouldn't be surprised.
It is part of the world's largest underground financial intelligence network with offices in Baltimore, Florida, Buenos Aires, Rio, Melbourne, and here in London…
With more readers than the Wall St Journal, and The Economist – combined.
Our network has grown rapidly because we have a simple but powerful mission:
To find alternative ways to grow your money.
To improve your life and wealth through better ideas.
To pinpoint opportunities you won't hear about from mainstream sources.
To provide the best quality, independent research.
To show investors how to move their wealth out of harm's way at times of uncertainty.
To explain what's really going on in the world and show you how to take advantage.
Our readers find access to our intelligence network priceless – especially in times of uncertainty:
I honestly believe that finding south bank research was my best ever move.

I wish I had been a subscriber much earlier, as the content and variation of financial articles is simply astounding…As a complete novice to the investment world, you have opened my eyes to some spectacular opportunities. It is my hope and belief that in years to come I will look back on my membership as the best investment I ever made!!! Keep up the good work.

EN
I really like the way Southbank do their research.

They always get to the heart of the matter quickly. I like having a team of analysts which allows me to make investment decisions in these uncertain times based on consensus views rather than one person's individual view point. Some analysts are good at giving me an understanding of the economic environment we are in and others good at recommending individual stocks, which if they fit the analysts current economic environment outlook, are great bets for success.

JM
I find the services provided by Southbank absolutely invaluable…

…particularly appreciating the clearly independent and expert contributions from the various researchers. It would be futile looking for a "weak link" here […] in these dark days of biased and dishonest reporting Southbank stands out as a lighthouse. Keep up the good work.

PH
Great service, highly recommended, thank you

PG
Right now the single most urgent message we have to share with investors is this:
Take these urgent steps to survive the financial pandemic NOW, or you may regret it
Put simply, our aim is to show you what you won't find elsewhere: clear-eyed insight into this unfolding crisis… and the steps you need to take to survive and profit from it.
Each month as a Fleet Street Letter Monthly Alert reader you'll get a REAL insight into what's happening in the global financial system... delivered straight to you email inbox…
Paired with actionable ways of turning those problems on their head and getting a portion of your money OUT of the broken system for good.
Your 365-day trial – which opens up to you when you claim your book today – will give you instant access to this actionable insight.
You will not be left behind. You will not be left scratching your head. You will receive thoughtful, forward intelligence on this fast-moving pandemic.
We are in a period of rapid and unsettling change – and if you are looking for a foothold, solid ground, I aim to give it to you.
Chances are these "alternative" financial moves will help you sleep a lot better at night… and could end up making you a hell of a lot better off.
It is all included in your special e-book:
"How To Prepare For Financial Martial Law in Britain."
At the start of the crisis, people stockpiled loo rolls and dried pasta.

But what if they now want to start stockpiling cash?
I don't know about you – but having a small stash of £50 notes under the floor boards right now is a comforting thought.
Well, unknown to almost everyone…
Just after the last financial crisis, Britain passed a law that gives the government unprecedented control over your finances. To most people what this law means is unthinkable.
They will most likely think it is impossible. It seems too undemocratic. Too authoritarian to even be possible here in Britain.
But as you will see in this startling report – it has been passed, almost unopposed, as British law.
What this new emergency law means has a profound impact on your freedom of action if the worst comes to the worst.
So what's going on?
Well if your bank fails, like some did in 2008...
This time round, forget a bail OUT. Forget about the government stumping up a rescue package…
Get ready for a bail IN.
And by that, I mean, YOUR MONEY could be used to rescue the bank.
Under the law passed in the shadow of the 2008 crisis, it'll be depositors' money that's taken to fund the bank bailout.
The UK was one of the first countries to pass such a law. The EU liked it so much, they made their own version, which we then had to implement.
If you want to protect yourself from a financial crisis properly, you need to put your wealth somewhere, outside the banking system. The real question is where.
Your e-book explains exactly what this law is about. It makes for essential but alarming reading.
Will this law be used in the event of a financial emergency? We cannot say. Let's hope we never find out. But the law was passed for a reason and it seems at least prudent (if not damn smart), to make a small hedge against it with a little of your capital.
Every saver in the UK needs to understand the potential implications.
Urgently so. Because the emergency action passed into law was created for a situation in the markets like we are seeing now.
To unlock your book and free trial to The Fleet Street Letter Monthly Alert… All I'm asking in return is a refundable deposit payment of £49 (more on the 100% refund guarantee later).
But that's not all. You will also gain free access to:
Exclusive video: Why "financial distancing" could be the most powerful idea of 2020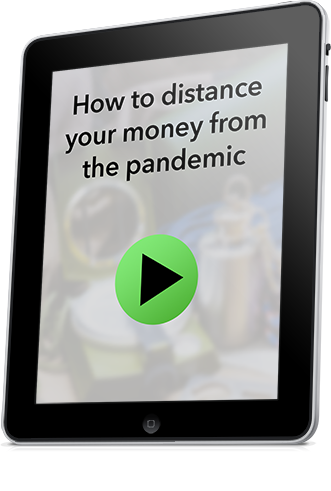 To help you understand the importance – and urgency – of isolating your private wealth from this financial pandemic…
I sat down with my colleague Boaz Shoshan. Boaz is an authority on unplugging wealth from the financial system. Our discussion will reveal just how crucial it is, in times of financial emergency to retain as much control over your money as possible.
As you'll see, we also talk you through some of the benefits of the steps we outline in your ebook "How To Prepare For Financial Martial Law in Britain".
I should point out: All of the moves outlined in the above come with their own risks attached.
That's why you should always think carefully when you invest your capital. Any investment involves risks that could result in you losing money. The value of any investment can go down as well as up.
The question you have to ask yourself is: what's the REAL risk to your capital?
My answer is – having 100% of it tied up in a broken, corrupt and fragile financial system.
Taking 3-5% of it OUT of that system is just good common sense to me.
I'm sure you agree.
But the fact remains, doing this – or any investment – isn't risk free.
Alternative investments can be hard to sell. In financial jargon this is known as being 'illiquid'. It means if you need to sell something in a hurry, it can be hard to find a buyer quickly. That's part and parcel of having some of your capital outside the system. It's not the same as a share portfolio you can cash in with a few clicks of a mouse.
To state the obvious: that's the whole point. The financial system itself is built on instant liquidity and vast numbers of buyers and sellers. That's the benefit... though it comes with its own risks, as we've been discussing.
Getting out involves different risks. Another is many 'alternative' investments aren't regulated or covered by the Financial Services Compensation Scheme or Financial Ombudsman. That means you don't have the same level of 'protection' as you would with traditional investments.
I think the risks are worth it. Given what I've shown you today... don't you?
And here is something else I'd like to share…
I want you to see what the deep cost of doing nothing might be… of leaving all your money tied up in a system that could fail.
As I said, I was just starting my career during the last financial crisis. Seeing lives unravel has had a profound impact on how I think and invest. It has for millions of people of course. And I'd like to share two stories I came across.
I believe they will show you more than I ever can, the cost of being locked in to the financial system, with no fail-safe plan:
Liz Arundell, 63, retired teacher, West Sussex
My husband inherited some money, so we bought a second home in Wales in 2004 with a view to moving there in retirement. But he was made redundant, so we had to sell the house in 2007. We couldn't sell it until 2010 because despite having a lot of interest each offer fell through. One man had his survey done, only for his business to fold a day later. Others who offered were made redundant and people's confidence was shattered.
I had a good two years or more of very troubled sleep and my mental health certainly suffered from the worry of it all. My husband is still working until at least next April when he will be 67, having planned to retire sooner.
Tim Robson, 49, unemployed senior civil servant, south Wales
My wife was made redundant from her job at RBS and was given 1,000 shares as part of her redundancy package, which at the time were worth around £20 a share. They're now worthless and wiped out any safety net.
I was a senior manager at a local council when I was made redundant in 2010 earning more than £70,000 a year. Now I'm being offered jobs at the bottom being paid £16,000 and my jobseekers allowance is about to run out. If things don't improve, this year I will have to sell the house, but the market is so depressed it'll be a struggle to sell it.
Those two stories were told to and printed in The Guardian FIVE YEARS after the crisis of 2008. That's the cost of being unprepared for the absolute worst case scenario. And by unprepared, I mean having every last penny tied up in the traditional, buckling financial system at points of intense panic and stress.
These were intelligent, forward thinking people who were making, by all normal measures, GOOD decisions with their money.
But when something like this financial pandemic comes along, it can knock all that sideways. Because it doesn't care about your years of sacrifice, hard work and careful planning.
Can you see why evasive action today is so important?
And why I have published this message so urgently?
Good.
To get "How To Prepare For Financial Martial Law in Britain" into your hands right away…
Simply follow this link. It couldn't be easier – or more important
Because the fact is…
This is information and insight you won't find ANYWHERE ELSE
That's a shameful indictment of our leaders, our media and our economists.
But it's the sad truth.
Look at the Wall Street Journal. Look at the Financial Times. Are they providing real, practical steps to help people survive what's happening now?
No!
Did you see it reported ANYWHERE in the financial media that the government can now LEGALLY freeze your funds if they fear a run on the banks?
No!
This sort of stuff doesn't get splashed over the front pages. That's because the "establishment" has a vested interest in the status quo.
Most analysts would rather toe the line and pretend the academics, politicians and economists in charge of the system have everything under control… that they haven't completely ruined the financial world through money printing, excess debt and intervention…
People don't want to hear what's really going on.
Government doesn't want to hear it. They're the biggest debtor on the planet. They don't want to hear about the consequences – that will take almost everyone by surprise – of the financial pandemic crushing markets.
There are almost no serious financial actors who want to see the truth and want to talk about the truth.
It's only we… the independent financial publishers and free thinkers…that can honestly report on what's going on. And show people how to prepare.
I hope all that chimes with you. I hope you want independent thinking, practical guidance and clear insight.
We don't take advertising. We're not part of 'the financial industry'. We're not economists who are paid to look the other way. And we're not big government. We don't have to tone down what we really think for the sake of ad revenue or votes.
We're the only ones who are willing to tell the truth.
That's why millions of people worldwide pay to read our work.
And it's why our UK branch, Southbank Investment Research, has such a loyal following of investors and savers.
In fact, since we started publishing our alternative ideas and insights, we've opened a lot of people's eyes to what's really happening in the financial world.
As one reader put it:
I don't think anyone does a better job. Clear, concise, information that is not published anywhere else. And informed opinion written in plain, easily understood English. More power to you, keep it coming!""
Another summed up my attitude to crisis preparation exactly, saying:
Thank you for the most amazing video's and information… Nobody else could or would give this factual account of exactly what is happening and what to do, but often quite frightening. Thank you again."
For some readers, our work is nothing short of life changing. This note alone made every word we publish worthwhile:
In my humble opinion Fleet Street Letter Monthly Alert is the best, most interesting and informative source of information about happenings in Europe. Well done Nick. Keep on telling it like it is!

JS
One reader even wrote to tell us that thanks to our "joining the dots" he'd made his first million from our recommendations.
Believe me, nothing makes me feel better than receiving notes like these.
But I have to tell you, right now, I am really worried that a lot of our subscribers and many, many ordinary investors are going to lose a lot of money as this financial pandemic unfolds.
That's why I created The Fleet Street Letter Monthly Alert
And that's why I'd like to send you the full details on exactly how to protect yourself and even potentially prosper during this worrying crisis.
That all starts with my invitation to you today.
Claim your book and free trial to The Fleet Street Letter Monthly Alert today and…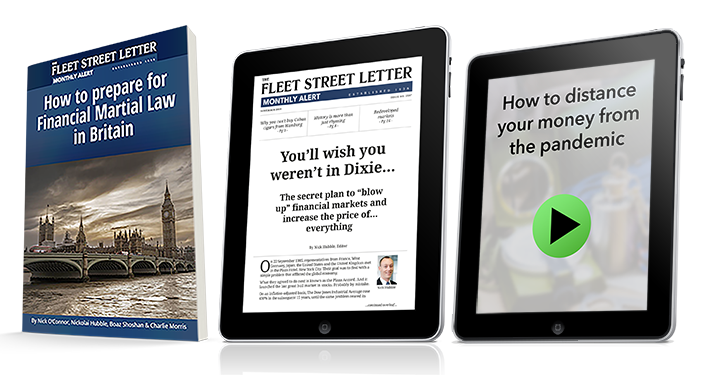 Let's re-cap what you are soon going to have unrestricted access to:
YOUR URGENT, THREE-PART E-BOOK: "HOW TO PREPARE FOR FINANCIAL MARTIAL LAW IN BRITAIN"
Worth: £20

PART ONE – The Big Stop: How The Authorities Will Pull The Brakes In The Next Financial Crisis

PART TWO – A Currency Reset: 1922, 1944, 1971, 1985, 1987… and now 2020

PART THREE – Escaping The Financial System, A Survival Guide… including six moves you can make now

EXCLUSIVE VIDEO: "WHY 'FINANCIAL DISTANCING' COULD BE THE MOST POWERFUL IDEA OF 2020"

MONTHLY RESEARCH: On the first Friday of each month we'll send you your monthly newsletter, The Fleet Street Letter Monthly Alert. We'll keep you up to date on exactly what's going on regarding this financial crisis, and show you some unusual and incredible ways to make money now and as it begins to unfold.
Worth: £99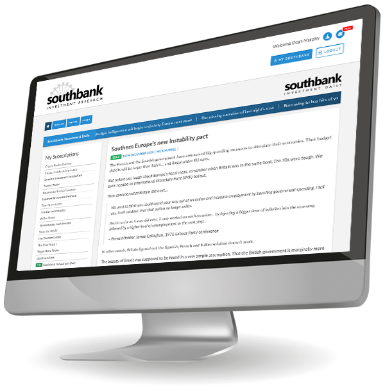 Finally…
Every single day the markets are open, I'll send you my "paid-subscribers-only" e-mail called Southbank Investment Daily.
It's free for paying subscribers of our work... and it gives you an insight into the network and thinking behind our research.
Now, before we go any further, let me point out that a one-year membership, including everything I mentioned above, normally costs £99 per year.
That's great value.
For priceless practical guidance to protect and prosper through the worst of the coming crisis.
I'm sure you value our own financial survival dearly. And you'd be willing to pay considerably more than £99 to help secure it.
But these are extreme times.
So £99 is not what you will pay.
I think every UK investor needs to understand how to distance their wealth from the financial pandemic that is crushing the markets…
And setting back the financial dreams of millions by decades.
Some simply will not recover in time to enjoy their golden years.
So I can't allow price to be a barrier here.
As a business, we have taken the decision to offer you this exceptional deal…
Start protecting your wealth immediately – for just £49.
And do not forget…
Your 365-day FREE PASS to The Fleet Street Letter Monthly Alert activates the moment you claim your e-book
The very second you claim your e-book two things will happen:
First: a copy will be sent to your inbox.
Second: Your 365-day all access pass to The Fleet Street letter Monthly Alert will 'switch on'
That means, for just £49 now, you can get:
A full 365 days of our invaluable monthly investment advice…
Immediate access to your e-book:
"How To Prepare For Financial Martial Law in Britain."
And your bonus video: why "financial distancing" could be the most powerful idea of 2020.
Remember, you're not tied in or committed.
If you don't like what you see – get in touch and let my team know inside the first 365 days.
We'll stop sending you The Fleet Street Letter Monthly Alert but you'll get to keep your e-book.
Why such a great deal?
Well, to be honest, our business really only works if our subscribers stick with us for the long-term. But we realise you've got to try our work first, to see if it's right for you.

And that's why, through this letter, we're making it so cheap, and essentially obligation-free to try.
Try it for 365 days – then decide
What I mean is, you'll have the next 365 days to take a look at the latest issue…
Plus your urgent ebook about how to survive the financial pandemic that is threatening a long and sustained recession.
Try it for a full year.
Even if you don't like it and decide not to continue, you keep your copy of How To Prepare For Financial Martial Law in Britain.
In other words, by taking me up on this offer, you are agreeing only to TRY my work to see if you like it.
If you don't like it, simply call our customer service team within the next 365 days to receive a full and prompt refund.
For this refundable £49 you will receive 12 issues of The Fleet Street Letter Monthly Alert.
(The annual subscription is £99 – but that amount will only be charged when you auto-renew at the end of the year.)
I think that's a good deal – and one I would like if I were in your shoes. My hope is that you will want to make The Fleet Street Letter Monthly Alert part of your regular reading.
Either way, you are in control here.

I hope you'll consider this offer. The very fact you're still reading this letter tells me how seriously you're taking this. And that you are serious about taking practical steps to help shelter your family wealth from this unfolding pandemic.
Good. Now there's only one thing left to do.
Click here to claim your urgent ebook showing you how to escape the financial system for just £49.
Act now or you could soon be counting the cost…
There is a deeper, hidden risk to the financial pandemic – just waiting in the wings…
Look at what's happened in just the last few months, all over the world…
Controls on free movement.
The UK death toll hitting 40,000…
Stock markets suspended.
$700bn emergency money pumped into the US system.
$79bn in China.
£30bn here in the UK.
Runs on banks in India and bank closures in China.
Rates cut to near zero in UK and US.
All sporting events suspended, everywhere.
Businesses refusing cash payments – scared of infection.
An entire generation shut up within their homes.
Bailouts mooted for the entire airline industry.
Travel restricted. Borders closed.
That's a hell of a lot of change. A long list of emergency actions. And it's happening bloody fast.
That tells me two important things:
Governments are prepared to take extreme measures to combat the social and financial effects of this pandemic.
And they are prepared to enact them instantly.
Most of these extreme actions are being applied to containing the physical threats to the virus. For now.
But I do not think it is unreasonable to expect extreme financial actions in the near future.
Cash controls could be just the start. Access to how and when (or IF) you can access your money is a reality I think everyone needs to at least start considering. A form of 'financial martial law'.
In fact, as your ebook will reveal…
After the 2008 crash, Britain quietly slipped in a new law that can restrict your access to your funds in the event of a full blown financial collapse.
Anyone ever told you about that before?
Did you see any protestors outside Westminster like you see for the 'climate crisis'?
Did you read any outraged opinion pieces in The Telegraph or Mail about it?
No. Because the mainstream press either did not pick up on it. Or they left you uninformed about it.
But we did. We warned our readers about it LAST YEAR. And if they followed our guidance they have protected SOME of their private wealth just in case.
I assume you want to have that sort of forward intelligence in your possession.
Think of it like this…
You don't lock your door at night because you expect to be burgled. You lock it just in case. You lock it for peace of mind. Against a worst-case-scenario threat.
You need to do the same with your money. And I think you need to do it rather fast.

That makes it urgent to claim your e-book now:
To discover exactly how the authorities will pull the brakes in the next financial crisis…
…the potential consequences of a currency reset…
… and, most importantly, exactly how to escape the financial system in six smart moves.
How To Prepare For Financial Martial Law in Britain hands you a complete guide to help you counter these measures, protect your wealth, secure your freedom.
In times like these governments have a tendency to usher though emergency laws that never seem to go away.
We can't always anticipate what's next. But escaping the financial system… unplugging a small portion of your capital… will help protect you from whatever measures they are cooking up.

If you are serious about keeping control of your wealth – you need this e-book in your hands TODAY.
It is yours for just £49 here
It boils down to making a choice.
To understand what is happening. To be enlightened about how the financial system really works. To have ideas, insight and practical steps at your disposal to help protect and preserve your wealth in times like these.
Or to let it ride.
To leave your hard earned money and investments to chance… or at the behest of central banks and the government.
The choice today is yours.
I have done all I can to get our urgent research in your hands.
Over to you:
Claim your discounted trial now – and access your e-book and bonus video to help you escape the financial pandemic.
Best,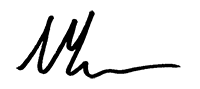 Nickolai Hubble
Chief Strategist, The Fleet Street Letter Monthly Alert
PS. I'd like to make one last point before I go…

I bet you've heard the saying a thousand times before… "the only thing we have to fear is… fear itself." But did you realise when this was said, and by whom?

It was part of Franklin D. Roosevelt's inauguration speech during the depths of the Great Depression. The point he was making was that a fear-driven market can be terribly destructive. Financial crises hurt. But fear can be far worse.

What we're seeing now is a strange and new (for us, at least) coming together of two powerful forces:
Fear about our mortality and fear about our money.
That's why the fallout is hard to predict, the panic hard to curb… and why the normal tricks that central banks have up their sleeves – cutting rates and pumping money… have failed so far.
That makes it doubly urgent to secure a small portion of your money out of a financial system with – at best – an uncertain future. At worst, a rapid reversal of fortunes. Change is all around us and my mission is to help you be in a position to not only be prepared for it… but prosper.
Get my urgent e-book – How To prepare For Financial Martial Law in Britain – immediately. It's yours with a no-commitment trial of Fleet Street Letter Monthly Alert.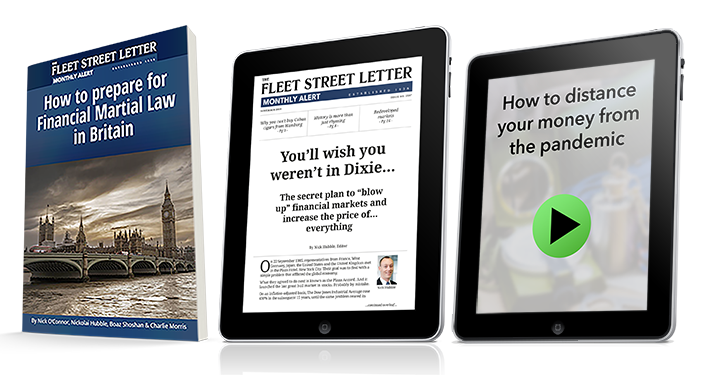 Start receiving our urgent research immediately – click here to join us and start preparing against this crisis... for just £49.